Ardella 'Della' (Geiger)
Vickers Mottie
(1892-1933)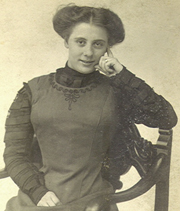 Della Vickers Mottie
Ardella "Della" (Geiger) Vickers-Mottie was born on April 13, 1892 in Johnstown, Cambria County, PA, the daughter of George and Emma J. (Minerd) Geiger.
As a teenager, Della married Cabot Michael Vickers (1880-1953), a native of Durham, NC, and the son of Michael Mordecai and Mary Elizabeth (Blalock) Vickers.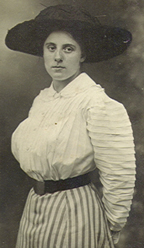 Della Vickers Mottie
Della and Cabot had two children -- Elizabeth Minerd Vickers and George Cabot Vickers.
The Vickers family resided in Johnstown at least until 1909. They moved to Charleston, Kanawha County at some point, where Della's brother William Edward Geiger had found employment.
Della later divorced Cabot and married Ernest Benjamin Mottie (1887- ? ), a native of Pennsylvania. They are known to have been employed by Rice Brothers' Carnival Shows. The company kept its winter quarters in Valdosta, Lowndes County, GA, and the Motties are shown residing there when the 1930 federal census was taken. Ernest ran the carnival restaurant, while Della was a "palmist" -- palm reader. The compound where they lived in Valdosta, with more than 50 other employees, was on a lot bounded by Magnolia, Johnson and West Streets.
The Motties moved on to Florida, settling in Tampa, Hillsborough County. Their home was at 4209½ Nebraska Avenue. Della's primary occupation was in "house work."
Sadly, Della passed away on March 29, 1933, in Tampa, just 15 days shy of her 41st birthday. Her remains were laid to eternal rest in Myrtle Hill Cemetery. Her grave is not believed to have been marked. Della's name does not appear on a list of Myrtle Hill burials on the HillsboroughCountyCemeteries.com website, even though her Florida death certificate lists Myrtle Hill as the site of her interment. Her death record lists her father as "G.W. Geiger, Sr." and mother as "Della Minor."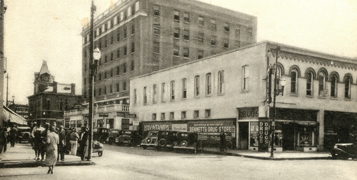 Valdosta, GA in the late 1920s or early '30s, at the corner of Patterson Street and Hill Avenue
Cabot married again, to Alice R. Switzer ( ? - ? ). They had two children of their own -- Francis "Rhodes" Vickers and Earl Michael Vickers.
Cabot died at the age of 72 on April 14, 1953, in Charleston.
~ Son George Cabot Vickers ~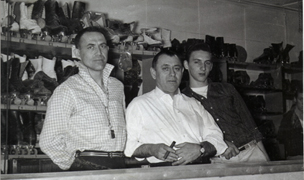 George Cabot Vickers, center, and pals at a Charleston skating rink, 1960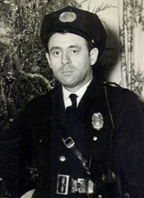 George C. Vickers
Son George Cabot Vickers (1909-1965) was born in Johnstown on May 17, 1909.
He and his first wife Wanda Lester ( ? - ? ) had a son, Edward Cabot Vickers.
George later married Erma Whittington ( ? - ? ). Erma had been previously married and brought three children into her marriage with George -- Gene Whittington, Norma Nunley and Wanda Drake.
Circa 1957, George served as the Chief of Police in Chesapeake (Cedar Grove), near Charleston. He also managed a local roller skating rink and circa 1960 was manager of sports service at Watt Powell Park, the home of the Charleston Senators minor league baseball team, affiliated between 1952 and 1960 with the Chicago White Sox, Detroit Tigers and Washington Senators. He also was manager of the Milner-Ruffner Cafeteria.
In the mid-1960s, George resided at 409 1/2 Elizabeth Street. He passed away in Charleston on Feb. 19, 1965, at the age of 55. He is buried in Charleston's Spring Hill Cemetery.
Son Edward Cabot Vickers ( ? - ? ).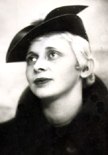 Elizabeth Johnson Hale
~ Daughter Elizabeth Minerd (Vickers) Johnson Hale ~
Daughter Elizabeth Minerd Vickers (1911- ? ) was born on Feb. 20, 1911. She was married twice.
Her first husband was Robert E. Johnson ( ? - ? ). They were married on July 12, 1929, when she was age 18.
The Johnsons resided in Charleston and had one son, William Johnson.
When the federal census was taken in 1930, the 19-year-old Elizabeth and her divorced, 43-year-old uncle William Edward Geiger resided as lodgers in the Washington Street home of Walter and Lula Jones in Charleston.
Later, on April 12, 1948, at the age of 37, Elizabeth remarried, to Elsworth "James" Hale (born in 1913 in Stollings, WV). The wedding took place in Kentucky, at the town of Catlettsburg, Boyd County, officiated by the Rev. O.P. Smith.

Donna Borchers
The Hales lived in Charleston and had three daughters, Della, Donna and Trina. Elizabeth's unmarried uncle William resided in their home for many years.
For more information on this line, contact granddaughters Donna Borchers or Trina Abbate.
Copyright © 2004, 2009-2011 Mark A. Miner