Emma Jane (Minerd) Geiger
(1864-1929)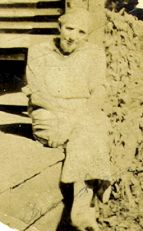 Emma (Minerd) Geiger
Emma Jane (Minerd) Geiger was born on April 6, 1864, presumably in Connellsville, Fayette County, PA, the daughter of William and Elizabeth (Rankin) Minerd. She and her sister Mary "Belle" Dean were twins.
When the federal census was taken in 1870, Emma and Belle were shown to be six-year-olds residing in their widowed mother's household in Dunbar Twp., near Connellsville.
At age 16, when the census was enumerated in 1880, Emma did not live at home, but rather worked as a servant in the household of N.F. and Osta Sanford, in Dunbar Township No. 1, Fayette County. Sanford was superintendent of a local work works.

Geiger grave inscription
On May 17, 1882, while living in Connellsville, Fayette County, the 18-year-olde Emma was united in holy wedlock with 21-year-old George Washington Geiger Sr. (1861-1914) in a ceremony performed by Rev. J.F. Dyer. The wedding was reported in the Connellsville Keystone Courier, the forerunner to today's Daily Courier newspaper.
The family name also has been spelled "Geigher" over the years.
Emma and George are believed to have settled in Johnstown, Cambria County, PA, although they have not yet been located on the 1900 federal census of the city.
There, they raised their three children -- Ardella Vickers Mottie, George Washington Geiger Jr. and William Edward Geiger.
A granddaughter once said that Emma was "the sweetest old lady that you ever would want to meet" and was very kind to children. Other records hint that she was anemic, and had been so for most of her life.
Emma and George and their children moved to Charleston, Kanawha County, WV, along the Kanawha River, probably about 1909. There, George worked as a plasterer.

Old boat landing on the Kanawha River in Charleston
When the federal census was taken in 1910, George and Emma lived with their married son George Jr. at 1701 Railroad Avenue. That year, George Sr. was employed as a cement contractor, while George Jr. apparently worked for him as a cement laborer.
Sadly, George died at on Aug. 31, 1914. He was just 53 years of age. The cause of his death is not known, but will be added here when learned. The Charleston Daily Mail reported that Rev. Burry, from the Lutheran church, officiated at the funeral service held in the family residence. George's remains were laid to rest on Sept. 3 in the Geiger family plot at Springhill Cemetery in Charleston. (His death certificate spells the family name "Geigher."
Charleston Gazette, 1929
The census of 1920 shows Emma making her home with son and daughter in law William Edward and Goldie Geiger on Charleston's Washington Street. Following his late father's trade, William worked that year as a cement molder. Three others boarded under the Geiger roof in 1920 -- Ivan E. and Martha V. Dodd and William McLaughlin, all natives of West Virginia.
Emma outlived her husband by 15 years. In 1923, she resided in Charleston, and was mentioned in the Connellsville Courier obituary of her brother, James Valentine Minerd, of Dunbar, Fayette County, PA. Her address at the time was 1313 Washington Street.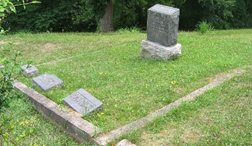 Geiger graves, Springhill Cemetery
She passed away at the age of 65, in Mountain State Hospital in Charleston, on Oct. 14, 1929. A family Bible, now in the possession of a great-granddaughter, records the date of Emma's passing. The cause of her death was given as "pernicious anemia." After a funeral held in her home, she was buried beside her husband. A short funeral notice was published in the Charleston Gazette on consecutive days -- and is found today on microfilm in West Virginia University's "West Virginia Collection."
Oddly, Emma's death certificate shows her father to have been "Finton Minord" and mother as "Dalla Sheets." Research has not found these names anywhere in our family, but the question is being researched at a deeper level. It is possible that her son William, who provided the information for the document, and who would not have known his grandparents, was in error. However, more will be added to this biography when known.
The Geiger family plot is seen here as photographed by a descendant in the summer of 2005. Cemetery records show that others who rest for eternity in the plot are William E. Vickers (1913), William Edward Geiger (1955), Francis H. Watlington (1947), George Cabot Vickers (1965) and Edward Cabot Vickers (1975).
Minerd.com extends its gratitude to great-granddaughters Donna Borchers and Trina Abbate for sharing material for this biography.
Copyright © 2000, 2004-2006, 2009, 2016 Mark A. Miner
Geiger grave photographs provided by Trina (Hale) Abbate.