Carl Vincent Gorsuch
(1891-1964)

Carl Gorsuch
Carl Vincent Gorsuch was born on Nov. 22, 1891 at Nicolay, Fayette County, PA, the son of Richard M. and Martha (Minerd) Gorsuch. He grew up in the mountains of Nicolay, a town that no longer exists along the border of Fayette and Somerset Counties.
Carl was short and of medium build, with grey eyes and brown hair.
At the age of 22, in a ceremony held in Draketown, Somerset County in June 1914, Carl married a distant Younkin cousin, 17-year-old Edna May Conn (1897-1927), daughter of Rush and Mary Jane "Molly" (Phillippi) Conn of Draketown, of the family of Eliah "Eli" and Nancy (King) Conn. Rev. J.S. Boyd led the nuptials. At the time of marriage, Carl lived at Nicolay and worked as a laborer. News of the union was reported in the Connellsville Weekly Courier.
They went on to produce three children -- Kirkland Richard Gorsuch, Mary Jane Gorsuch and Leah C. Gorsuch.
Carl was required to register for the military draft in 1917 during World War I. At that time, the family dwelled in Star Junction, Fayette County, where he was employed as a laborer by the Washington Coal and Coke Company.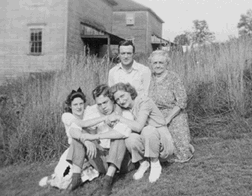 Carl with his mother, daughters Leah and Mary Jane and nephew Robert Zearfoss, Reading Mines
Eventually, as did several his brothers and brothers in law, Carl worked in a coal mine near Rockwood, Somerset County, PA.
In August 1924, Carl and his mother, sister Edna Hyatt and brothers Richard and Charles, were among a crowd of 82 who attended the annual Minerd-Miner Reunion held at Lincoln's grove, near the Western Maryland Railroad Station in Confluence, Somerset County. In an article about the reunion, the Meyersdale Republican reported: "A very successful and pleasant reunion of the Minard family was held ... A fine picnic dinner was partaken of at 12:30 p.m., after L.L. Mountain invoked a blessing." In the article the family name was misspelled as "Gorsage."
The photo seen here was taken at Reading Mines near Stoystown, Somerset County. Carl poses with his mother and daughters Leah and Mary Jane and nephew Robert Zearfoss.
Sadly, Edna was afflicted with cancer of her uterus. She died at age 29, on March 29, 1927, and was buried in the International Order of odd Fellows Cemetery in Rockwood.
Carl outlived his bride by some 37 years, and made his home on Water Street in Hooversville.
Afflicted with heart disease, Carl was admitted to Somerset Community Hospital, where he died at the age of 72 on Jan. 28, 1964.
Interment was beside his wife and daughters at the Rockwood IOOF Cemetery.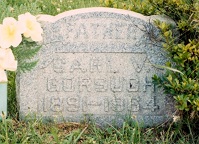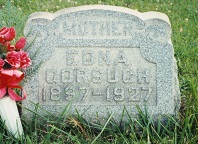 The Gorsuch graves at Rockwood IOOF Cemetery
~ Daughter Mary Jane Gorsuch ~
Daughter Mary Jane Gorsuch (1917-1971) was born in 1917.
She never married.
Mary Jane died in 1971 at the age of 54. Her remains were placed into eternal rest at Rockwood Odd Fellows Cemetery.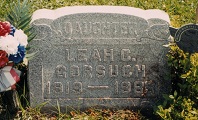 Rockwood IOOF Cemetery
~ Daughter Leah C. Gorsuch ~
Daughter Leah C. Gorsuch (1919-1983) was born on Nov. 11, 1919 in Rockwood.
She did not marry.
She served in the U.S. Navy during World War II.
Later, she owned the Gorsuch Drug Store of Hooversville, Somerset County, PA. She was a member of the Hooversville Lutheran Church.
Leah spent her final years in Cameron Manor nursing home in Indiana, Indiana County, PA, where she passed away at the age of 69 on Nov. 18, 1983.
Her remains were returned to Somerset County for interment near her parents in the Rockwood IOOF Cemetery. Rev. Gerald L. Myers officiated at the funeral service. An obituary was published in the Meyersdale Republican.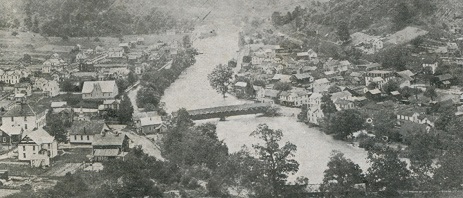 Bird's-eye view, Hooversville, early 1900s
~ Son Kirkland Richard Gorsuch ~
Son Kirkland Richard Gorsuch (1915-1996) was born on Feb. 6, 1915 in Confluence, Somerset County, PA.
He married Helen Grace Saunders (Jan. 27, 1916-1994), daughter of James Alva and Sarah Jane (Armstrong) Saunders of Terra Alta, Preston County, WV.
They resided in Reading Mines in 1938 and in Stoystown and Hooversville in the 1940s. Over the years, he earned a living as a laborer.
Their three children were John D. Gorsuch, Ph.D., Robert Richard Gorsuch and Carole Berkebile.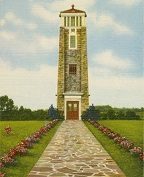 Somerset County
Memorial Park
The Gorsuches were members of Trinity Lutheran Church of Hooversville. In later years, Helen was active with the Hooversville and Hollsopple senior citizens groups. Their address in Hooversville was 292 Weigle Street.
Grief blanketed the family three days before Christmas 1966 when Kirkland died from a massive heart attack after being admitted to Memorial Hospital in nearby Johnstown, Cambria County. He was only 51 years of age. His remains were placed into interment in Somerset County Memorial Park.
Helen survived as a widow for another 18 years. She died at Conemaugh Hospital in Johnstown at the age of 78 on July 3, 1994. Burial was in Somerset County Memorial Park, following funeral services held in the family church, led by Rev. Gerald L. Myers. The Somerset Daily American published an obituary.
Son John D. Gorsuch, P.D. (1942-2008) was born in 1942. He married Patricia Ann Loop ( ? - ? ), daughter of Metro Loop of Mount Union, Huntingdon County, PA. The couple produced two known sons -- Christian Gorsuch and Dr. Steven Gorsuch. John held a bachelor of science degree in chemistry from Juniata College (1964) and a Ph.D. in analytical chemistry from the Massachusetts Institute of Technology (1969). His first professional position after obtaining his doctorate was at the Savannah River Laboratory of E.I. duPont DeNemours & Co. in South Carolina. He later was employed by Advanced Elastomer Systems, later becoming part of ExxonMobil Chemical. The family were members of St. Nicholas Orthodox Church of Mogadore, OH. He passed away in Akron City Hospital at the age of 66 on Dec. 16, 2008. He was laid to rest at the St. Nicholas Orthodox Church in Mogadore, OH. As a widow, Patricia continued to make her home in Doylestown, OH.
Grandson

Christian Gorsuch

married Kelli. They lived in Green, OH in 2008.
Grandson Dr. Steven Gorsuch

wedded Julie. Circa 2008, their home was in Akron, OH.
Daughter Carole J. Gorsuch (1946-2013) was born on Jan. 11, 1946 in Hooversville. At the age of 26, in about 1972, she wed Ronald R. Berkebile ( ? - ? ). They resided in Stoystown, and their three children were Kirk Gennett Berkebile, Kylie Lamb and Kelly Berkebile. The Berkebiles were Lutherans. Carole was a charter member of the Stoystown American Legion, Hooversville Auxiliary of the Veterans of Foreign Wars and the Stoystown Fire Company. She passed away at home on Dec. 6, 2013, at the age of 67. Burial was in Somerset County Memorial park. As a widower, Ronald made his home in Stoystown.
Grandson

Kirk Gennett Berkebile

wedded Tracy Horten. They dwelled in Hooversville in 2013.
Granddaughter Kylie Gorsuch was joined in marriage with Michael Lamb

. The couple established a home in Patton, PA.
Grand(?) Kelly Berkebile lived in Stoystown.
Son Robert Richard Gorsuch (1938-2020) was born on June 12, 1938 in Reading Mines, Somerset County. He married Lilia "Aldine" Secrest (Jan. 9, 1941-2017), daughter of Earl and Evelyn (Hill) Secrest of Hooversville. Their marriage lasted for 50 years until the separation of death. The family made their home in Hooversville and bore one daughter, Tara Lepley. Richard was a veteran of the U.S. Army. Later, he was employed by Pennsylvania Fine Wine and Spirits, a job from which he retired. Reported the Somerset Daily American, he "was an avid member of the Audubon Society. Robert was a talented woodworker, gardener, and sportsman. He spent countless hours at the Allegheny Front Hawk Watch." As a young adult, Aldine served as a clerk at the Somerset County Courthouse. Later, said the Somerset Daily American, she " worked as the bookkeeper at Daniel Shaffer's Inc. in Hooversville for many years.... Aldine lived a life of joyfully dedicated service to her family, friends, neighbors and community. Aldine could be found wherever there was a need for help of any kind. She enjoyed baking cookies and other treats for her family and friends. When the Hooversville swinging bridge was destroyed by flood waters in January 1996, Aldine baked hundreds and hundreds of delicious treats to be sold each week at Terlingo's Economy Store with all profits going to the fund to rebuild the bridge." They were members of the Hooversville Christian Church. As Aldine's health declined, she was admitted to Meadow View Nursing Home, and succumbed there at the age of 76 on Nov. 19, 2017. Rev. Wayne Lasure led the funeral service, with burial in the Patriotic Order of the Sons of America Cemetery in Hooversville. In an obituary in the Daily American, the family requested that any memorial donations be made to The Mary Grace Foundation of Johnstown or to Trinity Farms in Hollsopple. Robert lived for another two-plus years. He passed into eternity at home at the age of 81 on March 19, 2020. After a funeral again led by Rev. Lasure, he was lowered into rest beside his wife.
Granddaughter Tara Gorsuch married

Mark Lepley

. They make their home in Boswell, Somerset County. Their two sons are Thomas Lepley and Robert Lepley.
Copyright © 2000-2001, 2008, 2011, 2013, 2017, 2020-2021 Mark A. Miner