Edward Murdock Gribble
(1870-1954)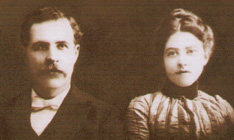 Edward and Susan Gribble
Edward Murdock Gribble was born in 1870 near Uniontown, Fayette County, PA, the son of James and Susan (Murdock) Gribble.
At the age of 31, Edward married 22-year-old Susan Jane Jobes (1879-1967) on April 3, 1901, the daughter of Winfield and Mary (Inks) Jobes. Their wedding photo is seen here.
The Gribbles had at least seven children -- Cecil Gribble, Kenneth Gribble, Kathleen Cramer, Robert M. Gribble, Chester A. Gribble, Wilma Cook and Eugene Gribble. They lost infant son Winfield James Gribble at age one month, 13 days of intestinal problems on Sept. 3, 1911; and an unnamed son at birth on Jan. 13, 1913. The babies were laid to rest in the Presbyterian Cemetery in or around New Salem.
They resided in North Union Township and Colonial No. 3, both near Uniontown. Edward and Susan were members of the Grindstone Christian church.
When the federal census was taken in 1910, the Gribbles were farmers and lived next door to Edward's brother Thomas "Ira" Gribble and family. Just a few houses away was their married sister and brother in law, Lola and John W. Jeffries.
By 1920, Edward and Susan and their brood of seven children resided along the New Salem and Searights Road, with Edward employed as a "top man" in a coal mine. The Oct. 8, 1929 issue of the Uniontown Daily News Standard reported that "Mrs. E.M. Gribble and Mr. and Mrs. Russell Cramer and children of Rowes Run accompanied by Mrs. W.B. McClelland and children and Mrs. George Dowlin and daughter Jean of Uniontown motored Sunday to Washington, Pa., where they called on Mr. and Mrs. Harold Mowl."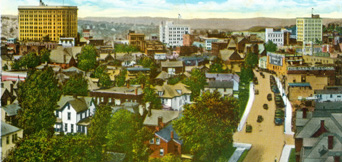 Uniontown skyline, circa 1920s
The 1930 shows the family in Redstone Township, with six children and two grandchildren living under their roof. That year, in 1930, Edward worked as a teamster in a coal mine, while son Kenneth and Robert were laborers and miners in local coal mines. In October 1930, they drove to Toledo, OH with Mildred Renninger to stay as guests of Miss Renninger's uncle and aunt, Mr. and Mrs. J.H. Renninger, former residents of Race Street in Uniontown.
In their final years, the Gribbles made their home with their married son Robert and family at Continental No. 3, House 464, near Grindstone, Fayette County.
Having suffered from kidney disease, Edward died at home at the age of 84 on March 29, 1954, "following a lingering illness," said the Uniontown Evening Standard. He was "a retired Frick employee [and] resided at Colonial for the past 24 years."
Susan died at the age of 88 years at Uniontown Hospital on March 25, 1967. At her death, she was survived by 15 grandchildren and 17 great-grandchildren. She was laid to rest in Salem View Cemetery.
~ Son Cecil V. Gribble ~
Son Cecil V. Gribble (1904-1955) was born in 1904.
He married Marie Blake ( ? - ? ), daughter of Harry S. Blake of Fayette County. The couple produced two known sons, Harry W. Gribble and Lawrence Vernon Gribble.
When the federal census enumeration was made in 1930, the Gribbles made their home with Marie's widowed father in Colonial No. 3 in Menallen Township. Cecil earned a living at that time in an electric shop. The couple divorced, apparently in the early 1930s.
Circa March 1934, Cecil boarded in the home of Harry Wells in Uniontown, and worked on a CWA state highway road construction project. That month, he had a paycheck stolen from his private mailbox, making headline news in the Uniontown Daily News Standard.
Marie apparently did not remarry. In 1956, she dwelled at 17 West Berkeley Street and in 1960, she lived at 127 West Fayette Street in Uniontown. She was active with the Golden Age Club of Uniontown, helping serve as hostess for the organization's events. She was included in a group photograph printed in the Uniontown Morning Herald - Evening Standard on Aug. 6, 1975 in connection with the golden anniversary of the Uniontown High School Class of 1925.
Eventually, by 1938, Cecil relocated to Washington, DC and remained there until his death. Cecil died in Prince George Hospital in Washington at the age of 51 on Oct. 1, 1955. His widowed mother and brother Robert traveled to the nation's capitol for the funeral service. A brief obituary was printed in the Uniontown Evening Standard.
Son Harry W. Gribble (1929- ? ) was born in about 1929 in Menallen Township, Fayette County. Circa 1950, he was employed with Menallen American Gas and Oil Company. At the age of 21, in about 1951, Harry married Ada Blanche Doyle ( ? - ? ), daughter of Charles E. Doyle of Uniontown. They made their home on New Salem road and had four known children, among them Larry Gribble and David Harry Gribble. By 1972, they had relocated to Phoenix, MD, living on Dulaney Valley Road.
Son Lawrence V. Gribble ( ? - ? ) was born in (?). During the Korean War, he served two terms of duty in Europe as a member of the U.S. Army. Upon his honorary discharge and arrival back home, he enrolled in West Virginia University where he obtained a degree in electrical engineering. He married Norita Rose Mulligan ( ? - ? ), daughter of Leo Mulligan of Uniontown and Hagerstown, MD. The ceremony was held on Jan. 25, 1959 in the Central Christian Church, with Rev. Earl P. Confer officiating. The couple was pictured in a wedding notice in the Feb. 5, 1959 edition of the Uniontown Evening Standard. A graduate of the Uniontown Hospital School of Nursing, Norita was employed by the hospital as a nurse at the time of marriage. In 1962, they lived in Poughkeepsie, NY. The Gribbles had one known daughter, Meriellebeth Gribble.
~ Son Kenneth Gribble ~
Son Kenneth Gribble (1906 -1961) lived in or near Brownsville, Fayette County. He married Ruth Bradmon (1912- ? ). They had no children.
Circa 1940, the Gribbles resided in Luzerne Township, Fayette County, where Kenneth worked as a loader in a local coal mine.
Kenneth was a veteran of World War II, and belonged to the Kramer-Axton American Legion Post in Brownsville, and to the First Christian Church of New Salem. He resided in Hiller, Fayette County for 14 years and then moved to Virginia toward the end of his life.
He died in Winchester, Frederick County, VA at the age of 55 on Dec. 18, 1961. His remains were returned to Fayette County for interment at Lafayette Memorial Park.
~ Daughter Kathleen (Gribble) Cramer ~
Daughter Kathleen Gribble (1908- ? ) was born in 1908.
In 1927, at the age of 19, she married Russell Cramer ( ? - ? ). They had two sons, Charles Cramer and Russell Cramer, and a stillborn daughter in January 1940.
In 1930, when the census was enumerated, 22-year-old Kathleen and her young sons made their home with her father in Menallen Township, Fayette County. Russell's whereabouts that year are not yet known. By 1940, their home was at 487 Colonial No. 3 near Brownsville.
Kathleen lived in Brownsville, Fayette County circa 1954 and in Hiller, Fayette County in 1972.
~ Son Robert Miller Gribble ~
Son Robert Miller Gribble (1909- ? ) was born in 1909.
He was united in marriage with Virginia Floe Emerson ( ? - ? ). Their children were Sandra Jean Theis, Wilma Davis, Susan Ryberg and Robert Gribble Jr.
The Gribbles made their home in Grindstone and Colonial No. 3 for many years, at least as recently as 1972. In 1940, census records show Robert employed as a coal loader at a local mine.
In July 1974, Robert served as president of the annual basket picnic reunion of the Winfield Scott Jobes family, held at Rainbow Park in Haydentown, Fayette County. The Uniontown Morning Herald reported that Jean Bowlin Schuety was secretary of the reunion.
Daughter Sandra Jean Gribble (1939-2015) was born on Nov. 19, 1939 in Grindstone, Fayette County. She was married twice. Her second husband was Henry William Theis Jr. (1929-2011). They resided in Greensboro and Dilliner, Greene County. In all, Sandra produced three daughters -- Denice Davis, Diane Rue and Lisa Jacob. Sandra was a longtime member of Sugar Grove Baptist Church of Greensboro. She obtained a master's degree in social work in 1988 from Rutgers University. Circa 2006-2007, she served as the first woman president in the history of Southeastern Greene School District, Greene County. Said the Washington (PA) Observer-Reporter, she belonged to the "Order of the Eastern Star Chapter 263, Uniontown, Daughters of the American Revolution Colonel Zackquill Morgan Chapter, Daughters of the American Colonists, Carmichaels Grange No. 1389 and Cass CEOs." Interested in her family roots, Sandra came to our 2007 national Minerd-Minard-Miner-Minor Reunion, the first of the Murdock-Gribble family to ever attend. Henry passed away on Dec. 21, 2011. Sandra outlived him by three and a half years, and went to reside near her married daughters in the eastern panhandle of West Virginia. She died in Shenandoah Center in Charles Town, WV at the age of 75 on July 10, 2015.
Daughter Susan Gribble wed (?) Ryberg. She is believed to have graduated from Point Park College in Pittsburgh and to currently serve as reference and extended services librarian at Mount Oliver College in Goldsboro, NC. She authored the 2011 book Mama Counts to Sleep, illustrated by Christopher K. Allen.
~ Son Chester A. Gribble ~
Son Chester A. Gribble (1915- ? ) was born in 1915.
He was married to Alvira M. (or "Alvenia") (1914- ? ).
They separated in October 1939, with Chester running an advertisement in the Uniontown Morning Herald, stating that she had "left her bed and board without just cause" and that he would "not be responsible for any debts contracted by her."
The couple must have reconciled, because the federal census of 1940 shows them together in Redstone Township. His occupation in 1940 was as a driver in a coal mine. The couple attended the annual Jobes family reunion, held at Flatwoods near Uniontown, in July 1941.
He resided in Detroit in the 1950s and in Traverse City, MI in 1972.
~ Daughter Wilma Ruth (Gribble) Cook ~
Daughter Wilma Ruth Gribble (1916-1938) was born on June 17, 1916 in New Salem, near Uniontown.
She married Ira Curtis Cook Jr. ( ? - ? ). They made their home at 152 Colonial No. 3 (Rowes Run), Fayette County. The Cooks had one son, Ira Curtis Cook III.
Sadly, after becoming pregnant a second time, Wilma became violently ill. Diagnosed with hyperemesis gravidarum, she suffered with severe nausea and vomiting. Her body gave out, and she died at the age of 22, on Aug. 30, 1938. The Uniontown Morning Herald reported that her death occurred in the Brownsville Hospital "after a month's illness of a complication of diseases." The funeral was led by Rev. Richard Purnell of the Rowes Run Primitive Methodist Church, with burial in the family lot in Fairview Cemetery.
Ira apparently married again, to (?) VanMeter, and maintained a home at Colonial No. 3.
Son Ira Curtis Cook III (1937-1954) was born in 1937, and was only one year old when his mother died. The specter of death visited when he was age 17. A junior at Redstone Township High School, he was stricken with a brain hemorrhage and died suddenly in Brownsville Hospital on Dec. 3, 1954. He was laid to rest near his mother at Fairview Cemetery.
~ Son Eugene Gribble ~
Son Eugene Gribble (1919-1972) was born in about 1919.
He moved to the Detroit area following World War II, and made his home in Romulus, MI for more than two decades. He married Marilynn (?), and they had two children -- Donna Kay Motley and Thomas Gribble.
Eugene was employed by the White Star Trucking Co., Inc., and was a president of the Michigan Travel Trail Club. With a large white beard, he gained fame playing Santa Claus, having entertained an estimated 200,000 children on his knee over the years. Eugene passed away of cancer at the age of 53, on Aug. 10, 1972, at Michigan Hospital in Ann Arbor. He was laid to rest in the Michigan Memorial Cemetery. A front page obituary, with photo, ran in his old hometown newspaper, the Uniontown Morning Herald. Said the Herald:
The man on whose knee sat hundreds of thousands of wide-eyed youngsters gained national acclaim recently when he was the subject of stories carried on the Associated Press and United Press International wires. Receiving no other compensation other than the knowledge that he had warmed the hearts of and brought smiles to the faces of so many children, Mr. Gribble has played the role for the past 13 years. He set up his own 'Christmas Fantasy Trailer' during each Yule season in Romulus and it was later moved to Belleville. The trailer reportedly was the most elaborate display by a private citizen in Michigan... Last year alone, Gribble estimated that 8,000 children enjoyed the pleasures of his Christmas display.
Daughter Donna Kay Gribble married (?) Motley. In 1972, their home was in Kentucky.
Son Thomas Gribble made his home in 1972 in Dearborn Heights, MI.
Copyright © 2007, 2009, 2012, 2014, 2019 Mark A. Miner