Home

Susan (Murdock) Gribble
(1840-1909)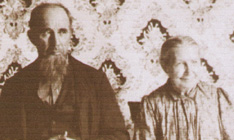 James and Susan Gribble
Susan F. (Murdock) Gribble was born in 1840 in Kingwood, Preston County, WV, the daughter of John S. and Rebecca (Miner) Murdock. She apparently did not know her own birthdate.
After her mother died in 1854, when Susan was age 14, she was sent to live with relatives in Uniontown, Fayette County, PA. There she was raised and remained the rest of her life.
On June 3, 1865, when Susan was 25, she married 22-year-old James Erwin Gribble (1843-1909), the son of John and Ann (Welch) Gribble of Fayette County. Rev. J.T.A. Henderson of Luzerne Township, Fayette County, performed the ceremony.
Uniontown Genius of Liberty, 1865
News of their wedding was published in the Uniontown Genius of Liberty newspaper. The clipping is seen here, dated June 8, 1865, five days after the event took place.
(As evidence that the two families were close, Susan's cousin Mary Catherine Fawcett married James' cousin Henry Harrison Gribble of Preston County.)
James' father, John Gribble, also had come to Fayette County from Preston County, and "began his business career as a teamster on the old Cumberland Pike at the age of eighteen," said John W. Jordan's 1912 book, Genealogical and Personal History of Fayette County, Pennsylvania. "He was so employed continuously from 1808 until 1837, when he became proprietor of the old historical "Red Tavern" located three miles from Brownsville. He was one of the characters of his day and filled well his position in life." John also is mentioned on several pages of The Old Pike: A History of the National Road by Thomas B. Searight. It was in this environment that John Erwin Gribble would have grown up. (Click to see other members of the family closely connected with the National Road, the nation's first turnpike and superhighway of the 1800s.)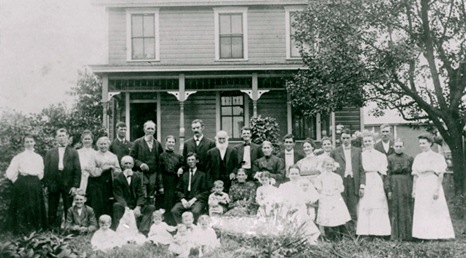 Murdock/Gribble family reunion, date unknown.
Susan and James had three known children – Lola Ann Jeffries, Thomas "Ira" Gribble and Edward Murdock Gribble.
They resided in Redstone Township and later at Haddenville, Menallen Township, near Uniontown. They were "faithful and active" members of the Presbyterian Church. One of James' brothers, J. William Gribble, may have been affiliated with the Albion Hotel in nearby Fairchance, PA.

Uniontown Daily News Standard
Susan apparently enjoyed visits to her old hometown to see her brothers. A story in the Sept. 20, 1888 Preston County Journal reported that "Mrs. James E. Gribble, of Uniontown, Pa., who has been visiting here for a week, will return home to day. [She] is a daughter of Squire John S. Murdock, and a sister to Messrs. J.E. and M.H. Murdock."
Tragically, both Susan and James died eight months apart in 1909. At age 59, Susan died first, at home, on Jan. 22, 1909. The Uniontown Daily News Standard reported that she "was apparently in good health when she retired Thursday night, but was taken with a severe pain in the side about 2 o'clock Friday morning and died of heart trouble about 2 o'clock in the afternoon." She was buried at Oak Grove Cemetery in Uniontown. Her obituary also appeared in her hometown newspaper, the Preston County Journal, which said she was "the oldest daughter of the late J.S. Murdock of Kingwood."
Eight months later, on Aug. 15, James, who suffered from cancer of the liver and pancreas, died of their effects. He was buried beside his wife. Funeral arrangements were handled by J. Harry Johnston & Son of Uniontown.
Copyright © 2001-2003, 2007, 2009, 2012, 2014, 2019, 2021 Mark A. Miner