Deborah Jane 'Jennie'
(Gribble) Christopher
(1863-1934)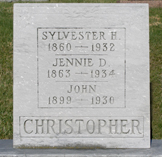 Fairview Cemetery
Deborah Jane Virginia "Jennie" (Gribble) Christopher was born in 1863 in or near Kingwood, Preston County, WV, the daughter of Henry Harrison and Mary Catherine (Fawcett) Gribble.
When the federal census was taken of Preston County in 1880, Jennie was a 16-year-old, residing with her parents on their home farm near Pisgah, Preston County. That year, the family of John and Delilah Christopher were next-door neighbors, with an 18-year-old son, Sylvester H. Christopher (1850-1932), Jennie's future husband. (He also has gone by the initials of "R.C.")
Today, the village of Pisgah abuts the eastern edge of what is now Coopers Rock State Forest.
At some point, Jennie and Sylvester were married. They apparently had one son, John Christopher, born in 1899, either natural-born or adopted.
Sylvester was a musician. The nature and venue for his work is not yet known.
The Christophers lived in Fairchance, Fayette County, PA circa 1908, when their names were printed in a Gribble family history published in the Preston County Journal. In that article, Sylvester's name has been given as "Columbus" which may have been a nickname, stage name or a play on words with the name of the famous explorer, Christopher Columbus.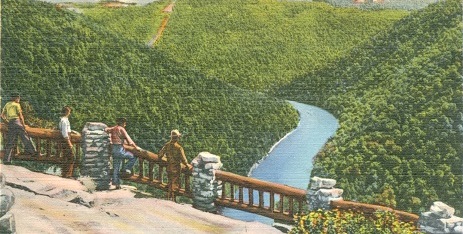 Lookout over the Cheat River Gorge at Coopers Rock State Forest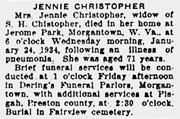 Obituary, 1934
Later, they moved to Jerome Park, a section of the university city of Morgantown, Monongalia County, WV, where they made their home until their deaths.
In 1924, the Christophers suffered heartbreak when they learned that son John, at the age of 25, was had contracted a serious case of tuberculosis. That year, he was admitted to the West Virginia State Hospital in Huntington, Cabell County, where he spent the remaining six years of his life.
Sadly, his soul surrendered to the Grim Reaper on July 31, 1930, at the young age of 31. His death certificate states that his remains were returned to Morgantown for burial, but it's known that he was laid to rest at the Fairview Cemetery, two miles east of Pisgah.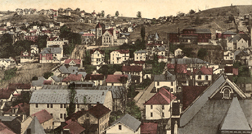 Morgantown's University Hill
At the age of 71, Sylvester passed away at home on March 16, 1932, due to heart failure. "L.S. Christopher" of Fairchance, Fayette County, PA was the informant on his certificate of death. Possibly due to bad weather, his funeral was delayed, and his remains kept in a mausoleum at East Oak Grove Cemetery in Morgantown.
A month and a half later, on May 1, 1932, he was finally laid to rest at the Fairview Cemetery, following a service in the Pisgah Methodist Episcopal Church, led by Rev. Sanford Ryan.
The Uniontown Morning Herald reported that Sylvester "was widely known in Uniontown and Fayette county and his funeral was attended by a large group of friends and relatives from this district. Included among these were: Misses Roxie and Belva Christopher, who were nieces; Mr. and Mrs. R.P. Walls, Mr. and Mrs. Homer I. Grimm and their son, Homer, Jr., William, Ray, Arlie and D.C. Walls, all of Uniontown; Mr. and Mrs. Samuel B. Walls and their granddaughter, Annabelle Nabors, of Hopwood; Mr. and Mrs. Harvey Christopher, of Rosedale, and Rev. Samuel Wall and son, of Pittsburgh."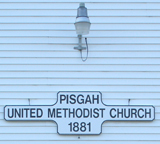 Pisgah's United Methodist Church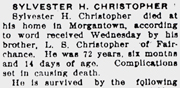 Obituary, 1932
Jennie outlived her husband by only two years, her health declining with hardening of the arteries, followed by a stroke.
She lingered for several months before passing away at her home in Point Marion, Fayette County (Jerome Park) on Jan. 24, 1934, "following an illness of pneumonia," said the Uniontown (PA) Morning Herald. Funeral services were conducted in Morgantown, with additional services in her old hometown of Pisgah. She was laid to rest, next to her husband and son, in the Fairview Cemetery.
Jennie's parents, brother Arley Gribble and sister Ida Groves King also rest for eternity at Fairview.
Copyright © 2006-2007, 2014, 2018, 2021 Mark A. Miner