Annette Hanshaw
a.k.a. Annette (Hanshaw) Rose Kurtin
(1901-1985)

Annette
Annette (Hanshaw) Rose Kurtin was born in 1901 in Manhattan, Manhattan County, NY, the daughter of of Frank W. and Mary Gertrude (McCoy) Hanshaw Sr..
She was the first known singer to reach national fame in our family. In a 1935 poll, she was named by Radioland Magazine as "most popular woman singer" in the nation. The New York Times praised her as "one of the most prolific recording singers in the late 1920's and early 30's."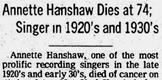 New York Times, 1985
During her career, Annette was accompanied by the likes of Jimmy and Tommy Dorsey, Benny Goodman and other jazz superstars.
Annette never toured, but found her niche as a radio singer in New York City. One of Annette's best-loved songs was "We Just Couldn't Say Goodbye." Her performances were so popular but her career so short that a special website has been created in her memory with a vast and impressive compendium of her life, career and recordings.
Writer John Woodruff currently is researching and developing a full-length biography, and has contributed his research to these pages.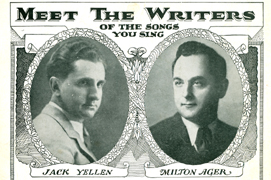 The songwriting team that helped propel Annette to stardom -- Jack Yellen and Milton Ager
Click to see a different, larger portrait, our "Photo of the Month" in October 2002.
Click here to view selected artifacts of her career.
Annette's first husband was Waldemar H. Rose ( ? -1952). At one time he was an executive with the Columbia, Okeh, Pathe Recording Company, and founded Sapphire Group, of which he served as president. He went on to become vice president of a business that produced recording needles for the sound industry, Frank L. Capps Company of 1650 Broadway in New York. They resided at 7 Park Avenue. Waldemar died of a heart attack on July 20, 1952, with a two-paragraph obituary published in the New York Times.
Later, she wed (?) Kurtin.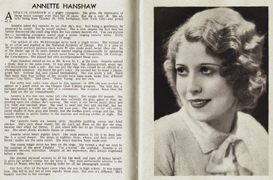 Profile of Annette in the 1935 Radio Guide
Copyright © 2002-2009 Mark A. Miner
Portrait at the top of this bio published in Robbins Hollywood Dance Folio by Robbins Music Corporation