George Lee Hanshaw Sr.
(1897-1989)

George Lee Hanshaw
George Lee Hanshaw Sr. was born on July 3, 1897 in Pittsburgh, Allegheny County, PA, the son of Frank W. and Mary Gertrude (McCoy) Hanshaw Sr.
George was the first employees of what is now Merrill Lynch, today one of the world's leading financial management and advisory companies. He started working as an office boy on Wall Street at about age 13. This was interrupted by World War I, when he served as an ensign in the US Navy, and played baseball for a Naval team in Newport.
After the war, George "went up the ranks" as a financial advisor, and became known as a "customer's man" with clients who depended on him to make their fortunes.
In 1926, at the age of about 29, George was joined in marriage with Kathryn Reilly (1901- ? ). The nuptials were held in White Plains.
The Hanshaws produced four children -- among them George Lee Hanshaw Jr., James "Barry" Hanshaw M.D., Elizabeth Annette "Betty Ann" Hanshaw and Jean Redegeld.
Despite the onset of the Great Depression in 1929, George did well in business for a few years. Then in 1932, when the lingering economic doldrums became too overwhelming, the family lodged with his widowed mother.
The federal census enumeration of 1940 shows George and Kathryn heading a household in Scarsdale, Westchester County. Living under their roof at that time were four children, George's mother, brother Frank and brothers in law James and Joseph Reilly.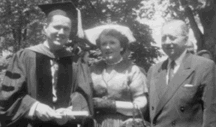 George, Kathryn and son Barry
When World War II began, he used his financial acumen working for the Office of Price Administration, a federal agency under the direction of Chester Bowles. After the war, with business partner Roy Cohen, George began an import/export firm and a consulting business involving government regulations on prices.
When he retired, George was involved with a wholesale meat business. He is seen here with Kathryn and son Barry, circa 1950.
Circa 1959, at the time his mother died, George resided in Briar View Manor Apartments in Westchester County.
Having not seen his brother Frank Wayne Hanshaw Jr. for many decades, George enjoyed a visit with Frank and his son Frank III in Atlanta in the 1980s.
George passed away in White Plains on Sept. 27, 1989, at age 92. Said one of his sons, "He had a wonderful sense of humor and one week before he died he was regaling us with his very funny stories."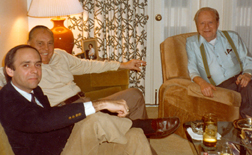 George, right, in a visit with his brother Frank and nephew Frank
~ Son George Lee Hanshaw ~
Son George Lee Hanshaw (1928-living) was born in about 1928.
He grew up in Scarsdale, Westchester County, NY.
George was a longtime accountant with United States Steel Corporation in Clairton and Pittsburgh, PA.
~ Son J. Barry Hanshaw, M.D. ~

J. Barry Hanshaw
Son James "Barry" Hanshaw ( ? -living) was born in about 1929 in Scarsdale, Westchester County, NY.
Barry has been an influential physician and educator in upstate New York and Boston, and is named in Who's Who in America. Receiving his doctor of medicine at the State University of New York at Syracuse, he has held leadership positions at many hospitals, and specialized in the academic aspects of immune system illnesses in fetuses and newborns.
Barry was joined in marriage with Marian Christine "Chris" Kernan ( ? -living), daughter of Thomas F. Kernan of 311 Parsons Drive in Syracuse. The nuptials were held at St. Charles of Borromeo Church, led by Rt. Rev. Msgr. Joseph F. Canfield, Rev. John B. Daley and Rev. Gannon M. Ryan. News of the marriage was published in the Syracuse Post-Standard.
Prior to marriage, Chris attended the Convent School and received her bachelor's degree from Syracuse University, where she was a member if Kappa Alpha Theta and Sigma Alpha Iota. She then went on to earn her master's of music degree from the Eastman School of Music and in about 1953 taught at Southwest Missouri State College in Springfield, MO.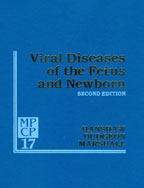 Barry's book on viral diseases
The couple produced a family of children -- Margaret Hanshaw, Elizabeth "Liza" Hanshaw, Thomas Hanshaw, Lee Hoffman and John Hanshaw.
Circa 1954, Barry was an intern at Cincinnati General Hospical in Ohio. He then went on to work in virology at the Harvard University School of Public Health and in 1960 moved to the University of Rochester School of Medicine, focusing for 15 years on pediatrics and microbiology. He became Chairman of Pediatrics and then Dean of the University of Massachusetts Medical School, where he served for a decade. He is now Dean Emeritus at UMass and a college health physician at Worcester Polytechnic Institute and serves on the UMass Memorial Foundation.
He also has been a lecturer of pediatrics at Harvard since 1975, and has authored two books – Human Cytomegalovirus Infection and Viral Diseases of the Fetus and Newborn (1984). In 2004, Barry received a Distinguished Alumnus Award from the Upstate Medical University of the State University of New York, and a Career Achievement Award from the Worcester District Medical Society.
In his spare time, Barry is a pastel landscape artist, working primarily in oils, and has had eight one-man shows with about 300 pictures in private and institutional collections throughout New England. On his website, www.barryhanshaw.com, he says he has been "strongly influenced by the work of Homer, Monet, Turner, and the contemporary New England luminist painter, Joseph McGurl... In 2009, his work 'Rockport' was exhibited at the Build of Boston Artists as a part of a juried show of New England artists."
In 2010, his coffee table book, The Art of J. Barry Hanshaw, was published by Heule Gordon, Inc., featuring 40 favorite works with Barry's personal reflections.
Chris is a piano performer and teacher and has given concerts at the College of the Holy Cross.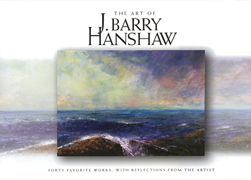 Barry's 2010 book of paintings
Daughter Margaret Hanshaw formerly was an editor with the Harvard Business Review and pursued her masters degree in fine arts in poetry. Her husband, Dr. Paulo Andre, a native of Lisbon, Spain, began his career as a postdoctoral fellow in molecular genetics at the Massachusetts Institute of Technology. In addition to his work today as a neurologist, Paulo is also is the CEO of a computer company, Medicine Interactive.
Son Thomas Hanshaw works for the International Finance Corporation of the World Bank, and has traveled extensively to India, Bulgaria, Greece, Pakistan and China.
Daughter Lee Hanshaw Hoffman recently completed her first novel for young adults. Her husband Dr. William D. Hoffman is Director of the Surgical Cardiac Intensive Care Unit at Massachusetts General Hospital.
Son John Hanshaw is director of the Guerrilla Film Fest and the International Film Fest in Washington, DC, where among other accomplishments he has been featured in the Washington Post. He also is involved with protection of the intellectual property rights of artists.
Daughter Elizabeth "Liza" Hanshaw works in the field of human services and has a great love for music and art. She performed with the musical group, "The Blackwells," creating the cover artwork for the band's album.
~ Daughter Elizabeth Annette "Betty Ann" Hanshaw ~
Daughter Elizabeth Annette "Betty Ann" Hanshaw (1930- ? ) was born in about 1930.
~ Daughter Jean Marie (Hanshaw) Redegeld ~
Daughter Jean Marie Hanshaw (1935-living) was born in about 1935 in Scarsdale, Westchester County, NY.
On Feb. 6, 1960, at the age of about 24, she was united in the holy bonds of marriage with Norbert A. "Bert" Redegeld (May 5, 1932-2018).
They bore four daughters -- Elizabeth Johannes, Mary Dietrich, Christine Redegeld and Katherine Stanton.
After receiving a degree from Williams College, Bert joined the United States Trust Company. His career at U.S. Trust spanned 35 years, and he retired as Vice President and General Auditor.
Bert also served in the U.S. Air Force as a captain during the tensions of the "Cold War."
Reported the White Plains Journal News, "He was a devout Catholic, a staunch defender of the Faith and of the unborn."
Sadly, Bert died at home in White Plains on Oct. 8, 2018. An obituary was printed in the News-Journal.
Daughter Elizabeth Redegeld married Gary Johannes.
Daughter Mary Redegeld wedded David Dietrich.
Daughter Christine Redegeld
Daughter Katherine Redegeld was joined in wedlock with Matthew Stanton.
Copyright © 2002-2010, 2019 Mark A. Miner