George Walters Henshaw
(1851-1890)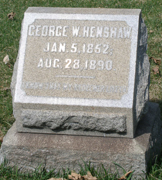 Washington (PA) Cemetery
George Walters Henshaw was born on Jan. 5, 1851 in Preston County, VA (now West Virginia), the son of Hiram B. and Catherine (Miner) Hanshaw.
He married into a prominent Southwestern Pennsylvania family of public affairs, but his own promising life was cut short by cancer just before he reached his 40th birthday.
On June 6, 1877, in Grafton, Taylor County, WV, George married Sarah Quail "Sallie" McGiffin (1851-1923), the daughter of Col. Norton and Sarah Houston (Quail) McGiffin, of near Washington, Washington County, PA. Both were age 25 at the time of marriage. J.H. Flanagan performed the ceremony.
On their Taylor County marriage license, a clerk wrote: "See order Book #12, page 332 for order of County Court as to name," a notation which is not yet understood.
How they met is not yet known, although a book about Sallie's family, Yankee of the Yalu (E.P. Dutton, 1968), hints that she might have resided in West Virginia for a brief time. (See below for more.)
Sallie (but not George) is mentioned several times in Yankee of the Yalu in connection with her excitement over her upcoming wedding, her time away with her husband in "Virginia" and later as a young "widow."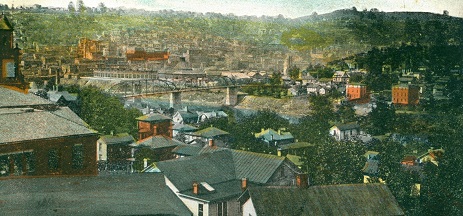 Bird's-eye view of Grafton, WV
George and his brother Charles were investors in a tract of land in the town, called the "Sims Tract." George owned a 3/4 share, and Charles a 1/4 share.
In many ways, while his own family was making its mark in West Virginia, George's in-laws -- including his wife's father and brothers -- were active in government and military circles in Washington County, PA and carried a reputation as adventurers of the first rank. Sallie's great-grandfather, Nathaniel McGiffin ( ? -1819), was an Scottish immigrant who served with the American army at Valley Forge and the Yorktown surrender during the Revolutionary War, and later settled on Ten Mile Creek in Amwell Township, Washington County. Sallie's grandfather, Thomas McGiffin (1784- ? ) was an attorney in St. Louis before returning to a life of agriculture in Western Pennsylvania, where he "carried on his farm in Amwell township, which he stocked with thoroughbred cattle from Henry Clay's farm in Kentucky," said Beers' 1893 Biographical Record. "He enjoyed the friendship of [Henry] Clay, with whom he interchanged letters expressive of mutual esteem and confidence." The grandfather was elected in 1836 to the Pennsylvania legislature, and was a construction contractor in the building of the National Road in portions of Washington and Fayette Counties, PA.


George's entry in the Wheeling city directory
By 1878, George and Sallie were busy establishing their own life and identity. He obtained employment as an express agent with the Baltimore & Ohio Railroad. He was assigned to work in Wheeling, Ohio County, WV, the first capitol of the newly formed state West Virginia when it had broken away from Virginia during the Civil War. The Henshaws lived there as boarders at 945 Main Street. To advertise his business, he purchased a bold listing in the 1879 "Leader" Wheeling Directory.
At the death of George's mother in 1879, she owed him $256.13 plus interest, for goods or services. He presented a bill for the debt to his mother's estate. The bill may be found today in the civil court records of Preston County, WV, and a copy is in the Minerd.com Archives.
Wheeling's bustling Market Square
The federal census of 1880 lists George and Sallie as living on Main Street in Wheeling, with George still employed as an agent with the B&O express service. The Callin's Wheeling Directory of 1880-1881 also shows them boarding at 945 Main.
A number of George's siblings, nephews, nieces and cousins also called the Wheeling area home in the late 1800s. Among them were his brother Robert, sister Agnes Hoge, widowed brother in law Thomas Lagee Purinton, nephew James "Edgar" Henshaw, and cousin Godfrey Guseman Murdock and their families.
In or about 1882, following the lead of Sallie's parents and extended family, the Henshaws left West Virginia. They migrated west to Iowa, settling in Ida Grove, Ida County. The benefit of this move was to take advantage of the flat, rich land for farming, a luxury not generally available in West Virginia and Pennsylvania. Sallie's father, the "restless elder McGiffin was trying his hand at homesteading," wrote Richard H. Bradford many years later in an article in the American Neptune headlined, "That Prodigal Son"
The 1885 Iowa State Census shows George and Sallie making their residence in Ida Grove, Corwin Township, with George's occupation listed as "groceries."The old King's Mill landmark in Ida Grove, seen here, was used as a sawmill and to grind flour from nearby farms in the years before a flood washed it downriver, never to be rebuilt.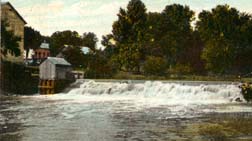 King's Mill on Maple River near Ida Grove

, IA
In February 1886, cutting more of their personal ties to West Virginia , George and Sallie sold their interest in the Sims tract in Grafton to Michael Kinney.
The farming and grocery life in Ida Grove apparently was not as lucrative as George and his in-laws had hoped. Within a few years, Sallie's father gave up farming, and accepted a position as U.S. Consul at nearby Port Rowan, on Lake Erie, Ontario. Possibly to be nearer to Sallie's parents, the Henshaws also decided to return east, and George secured employment as an agent with Adams Express Company in Syracuse, Onondaga County, NY. (Syracuse and Port Rowan are about 270 miles apart.)
When the Johnstown Flood struck in the mountains of Southwestern Pennsylvania in May 1889, Sallie and George would have learned that her first cousin, journalist Richard Harding Davis, traveled to the site to file dispatches. He later became a famed wartime correspondent and author of numerous books. (See below for more.)
Tragically, at about the time they relocated to Syracuse, George began to be afflicted with painful cancerous growths in his bowels. He was only in his mid-30s at the time. After "intense suffering," said a newspaper, he was treated in a hospital in Syracuse, with surgery performed to remove the tumor.
Sadly, despite surgery, George did not survive the ordeal, because the cancer was incurable. He died on Aug. 28, 1890, at the age of 39. His remains were shipped from Syracuse to Sallie's hometown of Washington, Washington County, PA for burial at the Washington Cemetery. Inscribed at the bottom of his grave marker was this biblical phrase: "I know that my redeemer liveth."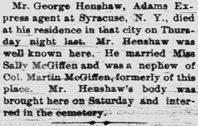 Washington Petroleum Exchange, 1890
Sallie's brother James, still residing in Ida Grove, IA, traveled east to attend the funeral. George's death was mentioned in the Maple Valley Era newspaper of Ida Grove, in the Fair Haven Register in New York, and with a brief death notice in the Wheeling Register in West Virginia.
In an obituary in Sallie's hometown newspaper, the Washington Petroleum Exchange said that George "was well known here." The article was filled with errors, noting that he had "married Miss Sally McGiffen [sic] and was a nephew [actually son in law] of Col. Martin [actually Norton] McGiffen, formerly of this place."
At the time of George's death, his father-in-law was serving as U.S. Consul in Ontario. Out of respect, the Hudson Post 159, Department of New York of the Grand Army of the Republic (GAR), a Union veterans' organization, published a "Memoriam" in his memory. It appeared in the Sept. 19, 1890, edition of the Fair Haven Register newspaper:
Whereas, Remembering the true traits of manhood that embelished the character of the deceased friend, whom our comrade and his sorrowing family are called to mourn; his warm hearted, kind and affectionate bearing towards all with whom he came in social contact. We are enabled to realize in a measure their irreparable loss and deep and heart felt sorrow. Therefore Resolved: That Hudson Post actuated by that sympathy, borne of a fraternal spirit peculiar to our order extend to our comrade and to each member of his grief stricken family the assurance of our tender regard and sincere sympathy in this season of sore affliction and trial. F.R. Wade, M. McDonald, H.S. McArthur, Committee.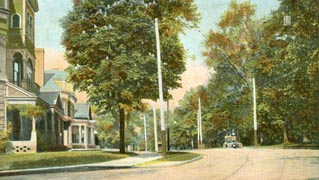 Maiden Street in Washington, where Sallie lived in widowhood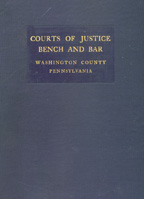 Book naming the McGiffins
Sallie, widowed at age 39, decided to stay in Washington under the roof of her mother on East Maiden Street. When her father soonafter was appointed an usher for the U.S. House of Representatives, and thus spent each winter in Washington, DC, Sallie helped care for her mother who did not want to live in the nation's capitol.
George and Sallie were not forgotten by posterity. They are mentioned in at least two history books about Washington County -- first, in J.H. Beers & Co.'s 1893 Commemorative Biographical Record of Washington County (page 110), and second in a profile of her brother James in the book Courts of Justice: Bench and Bar of Washington County, authored by Boyd Crumrine and published by the Washington County Bar Association. [A distant cousin, Cyrus Lindley, also is pictured and mentioned in Courts of Justice.]
~ Sallie's Life Alone ~
No doubt Sallie felt anxiety about the health and well being of her brothers as she grappled with her own loneliness. Her brothers included Nathaniel McGiffin, a minister in Auburn, NY; James Quail McGiffin, a prominent attorney suffering from kidney disease in Washington, PA; Thomas McGiffin, living in Hawaii; but especially Philo Norton McGiffin, who was far away in Asia, teaching in a Chinese war college and later commanding a ship in the Chinese Navy.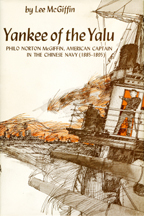 Book about Sallie's brother
During the 1880s, brother Philo had traveled to China to teach at a naval college. Later, after earning the trust of military officials, he was given command of the Chinese battleship Chen Yuen in the war against Japan. While in Iowa, Sallie kept several letters that he sent home and arranged to have them published in the Iowa State Register. When Philo was seriously wounded in 1894 at the Battle of the Yalu River, he returned home in broken health and was hailed as an American folk hero. (See below for more.)
In trying to rebuild his life in Washington, Philo and Sallie became close once again after many years of separation. "Only to his sister Sally, now a widow, did he confide his hopes and fears for the future," wrote Lee McGiffin in Yankee of the Yalu. "Since [Sallie] had long suspected his animation and pleasant bantering were only superficial, she was not too shocked when he admitted that he had never been free of pain since the Battle of the Yalu had roared to a deafening close."
Philo went to New York seeking medical treatment for his war wounds. He was admitted to the New York Post-Graduate Hospital in Manhattan, where he spent many months convalescing. In early February 1897, word reached his family that he was improving.
But heartache rocked the McGiffins' world on the morning of Feb. 11, 1897, when a telegram arrived at their home on East Maiden Street in Washington, announcing that Philo had died at the hospital in New York. "There were no further particulars," said that evening's Washington Daily Reporter. "The shock to the relatives can be imagined, and the mother, brother and sister here are prostrated."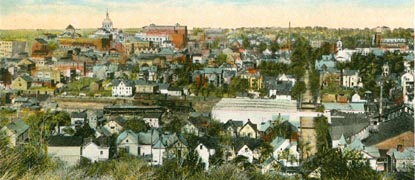 Bird's-eye view of Washington, early 1900s
Sallie's father rushed home from the nation's capital to join the family for the funeral. Philo's casket arrived two days later "on the Chartiers train." His "body was arrayed in the Chinese uniform which Capt. McGiffin wore while in the service of that country," said the Daily Reporter. "The cloth is of dark blue, with gold braid around the sleeves... The services and interment at the Washington cemetery were private."
Sallie soonafter learned that Philo had taken his own life, using a revolver he had concealed in a box in the hospital. It added deep shame to an already tragic situation.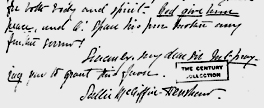 Sallie's letter to The Century Magazine
Bearing deep grief, Sallie expressed her feelings in a letter to R.W. Gilder, publisher of the popular periodical, The Century Illustrated Monthly Magazine. Known popularly as The Century, the magazine previously had printed her brother's articles after the Yalu battle. Today these letters are preserved in the Manuscripts and Archives Division of the New York Public Library.
One can only imagine her agony as the fast-thinking, image-conscious Sallie penned these lines on Feb. 17, 1897, just six days after her brother's death:
I thought possibly you might in some way speak of my brother Captain McGiffin in some issue of your magazine. If you or anyone should do so, will you not suppress any mention of the manner of his going away. My Mother does not know and I fear the shock would kill her... I did not know until evening, the telegram was brief, and how could I inflict that blow upon her. So all has been concealed. And when she saw the dear face so peaceful and beautiful in death, I thought why need she ever know" Your magazine will be the only one she need see. I think I can conceal all others, and surely there is enough to say without that! I think he was suffering so that he could not help it. Those pistols were not in that box when he want to the hospital. My brother who lives here packed it with valuable papers only. Two days before he died he wrote to a lady in Hartford asking for his albums among other things and said he was intending to write an article for your magazine, or was thinking of it, ine the letter he spoke two or three times of his great pain and weakness he was feeling. The whole life for over two years has been filled with pain for both body and spirit. God give him peace, and O! Spare his poor mother any further sorrow!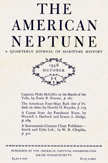 Magazine which
cited Sallie's letter
The following week, on Feb. 25, 1897, Sallie wrote to Mr. Johnson at The Century, thanking him for his letter of condolence and a floral bouquet he had sent for the funeral. She wrote:
I am so glad you thought of the flowers, for he loved them so! I never knew any one so passionately devoted to them as he. It is very kind of you to think of sending the magazines and I should like very much to have a few copies. I do not agree with the hospital authorities regarding my brother's mental condition. We know that he was never the same after that battle.. He told me once that he never had an hour free from pain! god only know what he endured of both mental and physical pain. If, as Swedenborg believed, the impress of the spirit is left on the features at death, we may feel that all is well with him for never was seen a more peaceful, beautiful face in death... When he wrote his article for your magazine, he walked from room to room through the house, never sitting for one minute, it was impossible for him to sit without great pain on account of a piece of shell that was removed months afterwards from his left leg.
Some years later, Sallie reprinted Philo's letters in pamphlet form. (Copies are being sought for the Minerd.com Archives.) The letters were mentioned in an October 1948 article in The American Neptune (see below for more). The Neptune was a quarterly journal of maritime history published by Samuel Eliot Morison and Walter Muir Whitehill of the Peabody Museum of Salem, MA.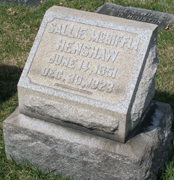 Sallie's grave, Washington PA
When the census was taken in 1900, Sallie was age 49 and marked as a "widow." That year, she was employed as a teacher of music and made her home with her parents on East Maiden Street in Washington. The census taker also recorded that she had no children, and spelled her married name "Henshaw."
Sallie's mother Sarah (Quail) McGiffin passed away at the age of 76 in late January 1904. Said the Waynesburg (PA) Republican, "The circumstances of her death were unusually sad, since it occurred upon her husband's 80th anniversary and army comrades had met to celebrate the occasion and present him with a chair."
Sallie's father only lived for another year and a half after his wife's demise. He died on July 30, 1905, and is buried beside his wife, under a prominent "McGiffin" marker near the community mausoleum, at Washington Cemetery.
After her parents' deaths, Sallie was alone in Western Pennsylvania. Only two of her brothers were still alive at the time -- Thomas in Honolulu, Hawaii; and Rev. Nathaniel, in Western Nebraska. She made the decision to relocate to California, and made her new home in Los Angeles, Los Angeles County.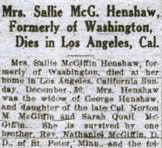 Washington (PA) Reporter
Sallie passed away in Los Angeles at the age of 72 on Dec. 30, 1923, after 33 years of life as a widow. Her remains were shipped back to Pennsylvania for interment beside her husband in the McGiffin lot at Washington Cemetery. Funeral arrangements were handled by the Ritchie funeral parlor, with a memorial service held in the chapel of the First Presbyterian Church of Washington.
Sallie's obituary, published in the Washington (PA) Reporter, noted that she was "survived by one brother, Rev. Nathaniel McGiffin, D.D., of St. Peter, Minn., and the following nephews and nieces, Norton McGiffin of Cleveland, O.; Miss Helen E. McGiffin, of Waynesburg, children of the late James Q. McGiffin; Philo Norton McGiffin, Nathaniel H. McGiffin and Miss Hadessah McGiffin, children of Dr. Nathaniel McGiffin."
[Several branches of distant cousins also rest for eternity in Washington Cemetery, among them Andrew Jackson and Mary Louise [Johnston] Miner, all four of their adult children and many grandchildren; and several adult children of John and Catherine (Miner) Bedillion and Samuel and Susan (Miner) Birch.]
Sallie's genealogical data has been maintained in recent years on the WillHerring.com website, which is not accessible to the public.
~ Sallie (McGiffin) Henshaw's Family in Prominent Public Service, Starting with Her Father ~

Sallie's father,
Col. McGiffin
Sallie's father, Col. Norton McGiffin (1824-1905), was a member of the Du Quesne Greys during the Mexican War and later commanded a Pennsylvania infantry regiment during the Civil War. In 1853, he married Sarah Houston Quail, daughter of James Quail of North Strabane Township, Washington County. He was a boyhood friend and schoolmate of James G. Blaine, Speaker of the U.S. House of Representatives, U.S. Senator, and two-time U.S. Secretary of State.
While with the Greys, Norton "served throughout the entire struggle, participating in the siege of Pueblo, the storming of the Castle of Chapultepec, City of Mexico and Vera Cruz," said Beers' book, History of Washington County, Pennsylvania. Upon returning home, he was elected Sheriff of Washington County (1858-1861), and was enumerated as such in the 1860 federal census.
Just days after the Civil War broke out, Norton heeded President Lincoln's call for volunteers and enlisted as one of the "Washington Invincibles" at Pittsburgh on April 20, 1861. First assigned to the 12th Pennsylvania Volunteer Infantry, he transferred after three months to the 85th Pennsylvania Volunteers, becoming lieutenant colonel under Col. Joshua B. Howell. Together, they saw action in the Peninsula Campaign commanded by General George McClellan.
Said the Washington Reporter, "The hardships and trials of the campaign so undermined Col. McGiffin's health that when he was stricken with a fever, he was unable to muster sufficient strength to combat the disease, and was obliged to resign his commission. He returned to Washington the very antithesis of the vigorous, sturdy man who had led his comrades forth, and it was several years before he in some measure regained his accustomed health."
[At least seven Minerd-Minard-Miner-Minor cousins served under Norton in the 85th Pennsylvania Infantry -- of whom three died in service (Leonard Rowan, John Irving White and Jacob M. Younkin) -- with the remaining four surviving (Isaac F. Minerd, James Minerd Jr., William Minerd and James Rowan. See the full list of more than 200 M-M-M-M cousins in the Civil War.)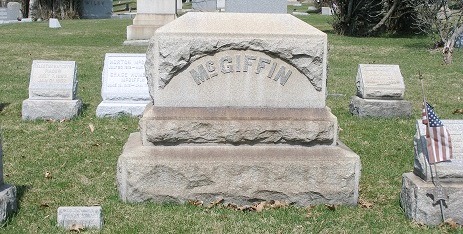 McGiffin family plot, Washington Cemetery
Obituary, 1905
After the war ended, Norton and Sarah resided for four years near Wheeling, Ohio County, WV. In 1870 they moved back to Washington County. Pursuing public office, he served in the U.S. House of Representatives from 1880-1882, "and in the spring of 1882 removed with his family to Ida Grove, Ida County, Iowa," said the Courts book, where he tried his hand at farming. Also making the move to Ida Grove were their adult children Sallie and George Henshaw and James Quail McGiffin, and Sarah's brother Alexander Quail.
In 1886, Norton and Sarah moved again to Fair Haven, Cayuga County, NY, where in 1890 Norton accepted an appointment from his old friend James G. Blaine as U.S. Consul at Port Rowan, on Lake Erie, Ontario, Canada. His "headquarters at Simcoe [were] a few miles further north," wrote Beers. "On March 13, 1892, he was appointed U.S. Consult at Port Hope, Canada."
Norton returned to Washington County following his service as U.S. Consul. In the late 1890s, he along with several hundred Civil War veterans was named as an usher at the U.S. House of Representatives, where he spent each winter in service in the nation's capital.
Said the Courts book in 1902, he "now lives on East Maiden Street, Washington." They were members of the First Presbyterian Church of Washington, and made their residence on North Maiden Street.
In early May 1905, just a few months before his own death, Norton saw to it that a grave marker was erected in memory of his Revolutionary War hero grandfather, Nathaniel McGiffin, who had died some 86 years earlier. In performing this act, he traveled to his ancestor's resting place at the Presbyterian grave yard at Amity, Washington County.
~ Sallie's Brother James Quail McGiffin,
Solicitor of Washington County, PA ~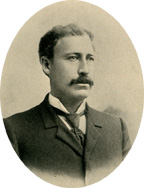 James Quail McGiffin
Sallie's brother James Quail McGiffin (1856-1899) was born in 1856.
He married Carrie Ruggles (1864-1911), a native of Manchester, Iowa.
They had two children, Norton McGiffin II and Helen E. McGiffin.
James studied at what is now Washington and Jefferson College. He spent several years in California but returned to Washington in 1878, was a law clerk for a local attorney, and then became a lawyer in his own right at the age of 26 in 1882. He migrated to Iowa with his parents in 1882, and his son Norton was born there in 1887. James practiced law at Ida Grove until March 1891, returning to Washington.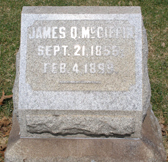 Washington (PA) Cemetery
He served as Solicitor of Washington County from 1897 to 1899. During that time, James was "intensely interested in the enterprise" of erecting the new Washington County courthouse, said the 1902 book, Courts of Justice: Bench and Bar of Washington County. In his "official capacity [he] lent it very material and effective aid.
This history is, to a considerable extent, based on a sketch prepared by him a short time before his death, giving an account of the proceedings in connection with the buildings down to that time." In fact, during the February 1897 court term, he presented the Washington County judges with a formal petition to approve the architectural plans prepared for the new courthouse and jail.
Tragically, James died at the untimely age of 43 on Feb. 4, 1899. He was laid to rest near his brother Philo in the McGiffin lot in Washington Cemetery. In 1901, when Courts of Justice, was published, he was pictured and profiled in the volume.
Carrie outlived him by 12 years. She died in Washington at the age of 47 on April 8, 1911.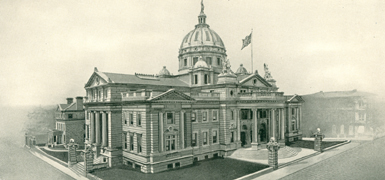 Washington County Courthouse of 1902, built with active support from James Quail McGiffin, the county solicitor
Son Norton McGiffin II (1887-1944) was born on Aug. 22, 1887, in Ida Grove, Iowa, but came back to Washington in his youth. He married St. Louis native Celestine Brazeau (1886-1957) and became a lawyer. Norton practiced with a law firm in Cleveland, Cuyahoga County, OH. He died of a stroke at the age of 57 on Oct. 27, 1944. His remains were returned to Washington for burial in the family plot. Celestine remarried to (?) Rader. She died in Springfield, OH, on Jan. 31, 1957.
Norton and Celestine's son James Quail McGiffin II (1914-1958) married Isabelle May Peirson ( ? - ? ). They had one daughter, Sara Louise McGiffin. In the 1950s, James lived in Calcutta, India. He died there at the age of 44, on March 17, 1958, and his remains were transported back to Washington for burial. On his grave marker were inscribed these words: "Devoted husband of Isabella May Peirson McGiffin, father of Sara Louise and family genealogical student."
Daughter Helen E. McGiffin (1889-1976) resided in Waynesburg, Greene County, PA circa 1923. She apparently never married. She died on March 13, 1976, and is buried in the McGiffin lot in Washington Cemetery.
~ Sallie's Brother, Capt. Philo Norton McGiffin,
the "Yankee of the Yalu" ~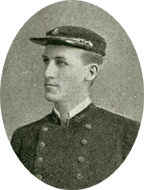 Capt. Philo McGiffin
Sallie's brother Philo Norton McGiffin (1860-1897) was born in 1860.
He became a soldier of fortune in Asia. He "has the distinction of being the first man of American or European blood to command a modern battleship in action -- and what a battle," writes local historian Earle R. Forrest in "Captain Philo McGiffin At the Battle of the Yalu" published in the October 1948 edition of The American Neptune.
Philo was born on Feb. 13, 1860, in Washington, where he grew up. He studied at Washington College, and graduated from the U.S. Naval Academy at Annapolis. He then traveled to China to teach mathematics and naval strategy in the Naval College at Tien Tsin.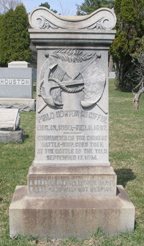 Philo's grave, Washington PA
During China's war with France in 1885, and only after gaining the respect of Chinese naval officers, he was given "command of the only Chinese gun-boat that captured the only gun-boat lost by France in that short war," Forrest writes. In all, Philo served for 10 years in the Chinese Navy.
During the war between China and Japan in 1894, at the age of 33, he commanded the Chinese battleship Chen Yuen. He led his ship to a bloody standoff in the famed "Battle of the Yalu," on Sept. 17, 1894. At one point in the battle, with the bodies of dead crewmates scattered all across the Chen Yuen deck, and seriously wounded himself, Philo faced certain death when the ship's guns turned to fire and he found himself looking down the barrel. He was able to move away from the line of fire, and escaped annihilation.
But the enemy fire had taken its tool, said the Courts book, and "he was so seriously wounded that he never recovered his strength." He returned to the United States to great fanfare and publicity, but carrying several hundred wounds including steel shrapnel and wooden splinters throughout his skull and upper body.
In demand for accounts of his experience, Philo wrote "The Battle of the Yalu" in The Century Magazine, published in August 1895. "Although his body was wrecked and he suffered acute torture his iron will was never broken," writes Forrest. "In spite of his agony he posed for a photograph in the torn and scorched uniform he had worn in the battle. It is a pathetic picture of a brave man, his head and faced swathed in bandages until only one eye and part of his nose and half of his moustache are visible; but the look from that one eye and the pose are as defiant as ever."

Above, Philo's Chinese battleship, Chen Yuen, before the Battle of the Yalu against Japan. Below, left: Philo on desk of the Chen Yuen, facing into the muzzle his own 12-inch guns which were furiously turning in battle. Below, right: in his tattered uniform and bandages afterward.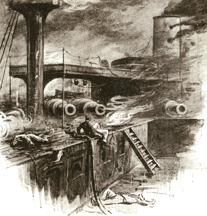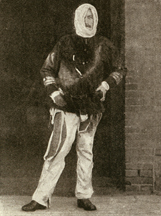 Returning home to Washington, PA, Philo was held in great esteem by local residents. Writes Forrest:
I was only a boy then; but I remember him well after his return from China; for this man from our own town, who had fought the Japanese to a standstill, was the hero of every small boy in Washington, Pennsylvania. Time and again we heard our elders recount tales of his adventures, and we regarded him with real reverence. He was a greater hero to us boys than was Admiral Dewey a little later.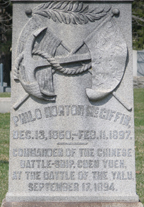 Detail of Philo's grave
Boyhood friend James B. Wylie observed that Philo was "as badly shot up as a man could be. His abdomen seemed to be filled with pieces of steel. I could seem them in his flesh like powder burns, while the skin was rough and ridged and hard. You could even see steel splinters sticking through the skin. I never saw a man so discouraged as Philo McGiffin was at that time." Tragically, his health continued to decline, even though he kept up positive appearances in letters back home.
While at the New York Post-Graduate School and Hospital, he ended his own life with a pistol shot on Feb. 11, 1897. His weary, scarred remains were laid to rest near George Henshaw and others in the family plot at the Washington Cemetery.
Philo is mentioned in several books and articles published over the span of decades after his demise. They include:
The Return of Philo McGiffin (St. Martin's Press, 1983, and Naval Institute Press, 1997).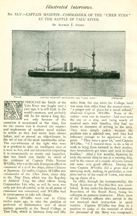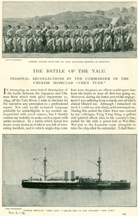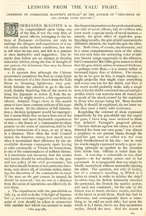 Three major 1895 articles about Philo and the Battle of the Yalu -- left: "Captain M'Giffin--Commander of the 'Chen Yuen' at the Battle of Yalu River" by Alfred T. Story in Strand; center: "The Battle of the Yalu" by Philo himself in The Century; and "Lessons from the Yalu Fight" by A.T. Mahan in The Century; all preserved today in the Minerd.com Archives.
~ Sallie's First Cousin, War Journalist
Richard Harding Davis ~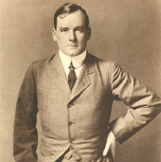 Richard Harding Davis
Sallie's cousin, Richard Harding Davis (1864-1916) was born in 1864, the son of L. Clarke and Rebecca (Harding) Davis, both of whom were professional writers and editors of national repute.
He resided in Philadelphia and was a famed novelist and war correspondent. Richard is said to have been the model for Charles Dana Gibson's "Gibson Man" illustrations.
He is known to have covered the Johnstown Flood in 1889 and later the very same year reported on the Jack the Ripper murders in the Whitechapel section of London.
He was a reporter with Philadelphia's Record and Press, the New York Times and managing editor of Harper's Weekly. He is known to have traveled to South Africa to cover the Boer War, worked for William Randolph Hearst's New York Journal in the era of "yellow journalism" and thereby helped create the legend of Teddy Roosevelt and the Rough Riders during the Spanish-American War in Cuba. He also reported on location during the Russo-Japanese War and World War I.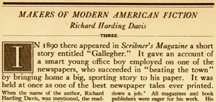 Feature about Richard's career
Richard's books include Rulers of the Mediterranean (1894), About Paris (1895) and Three Gringos in Venezuela and Central America (1896).
During the pre-American-involvement years of World War I, he was captured by the German Army and accused of being a spy, but he eventually was released unharmed.
He died in New York City on April 11, 1916, at the age of 52.
Copyright © 2000, 2002, 2008, 2010, 2012, 2021 Mark A. Miner
Portrait of James Quail McGiffin and Washington County Courthouse originally published in Courts of Justice: Bench and Bar of Washington County, by Boyd Crumrine, Washington County Bar Association. Portrait of Philo Norton McGiffin and images from the Battle of the Yalu reproduced from Strand Magazine, December 1895. Portrait of Richard Harding Davis originally published in The Mentor, 1918.