Chauncey Clinton Harbaugh
(1879-1935)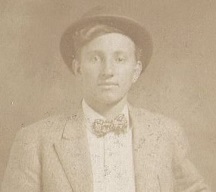 Chauncey Harbaugh
Chauncey Clinton "Chance" Harbaugh was born on Jan. 8, 1879 in Ohiopyle, Fayette County, PA, the son of Allen E. and Margaret (Williams) Harbaugh.
Chance had dark hair and hazel eyes. He never married.
At the age of 21, when the federal census of 1900 was enumerated, Chauncey was living at home with his parents. He worked that year as a fireman on the railroad.
In 1910, at age 31, Chance remained at home, and worked as a "laborer on odd jobs." He made his home in Connellsville circa 1917 but often would spend his off-work days at his mother's home in Mill Run.
Circa 1920, federal census records show that he was employed as a coal mine laborer in the Mill Run area.
Census records for 1930 show Chauncey and his single sister Anna making their home together near Mill Run. His occupation at that time was "laborer - odd jobs."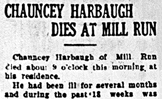 Daily Courier, 1935

Chauncey was a member of the Mill Run Council of the Junior Order of United American Mechanics, and in January 1932 was elected "conductor" of the organization, with his name published in the Connellsville Daily Courier. Other members were McCune Harbaugh (councillor), Forest Herwick

(vice councillor), Charles Barkley (warden), Raymond Shearer (inside sentinel), Foster bigam (outside sentinel), Lester Dull (chaplain), G.C. Work (trustee), Otto Arzbacher (assistant recording secretary) and Rev. F.S. Wortman of the Baptist church (junior past councillor).

Chauncey is pictured with other local men, posed in front of the Mill Run post office circa 1902-1910, in the 1970 book, A History of Mill Run. He was a member of the United Brethren in Christ Church.

Book picturing
Chauncey, 1994

Suffering from chronic disease of his heart valves and kidneys, Chauncey was treated by A.G. Mull, M.D., of Melcroft, but there was to be no cure. He passed away on April 29, 1935, at the age of 56. Said the Connellsville Daily Courier, "He had been ill for several months and during the past 18 weeks was confined to his bed."

Brother William Judson Harbaugh signed the official Pennsylvania certificate of death. Funeral services were held at the Indian Creek Baptist Church, officiated by Rev. Paul Means of the United Brethren Church, assisted by Rev. Wartman. Interment was in the Harbaugh family plot at the Indian Creek Baptist Church in Mill Run. His grave today is not marked.

In 1994, the photograph of Chance at the Mill Run post office was published in the book, Yesteryear in Ohiopyle and Surrounding Communities, Vol. II, compiled by author Marci Lynn McGuinness.

Copyright © 2004-2005, 2014, 2016 Mark A. Miner

Chauncey Harbaugh photo courtesy Iva Kressler