Flossie (Harbaugh) Heins
(1893-1957)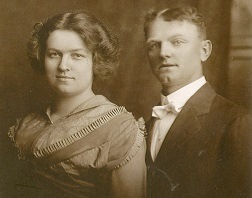 Flossie and John Heins
Rachel "Flossie" (Harbaugh) Heins was born at Maple Summit, Fayette County, PA on March 22, 1893, the daughter of Robert and Elizabeth (Long) Harbaugh Sr.
She was an early teacher in our family, working at a one-room school across the road from the Maple Summit Church. She later was a teacher and farmer in Nebraska.
Flossie married John Heins (Jan. 4, 1892-1957), a German immigrant and the son of Henry and Marie (Schroeder) Heins and grandson of Heinrich and Maria (Hinck) Heins, all Germans who settled in Nebraska.
They produced one daughter, Iona Lucille Wallace Christiansen McQuiston, born in 1918 in Polk County, NE.
Flossie's husband was born in or near the Hanover Province of Germany on Jan. 4, 1892. John's parents brought him to the United States in about 1896, when he was age 4.
John was an outdoorsman who enjoyed his horses, farming, dairying and orchard.
Flossie met her husband in a most unusual way. In about 1916, she went to visit her Long cousins in McCool Junction, NE. While there, she came down with pneumonia. Her physician advised her not to return to Pennsylvania until spring because the Nebraska climate would be better for her health. Thus confined, she took a part-time job at the McCool Junction Post Office.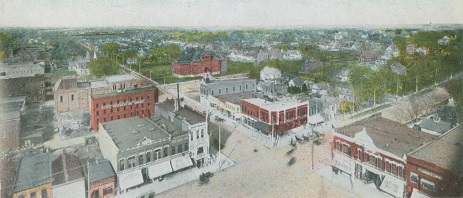 York, Nebraska, looking northwest, early 1900s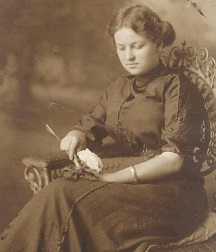 Flossie Heins
A rural school in Thayer, about 25 miles northeast of McCool Junction, needed a teacher, and Flossie agreed to fill the position. It was arranged that she would board there with the Behnken family. After packing her belongings in a trunk, she took the train to Thayer. Waiting for her at the station was John Heins, nephew of the Behnkens, who had been told to "go get the new school marm."
In the words of their daughter, Lucille, "He not only hauled her trunk in but he hauled it out on March 14th, 1917 when they got married."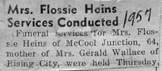 Flossie's obituary, 1957
The Heinses resided in Polk County, NE from 1917 to 1931, where they were farmers. They then moved to York County, NE.
Flossie was a member of the First Lutheran Church in McCool Junction.
When the federal census was taken in 1940, the Heinses were enumerated as living on a farm in New York Township, York County.
After 40 years of marriage, John and Flossie both passed away in 1957, within three months of each other. John died on May 5, and Flossie died on Aug. 11. Flossie's brother and sister in law, Oakey and Gertrude (Shroyer) Harbaugh, traveled from Pennsylvania to attend Flossie's funeral.
They are buried together under a red barre granite marker in Greenwood Cemetery in York County. [Find-a-Grave]
~ Daughter Iona Lucille (Heins) Wallace Christiansen McQuiston ~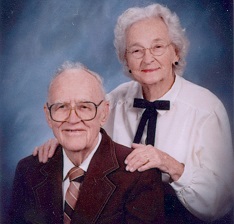 Lucille and Lou Christiansen
Daughter Iona "Lucille" Heins (1918-2009) was born on March 12, 1918 in Polk County, NE. Married and widowed three times, she was a talented folk artist, with talents ranging from poetry, gardening and painting to musical performance, rose gardening and traveling.
Following graduation from York (NE) High School, she received a bachelor of arts degree in 1938 from York College. Following in her mother's footsteps, she was a teacher of high school English for 20 years. Said a newspaper, she "started her teaching career at Rising City High School and at Battle Creek High School. After establishing her family, she returned to teaching at a country school in Garrison, NE, at Ulysses High School, Osceola High School, and at Columbus Jr. High School until her retirement in 1973."
On June 1, 1941, at the age of 23, she wedded her first husband, Gerald Wallace ( ? -1981) in nuptials in York, NE.
The couple produced four children -- Jerealyn Willms, Marcia Janssen, Maren Schuster and Dennis J. Wallace.
The Wallaces made a home in 1943 in Shelby, NE and in the 1960s in Columbus, NE, where Gerald and their son Dennis operated the Champlin gasoline service station.
In 1967, at the age of 49, Lucille obtained a master's degree from the University of Nebraska at Lincoln. She was a member of the Methodist Church, where she was a member of the Ladies Aid Society and played the organ for the church choir. For a half-century, she was a member of the Rebekah Lodge in Rising City, NE and belonged to the Wally Byan Air Stream Trailer group.
Sadly, Gerald passed away in 1981.
After four years as a widow, Lucille was married a second time on Feb. 3, 1985 to Louis "Lou" Christiansen ( ? - ? ). He had been married before and brought two sons to the union, James Christiansen and Kenneth Christiansen.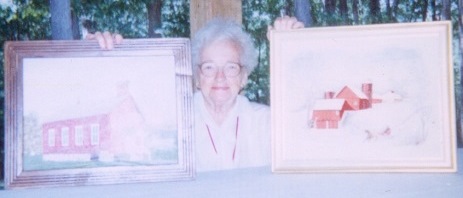 Lucille displaying her paintings at the 1997 Harbaugh Reunion
Following Lou's passing, she was joined in wedlock for a third time in 2004 to James "Jim" McQuiston ( ? - ? ). James died prior to 2014.
Lucille has painted several pictures of the Maple Summit Church which her grandfather, Robert Bacom Harbaugh Sr., built in the early 1890s. Lucille and her husband Lou attended the Harbaugh Reunion in 1997, receiving the "Furthest Traveled" Award. In 2002, she privately published a compilation of her creative writing over the years, entitled Lifetime Collection of Poetry.
She spent her final years in David City, NE. At the age of 91, Lucille died at David Place on Dec. 15, 2009.

Daughter Jeralyn Wallace married Richard Willms. They dwell in Omaha and have these offspring -- Richard Willms and Ryan Willms.

Daughter Marcia Wallace wedded Larry Janssen. Their home is in Platte Center, NE. Their three children are Suzette "Suzy" Dubas, Jacque Wunderelich and Richelle Koop.
Granddaughter Suzette "Suzy" Janssen ( ? -living) was born in (?). On May 24, 1985, in nuptials held in Council Bluffs, IA, she married Richard L Dubas (April 3, 1965-2008), son of Frank and Phyllis (McKenzie) Dubas and a native of Fullerton, Nance County, NE. The couple bore two children -- Jenna Dubas and Darrin Dubas. Richard moved to Columbus in January 1979 at the age of 13. From 1982 to 1985, and then again from 1990 to 1991, he served in the Army National Guard and from 1985 to 1990 in the U.S. Air Force. For the first five years of their marriage, the Dubases lived in Omaha and Italy before settling in Columbus in 1990. Over the years, he worked for Richland Grain, Janssen Farms and D&L. He and his brother Jim became partners with their father in 1988 in Dubas Refrigeration, and in 2002 he obtained an electrical contractor's license for working on commercial and residential buildings. They were members of St. Isidore Church, with Richard a member of the church's parish council. Heartache swept over the family when Richard was killed on March 2, 2008 while riding an all-terrain vehicle in a park along the Niobrara River in Keya Paha County, NE. A story about the tragic accident was printed in the Columbus Telegram. Following funeral rites performed by Rev. Joseph Miksch in the family church, his remains were placed into eternal repose in Columbus Cemetery in Platte County. Additional military honors were provided by the Hartman Post of the American Legion.

Daughter Maren Wallace was joined in marriage with Don Schuster. They reside in Basalt, CO and are the parents of Michael Schuster, Douglas Schuster and Amy Schuster.
Son Dennis J. Wallace (1943-2001) was born on Oct. 9, 1943 in Shelby, NE. He was united in wedlock with Twila (?). They were the parents of Denise Kracl. Upon graduation in 1961 from Rising City High School, Dennis relocated to Columbus, NE where he spent the balance of his life. He and his father operated the Champlin gasoline service station in Columbus until the mid-1970s. He went on to found Wallace Oil Company, which he owned until 1985. Later, he created another business, C-L Express Company. In his spare time, he worked for Country Shadows Golf Course. He also served in the National Guard and belonged to the American Veterand and the Elks Club. Sadly, Dennis died at the age of 58 at home on Nov. 18, 2001. An obituary noted that he loved to play cards, watch football and work in his garden and wood shop. Circa 2018, Twila lived in Columbus, NE.
Copyright © 2001, 2003, 2018 Mark A. Miner