Rev. John Austin Harbaugh
(1882-1922)

John A. Harbaugh
Rev. John Austin Harbaugh was born on July 26, 1882 in Springfield Township, Fayette County, PA, the son of Allen Edward and Margaret (Williams) Harbaugh.
He was a minister of the Church of Christ, but probably was not ordained.
John may have shown an interest in the spiritual aspects of life at a young age. On Christmas Day 1888, when he was just six years old, his father presented him with a brand new copy of the New Testament. He marked the book's flyleaf with an inscription for his son in flowing lettering in blue and red inks. The book was printed in 1882 in London by the British Foreign Bible Society.
At age 18, when the federal census of 1900 was enumerated, John was living at home with his parents. He worked that year as a day laborer.He had dark hair and gray eyes.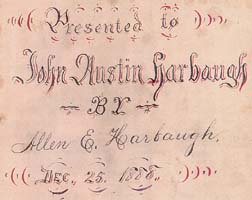 Flyleaf of John's Bible
On Oct. 20, 1909, at the age of 27, John married his first wife and double cousin, 20-year-old Isabella A. "Belle" Robbins (June 8, 1889-1913), the daughter of Charles L. and Rebecca (Rowan) Robbins, and the granddaughter of Jonas and Julia Ann (Williams) Rowan Prinkey.
Belle was a native of Bullskin Township, Fayette County. According to family notes, she had light brown hair and hazel eyes.
The couple first lived with Johnís parents in Mill Run, where they are listed on the census of 1910. That year, Johnís occupation was "laborer on odd jobs." Belle was among 27 local women and men baptized in a local reservoir in May 1911 by a traveling preacher from Milton, PA.
The Harbaughs are believed to have moved circa 1912 to Blue Knob, Blair County, PA. Belle's parents are known to have lived there at the time. She suffered at that time from chronic kidney disease.
In Blue Knob, their only son was born, Charles "Austin" Harbaugh (Sept. 1, 1912-1913).
Double tragedy struck in the summer of 1913. On Aug. 5, their 11-month-old son Charles contracted cholera. After 12 days of suffering, the baby succumbed on Aug. 17.
Then, just a week later, stricken with pulmonary tuberculosis on top of her kidney problems, Belle died from what the Connellsville Daily Courier called "a complication of diseases" on Aug. 24. Both mother and son were laid to rest at Mt. Moriah Cemetery in Blue Knob. Later, their remains were believed to have been relocated to the Indian Creek Baptist Cemetery in Mill Run, in the Harbaugh family plot, which today is not marked.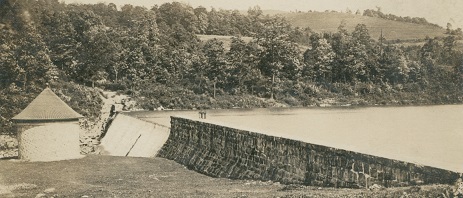 Indian Creek Reservoir where Belle may have been baptized in May 1911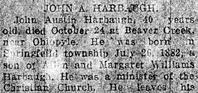 Obituary, 1922
John as a widower returned to Fayette County. He continued his work as a part-time preacher in the Church of Christ in the Beaver Creek area near Ohiopyle. He was a staunch Prohibitionist – opposed to the sale and use of alcoholic beverages.
On Aug. 3, 1918, in nuptials held at South Connellsville, Fayette County, John married his second wife, 21-year-old Daisy Estelle Glover (1897-1976), the daughter of Samuel and Armanda Glover of Markleysburg, PA.
They lived at Beaver Creek and produced two children Ė Harold Donald Harbaugh and Dorothy Marie Miller Leasure.
Indian Creek Baptist Cemetery
When the federal census was taken in 1920, the Harbaughs made their home in Henry Clay Township, Fayette County with their newborn son Harold. John's occupation that year was listed as "farmer."
Heartache struck again during the first of October 1922 when 40-year-old John came down with a deadly case of typhoid fever. He was unable to rally and, after 23 days, died of its effects on Oct. 24, 1922. He was buried at the Indian Creek Baptist Church.
The grief-stricken Daisy was a widow for about a year. In 1923, she was joined in wedlock with her husbandís brother William Judson Harbaugh. They went on to have three more children of their own -- William Gradon Harbaugh, Genevieve Umbel Frazee and Alberta Beatty. See William's biography for more.
~ Son Harold Donald Harbaugh ~
Son Harold Donald Harbaugh (1919-1983) was born on June 28, 1919.
On Christmas Day 1941, when he was 22 years of age, he was joined in matrimony with Wilma Kathryn Travis (Sept. 9, 1917- ? ), daughter of O.A. and Georgianna (Swearingen) Travis.
They produced a family, including son Donald Lawrence Harbaugh.
Harold earned a living with the Mountain Water Supply Company. Just a few months after the outbreak of World War II, on Feb. 19, 1942, he joined the U.S. Army. He is known to have been deployied with the coast artillery in the South Pacific Theatre.
The family resided in Mill Run in the later 1940s. They eventually relocated to Wellington, Lorain County, OH.
Harold was employed in the maintenance department of Ohio Fuel Gas Co. In about 1956, he and a co-worker were overcome by gas fumes while working in a ditch to repair a gas main. They both passed out, and might have died, if it were not for a rescue led by co-worker Rudolph Poszgai.The story made headlines in the Wellington News-Tribune.
Sadly, Wilma died on March 3, 1979, ending their union which had endured for 37 years. Her remains were laid to rest at Rest Haven Memory Garden, in Avon, Lorain County.
On Sept. 14, 1983, Harold passed away at the age of 64. He is in repose beside his wife at Rest Haven.
Son Donald Lawrence Harbaugh (1947- ? ) was born in 1947. On Jan. 15, 1969, in a ceremony held at Trinity Baptist Church in Lorain, he married Lois Joan Ashley (1949- ? ). Their daughters are Kimberly Dawn Moser and Karen Joyce Harbaugh. Donald was a guest speaker at our National Minerd-Miner-Minor Reunions in 1993 and 2003. Both times, he read aloud the family history written in 1913 by his great grandfather, Allen E. Harbaugh.
Granddaughter Kimberly Dawn Harbaugh (1970- ? ) was born in 1970. She married Matthew Carmen Moser in nuptials held at Camden Baptist Church in Camden, OH. They have several offspring, among them Catherine Ashley Moser and Mason Jacob Moser.
Granddaughter

Karen Joyce Harbaugh

(1973- ? ) was born in 1973.
~ Daughter Dorothy Marie (Harbaugh) Miller Leasure ~
Daughter Dorothy Marie Harbaugh (1921-1977) was born on Jan. 10, 1921 in Markleysburg, Fayette County.
She was twice married. Her first husband -- whom we wed on Nov. 30, 1946 -- was Darryl Edwin Miller (Sept. 2, 1920- ? ), a native of Indian Head, Fayette County and the son of Smith Pritts and Ada (Patterson) Miller. They did not reproduce.
Dorothy was trained as a nurse and in the late 1940s was a registered nurse in Fayette County. For several years she was employed as a school nurse by the Saltlick Township School District. Darryl earned nicome as a mechanic. They were members of the Church of God.
Later, she wed Gerald "Gerry" Leasure ( ? - ? ) of Mount Pleasant, Westmoreland County, PA.
They relocated to California and dwelled in Sun Valley, Los Angeles County. There, they were members of Calvary Baptist Church in North Hollywood.
Dorothy died in Sierra Memorial Hospital on March 29, 1977, at the age of 56. Her remains were transported back to southwestern Pennsylvania for burial in Mount Pleasant Cemetery, with Rev. Larry G. White officiating. [Find-a-Grave] An obituary was printed in the Connellsville Daily Courier.
Copyright © 2004, 2005, 2007, 2019-2020 Mark A. Miner