Marshall Harbaugh
(1867-1941)
Marshall Harbaugh was born on Feb. 23, 1867 in or near Nicolay, also called Maple Summit, on the mountainous border of Fayette and Somerset Counties, PA, the son of Joseph and Jane (Williams) Harbaugh.
As a man of age 28, Marshall married 16-year-old Annie M. Shroyer (Nov. 13, 1880-1910), the daughter of farmers Adam and Lydia (Linderman) Shroyer of Mill Run. The wedding took place on Nov. 17, 1895, officiated by Rev. J.H. Means. Annie could not read or write, and signed her name on her marriage license with an "X." News of their license was printed in the Connellsville Weekly Courier.
The Harbaughs resided on a farm at Maple Summit, near Ohiopyle, Fayette County.
The eight children born to this union were Nora Pearl Ream, William Elliot Harbaugh, Marshall Joseph Harbaugh, Elmer Roosevelt Harbaugh, James Franklin Harbaugh, and triplets Lawson Frederick Harbaugh, Lutitia Jane Harbaugh and Bertha Ruth Harbaugh. The triplets apparently were named, in part, for Marshall's cousin and wife, Lawson and Lutitia (Steyer) Minerd of Mill Run.
In 1908, running on the Republican ticket, Marshall was elected Road Supervisor of Stewart Township, beating John Sailor, 74 votes to 44.

Connellsville Daily Courier
in January 1910, Annie died at the age of 30 after giving birth to the triplets, who in turn all passed away within a few days. A physician who helped treat her noted that her death was caused by kidney failure -- "Delivered of triplets Jan. 3, 1910 by midwife. Retention of urine relieved by catheter 1 a.m. Jan. 7, 1910. Uremia Edema of feet & ankles with cough for some time previous to confinement." She was laid to rest in the quiet country churchyard of the Maple Summit Church of God, following services led by Rev. F. Workman.
The Connellsville Daily Courier said in an obituary that "The Home of Marshall Harbaugh near Maple Summit is saddened again, this time by the death of his wife. Three weeks ago triplets were born, two girls and a boy... All have since died and on Monday the mother followed her little ones." The article added that Annie "was a woman of estimable character. Her death has cast a gloom over the community."
Adding to the grief, two other of the offspring from the first marriage died young. Son Marshall surrendered to death on Feb. 6, 1903, at three months and 12 days of age. Son James Franklin succumbed on Dec. 2, 1911, at age five years, four months, from the after-effects of rheumatic fever such as rapid jerking movements of the face, feet and hands, then known as "St. Rita's Dance" and "rheumatic chorea." Dr. H.Y. Brady of Ohiopyle, who treated James at the end, wrote that "At the time I saw him the Nervous affection was pre dominant." Interment for all time was in the Maple Summit Church Cemetery.
After 20 months as a widower, on Sept. 18, 1911, Marshall entered into marriage a second time, with Mary Jane "Elizabeth" Sands (July 26, 1885-1956). She was the daughter of John and Catherine (Linderman) Sands.
The couple lived in Bidwell and produced five more children -- David G. Harbaugh, Homer Lewis Harbaugh, Bert Raymond Harbaugh and Joseph Harbaugh.
More heartache rocked the family. Son Homer died as a stillbirth on June 26, 1914. Having assisted the mother in the birthing process, Dr. L. Dale Johnson of Ohiopyle write that it was a "Prolonged and Difficult labur. Child born at term." Marshall took responsibility burying the baby himself, again in the sacred grounds of the Maple Summit Church, without aid from a funeral director. Homer had not yet been given a name at the time of burial so may have been given an identity later.
Son Joseph was cut away by the angel of death at age four days on March 5, 1923, and later that year, newborn son David died at the tender age of four days, on Nov. 5, 1923. A physician noted that baby David had been born prematurely at seven months and was "poorly developed." Interment was at Maple Summit. No official Pennsylvania death record has been found for Joseph, and it could be possible that Joseph and David are the same person, differing only through errors in record-keeping.
In August 1932, he served as vice president of the seventh annual Harbaugh Reunion, held as a picnic basket lunch at the Indian Creek Baptist Church in Mill Run. At that event, attorney Frederick Elijah Younkin of Connellsville and teacher John Harbaugh of Ohiopyle were guest speakers, with G.H. Adams of Connellsville serving as president, Ira "David" Younkin as vice president and Charles Arthur "Charleroi Charley" Younkin of Charleroi as secretary.
Marshall also is known to have kept family records in his Bible that were published in the 1947 book, Harbaugh History (Evansville, IN), authored by Cora Bell and J.L. Cooprider.
Marshall and Mary sold 72 acres of their Stewart Township farm to son Elmer for a token one dollar in September 1937.

Marshall and Annie's grave at Maple Summit Church
Two of Marshall and Annie's adult children, Nora Pearl and William Eliot, married Harbaugh-Minerd cousins -- Nora to Cyril "Edgar" Ream and William to Ethel Irene Ream.
Despite the grip of the Great Depression in the later 1930s, Marshall signed a lease with William E. Snee of West Elizabeth, PA to place gas wells on his farm.
Marshall suffered at the end of his life with "angina pectoris" -- chest pain likely signalling heart disease. He passed away on June 18, 1941, at the age of 74. He is buried beside his first wife at Maple Summit.
As a widow, Mary went to live with her son Bert in Lorain, Cuyahoga County, OH. She died at his home at the age of 70 on July 15, 1956. Her remains were returned to Confluence for the funeral, followed by burial at Maple Summit Cemetery. At the time of her death, she was survived by 10 grandchildren and 10 great-grandchildren.
~ Son Elmer Roosevelt Harbaugh ~
Son Elmer Roosevelt Harbaugh (1904-1963) was born on Jan. 11, 1904 in Mill Run, Fayette County.
Elmer moved to California, Washington County, PA and was there in 1935.
At the age of 32, on July 3, 1936, he wed 18-year-old Pearl Irene Sands (1918-1991).

Vesta Mine tipple at California, PA
They together produced a brood of three children, Elizabeth Pearl Walters, Barbara Diane Harbaugh and Hugh Marshall Harbaugh.
When the federal census enumeration was made in 1940, Elmer, Pearl and Elizabeth were back in Fayette County, residing on a farm in Stewart Township, with his aged father and bachelor brother Bert living under their roof.
Circa 1942, the Harbaughs moved to Deemston near Fredericktown, Washington County, where Elmer obtained employment at Jones and Laughlin Steel Corporation's Vesta No. 5 Mine. They stayed put there for the 21 remaining years of their lives together. Elmer held a membership in the Vestaburg Local No. 762, United Mine Workers of America.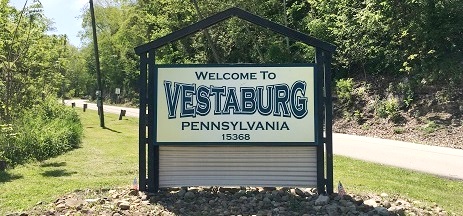 Vestaburg, home to the Elmer Harbaugh family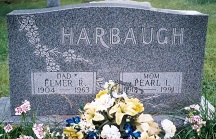 Maple Summit Cemetery
The Vesta coal mining tipple at California -- with a daily capacity of 7,000 tons -- was the largest bituminous coal mine in the world.
Said the Daily Courier, Elmer "was a member, deacon and Sunday school teacher of East Bethlehem Baptist Church."
Elmer suffered from hardening of the arteries for five years and diabetes for two. He died from a sudden heart attack at home on March 19, 1963, at the age of 59. Following services presided over by Rev. Palmer Washburn, of the East Bethlehem Baptist Church, burial was in Maple Summit Cemetery near Mill Run. The Daily Courier published an obituary.
Pearl survived her husband by 28 years. She died in 1991.
Daughter Elizabeth Pearl Harbaugh (1937- ? ) was born on April 2, 1937. She has a brief individual entry in the Harbaugh History book. Elizabeth married (?) Walters. Her home in 1963 was in Fredericktown.
Daughter Barbara Diane Harbaugh resided with her parents near Fredericktown in the early 1960s.
Son Hugh Marshall Harbaugh ( ? - ? ) dwelled in Fredericktown.
~ Son Bert Raymond Harbaugh ~
Son Bert Raymond Harbaugh (1916-1971) was born on Feb. 17, 1916 in Maple Summit.
Single at the age of 23, and working as a timberman, Bert dwelled under the roof of his married half-brother Elmer in Stewart Township in 1940 along with their aged father.
Bert relocated to Ohio. He was united in the bonds of matrimony with Mildred Ann ( ? - ? ), a native of Arkansas.
One known son born to the pair was Clyde Ray Harbaugh.
They considered Sheffield, OH as their home in the late 1940s. The 1950 United States Census shows the Harbaughs in Elyria, Lorain County, OH, with Bert working as a fireman in an electric power plant. As of 1950, Bert's widowed mother lived in their household.
Eventually they relocated to Southern California.
In January 1959, Bert sued Mildred in Superior Court for the County of Los Angeles, possibly to resolve a dispute over money or property, or reflecting a separation. He placed public notices in the Monrovia (CA) Daily News-Post later that year, sayng the would not be responsible for any debts contracted by anyone other than himself.
Bert may have returned to Ohio as he was listed as living there in news stories during the 1950s and '60s.
At the death of his half-brother Elmer in 1963, Bert was in Ohio and named in the Connellsville Daily Courier obituary.
Bert married again to Phyllis ( ? - ? ). As of 1970, when his son was married, their address was on Poinsettia Street, Monrovia, CA.
Bert succumbed to the spectre of death in Monrovia at the age of 56 on March 25, 1971. An obituary in the Daily News-Post said he was survived by his wife Phyllis, son Clyde and brother William of Clarksville, PA. Following a funeral conducted by Rev. W. Lee Truman, the remains were laid to rest in Long Beach. His brief obituary was published in the Daily Courier.
Son Clyde Ray Harbaugh (1949- ? ) was born in about 1949 in Ohio and spent his early years in or around Sheffield, OH. He was a 1967 graduate of Monrovia High School and received a degree from Citrus College. In December 1970, in the Chapel of Roses in Pasadena, he entered into marriage with Wendy Marie Crain ( ? - ? ). She was the daughter of Franklin Crain of West Olive, Monrovia. News of the nuptials and her bridal portrait were made public in the Monrovia (CA) Daily News-Post, which said that she wore "a full length wedding gown of Chantilly lace-over-peau-de-soie.A pearled crown held her chapel length veil of silk illusion edged in lace and she carried a cascade bouquet of pink carnations and ivy." Wendy also had attended Monrovia High. Three known children borne of this marriage were John M. Harbaugh, James R. Harbaugh and Dena M. Camacho. Wendy is known to have enjoyed the stage and in 1972 performed in a play at the Park Plaza Playhouse, Monrovia.
Grandson John M. Harbaugh ( ? - ? )
Grandson James Ray Harbaugh ( ? - ? ) was born in 1981 in Arcadia Methodist Hospital. News of his birth was printed in the Monrovia News-Post.
Granddaughter Dena M. Harbaugh ( ? - ? ) wed (?) Camacho ( ? - ? ).
Copyright © 2007, 2009, 2014, 2016, 2023 Mark A. Miner