Ruby (Harbaugh) Miller Peck
(1894-1977)

Ruby Miller Peck
Ruby Marie (Harbaugh) Miller Peck was born on May 17, 1894 in Lower Turkeyfoot Township, Somerset County, the only child of Amos William and Nora (Cramer) Harbaugh. She was an early school teacher who widowed twice during her young adult life.
As a young girl, Ruby moved with her parents to Middlecreek Township, Somerset County, where she grew up and taught school. She is mentioned by name in a list of Rockwood school teachers in the booklet Rockwood Centennial 1857-1957.
Her first husband, farmer Earl Miller ( ? -1918), was the son of William G. and Ida M. (Lowery) Miller of Milford Township, Somerset County. She was age 23, and he 27, at the time of marriage. Rev. S.G. Buckner performed the ceremony in Somerset on May 31, 1917.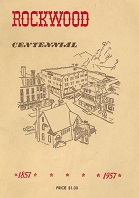 Booklet naming Ruby
According to the Cooprider's 1947 Harbaugh History, "Mr. Miller drowned." Details of this tragic death are not known, other than that he died on April 11, 1918, less than one year into their marriage. A death certificate believed to be Earl's shows that the cause of death was tuberculosis of the chambers of his heart, so the drowning reference is a curiosity. Burial was in Barron's Cemetery.
By 1920, when the federal census was enumerated, Ruby was living in her parents' home, and continuing to teach school. The census-taker recorded her name as "Mrs. Earl Miller" and her marital status as "widowed."
Ruby's second husband was John P. Peck (1895- ? ), a farmer, and the son of farmers James and Amanda (Pritts) Peck of Middlecreek Township. They were wed on April 20, 1921, in Somerset, when she was age 26 and he 25. Rev. John C. Crowe performed the nuptials.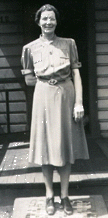 Ruby, April 1944
They had one known son, J. Loren Peck, born in 1922. The boy's first initial "J." did not stand for a name.
In August 1924, Ruby and her parents and young son Loren were among a crowd of 82 who attended the annual Minerd-Miner Reunion at Lincoln's grove, near the Western Maryland Railroad Station in Confluence. In an article about the reunion, the Meyersdale Republican newspaper reported:
A very successful and pleasant reunion of the Minard family was held ... The family is a numerous one in Western Pennsylvania, especially in Fayette, Somerset, Westmoreland and Huntingdon Counties. The gathering on Saturday was their twelfth annual reunion. Among those present were Mrs. F.P. Peck and son, Loren, Mr. and Mrs. A.W. Harbaugh and Mrs. Martha Gorsuch, Rockwood...
Sadly, Ruby became widowed again during the mid-to-late part of the decade of the 1920s. The cause of John's passing is lost for now to history.
By 1930, Ruby and young son Loren had moved to Marshall Township, in the north hills of Pittsburgh, where she secured another teaching position. They made their home on Bakerstown Road.
The remaining years of Ruby's life are not yet known. She is believed to have died in September 1977 in Washington, DC, where her son was living at the time.
~ Son Col. J. Loren Peck ~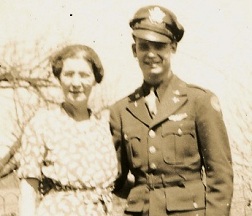 Loren with his mother, circa 1944
Son Col. J. Loren Peck (1922-2007) was born on Sept. 20, 1922 in Rockwood, Somerset County, PA.
He went on to become a decorated officer in the United States Air Force and saw duty in three different wars, with burial in Arlington National Cemetery.
But a boy when his father died, Loren was raised by a single mother. In the 1930s, they lived in the rural northern suburbs of Pittsburgh, where she was a teacher in Marshall Township. He may have been the same "J. Loren Peck" who graduated from McKeesport High School in 1939.
Loren was married twice. His first wife was Nancy Peck, and they had two children -- Carol Kabat and J. Loren Peck Jr. Unfortunately, the marriage ended in divorce.
In about 1976, he wed his second wife, Christine Pittman, who brought two children from a previous marriage, Mark A. Pittman and Robert L. Pittman.
Loren graduated from the University of Nebraska at Omaha, and was a military veteran of three United States wars. During World War II, he served in the Army Air Forces, which later became the U.S. Air Force. He spent two decades flying missions with the Strategic Air Command, including combat assignments during the Korean War.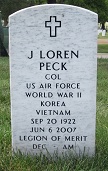 Arlington National
Cemetery
When the nation was engaged in the Vietnam War, he served in 1969-1970 as chief of the Military Assistance Command's air reconnaissance division. Just prior to retirement, he was chief of external affairs with the Defense Intelligence Agency, with the responsibility of acting as a liaison with Congress and the White House.
Over the span of his career, Loren was decorated with the Air Medal, Distinguished Flying Cross and Legion of Merit.
After retiring from the Air Force in 1974, Loren entered the private sector in sales of real estate, where he spent two more decades in the employment of Coldwell Banker and Town and Country Properties.
Loren died at the age of 84, in his home in Alexandria, VA, on June 6, 2007. He was survived by seven grandchildren and five great-grandchildren. He was laid to rest in Arlington National Cemetery in a funeral with full military honors. His burial site is in Section 60, grave number 302, just three rows from Eisenhower Drive.
In a gesture toward his former home region of southwestern Pennsylvania, the family asked that donations be made to the University of Pittsburgh Medical Center.
Copyright © 2000-2003, 2007, 2012-2013, 2018 Mark A. Miner