Abiel W. Heilman
(1835-1892)

Abiel Heilman
Abiel W. Heilman was born on Jan. 8, 1835 at Mauch Chunk, the son of Nathan and Elizabeth (Miner) Heilman. He was a veteran of the Civil War, and a prominent industrialist of Allentown, PA.
As a young man, Abiel stood 5 feet, 7 inches tall, with dark brown hair and brown eyes. He learned the trade of blacksmithing and boiler making. At the age of 19, in 1854, he moved to Allentown, Lehigh County, PA and "worked at boiler making in this city with characteristic assiduity, making himself master of its every detail," said the 1886 book, Past, Present and Future of the City of Allentown. "Thrifty and industrious he laid by a greater part of his earnings with a view to establishing an industry of his own."
He later wrote that "Yes, Allentown was a small place compared to its present size when we started here in a little frame building at the foot of Linden street in 1863. I came down from Mauch Chunk and never regretted settling in Allentown."
At the age of 28, on Jan. 18, 1863, Abiel married 22-year-old Mary E. (Roth) Rhoads (1841-1930), daughter of Joel and Hannah (Haines) Roth of Allentown. The ceremony took place in Allentown, with the nuptials led by Rev. Joseph Henry Dubbs of the Zion Reformed Church of Allentown. Abiel's father in law was a well-known hat manufacturer in the city.
The couple did not reproduce.
Abiel served in the U.S. Army during the Civil War. He enlisted immediately after the start of the war, in April 1861. He was part of a group of artillery specialists who became part of the 1st Pennsylvania Volunteers, and he was elected sergeant of Company I. After serving for 90 days, he was discharged from the regiment in July 1861. Later, for 13 days, he was part of the 5th Pennsylvania Militia Infantry, as second lieutenant, from Sept. 11, 1862 to Sept. 27, 1862. Some military records misspelled his name as "Abeile" which later caused confusion with War Department authorities.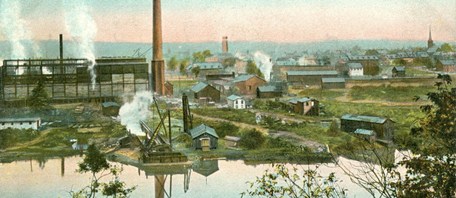 Industrial Allentown, early 1900s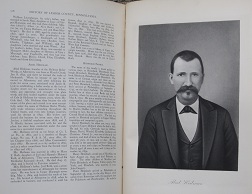 Abiel's profile and full-page photo portrait in
the 1914 book History of Lehigh County
After the war, he served as city auditor of Allentown in 1870 and was elected as a select councilman from the city's Second Ward, serving from 1872 to 1873.
Abiel was profiled and pictured in Volume II of the book History of Lehigh County, published in 1914 and compiled by Charles Rhoads Roberts, Rev. John Baer Stoudt, Rev. Thomas H. Krick and William J. Dietrich. Abiel's profile said that:
When he became of age he removed to Allentown, and after following his trade for seven years, associated with James B. Cole in establishing a boiler works at the foot of Linden street for the manufacture of boilers, tanks, gas apparatus and wrought iron plate work, and they traded together under the name of Cole & Heilman for twenty years, when Mr. Cole died. Mr. Heilman then became the sole owner of the plant and carried it on most successfully under the name of Heilman Boiler Works, with trade relations extending throughout the United States, and even into foreign countries...
Within six years, they had expanded operations so significantly that they built a new facility in 1870 that was considered "mammoth" and stood at Front and Linden Streets. The Allentown book noted that the shops extended 337 feet on Linden Street and 230 feet along Front Street, covering 11,400 sq. ft. of floor space. Other buildings in the complex included a main building (150 ft. by 60 ft.), rivet shop (100 ft. by 60 ft.), blacksmith and flanger shop (60 ft. by 30 ft.), punching and drilling shop (60 ft. by 30 ft.) and two other smaller buildings. Abiel's brother Edward H. Heilman had responsibility for the drawing and sketching department on the second floor of the main office building.
Known in the 1880s as the Union Steam Boiler Works, the company produced $155,000 in annual sales of locomotive boilers and tank, flue, vertical and cylindrical boilers, blast and steam pipes, stack and stand pipes. Family attorney U.S. Litzenburg once wrote: "Abiel Heilman was a prominent manufacturer in this city known to almost everyone."

Above: Heilman Boiler stationery, 1899, when Mary headed the firm. Below, a postcard of the company, early 1900s

Visitors to the works in the mid-1880s were surprised, said the Allentown book, to find him "the most modest looking man in the entire lot. Burly and pleasant-faced, reticent and courteous, [he] apparently carries the responsibilities of his enormous business as lightly as a child carries a toy."
Abiel died in Allentown on Aug. 17, 1892 at the age of 57. He was laid to rest in Allentown's Fairview Cemetery.
Now widowed, Mary took over the family business and ran it for seven years. She then brought in longtime employees S.F. Jordan, and J.J. Rhoda to become the new co-owners with her.
The company continued to operate in Allentown for decades, well into the middle of the 20th century. At the age of 76, in 1918, Mary wrote with no small amount of pride that "These works are still in operation." In 1922, it became incorporated with $55,000 in capital stock by Samuel F. Jordan and other investors.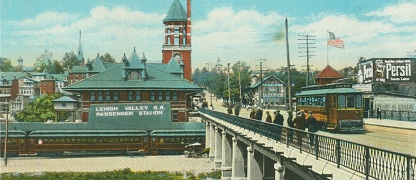 Allentown's Lehigh Valley Railroad passenger station, early 1900s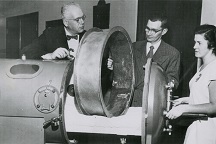 The Boiler Works' iron lung collar
made for Allentown Hospital, 1952
Mary outlived her husband by a remarkable 38 years, and made her home during that time at 2830 Chew Street and later at 1422 Hamilton Street in Allentown. She was awarded Abiel's Civil War pension of $25 per month.
Suffering from senility just a few weeks before her 89th birthday, Mary passed away on Aug. 22, 1930. Her remains were interred in Fairview Cemetery. Mrs. Louis H. Repass, who resided with Mary, signed the death certificate.
The firm continued to operate successfully for decades. In 1945, it constructed a new type of technology called a Heilman-Baudenhausen boiler, which used oil and captured waste heat to create four times the power a boiler could produce, and was to be used in both the United States and Soviet Union. By about 1954, the company became known as Lehigh Valley Steel Plate Fabricators, Inc. That same year, a union organizing campaign was held at the works by the United Auto Workers (UAW).
The company in 1952 demonstrated its humanitarian nature when faced with a local emergency health care need. Wrote the United Press, "When Richard Cutshall was admitted to Allentown Hospital's isolation ward for infantile paralysis, hospital officials were faced with accommodating his 6" 6" frame with an iron lung. The problem was solved when Heilman Boiler Works made an 8 inch collar to 'stretch' the lung."
Copyright © 2011-2012, 2014-2015, 2019 Eugene F. Podraza and Mark A. Miner
Iron lung collar photo by United Press Telephoto