Mary 'Joanna' (Heilman) Meighan
(1847-1908)
Mary "Joanna" Heilman was born on May 16, 1847 (or 1849) in Mauch Chunk, the daughter of Nathan and Elizabeth (Miner) Heilman.
On July 14, 1871, when she was age 24, Joanna wed 24-year-old Civil War veteran James Meighan (1847-1892). Officiating was Rev. Andrew Ziegenfus of Zions Evangelical Church of Mauch Chunk.
The family surname also has been spelled "Meghan" and "Meehan."
They had three children -- Hattie Reichel (born 1867, likely from a prior marriage), Annie Schurman (born 1873) and Jessie L. Brighton (1875). In 1870, daughter Hattie, age three, resided with Joanna's parents in Mauch Chunk.
Before the war, James lived in Upper Mauch Chunk and was employed at the "Shutts." Friend William Seip called him "a sound healthy boy."
During the war, James initially was a member of Brown's Independent Company of Pennsylvania Cavalry, also known as "City Troops." He stood five feet, seven inches tall and weighed 140 lbs. He enlisted on June 15, 1863 in Hazleton, PA for what was called the "emergency" -- most likely Gen. Robert E. Lee's invasion of Pennsylvania and the resulting Battle of Gettysburg 16 days later. James was discharged on Aug. 1, 1863, after having served for a month and a half.
He re-joined the army on Aug. 18, 1864, and was assigned to the 202nd Pennsylvania Volunteer Infantry, Company A. The regiment was commanded by Col. Charles Albright. In the fall of 1864, while on a march through the Shenandoah Valley, at Thoroughfare Gap, he caught a bad cold and his eyes became sore. Even though he was treated by Dr. McCormick, the regiment's surgeon, his eyesight continued to plague him through the end of the war and in fact for the rest of his life. At one point, toward the end of his service, he (and perhaps others) were held in confinement by military authorities awaiting court martial, but those charges apparently were dropped. He was honorably discharged on Aug. 3, 1865, after the close of the war, at Harrisburg, PA.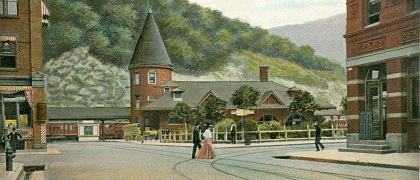 The Central Railroad of New Jersey station in Mauch Chunk
When the federal census was enumerated in 1880, the Meighans made their home in Mauch Chunk, at 131 South Street. James employed as a brakeman with the Central Railroad of New Jersey on its Lehigh and Susquehanna Division. One of his longtime neighbors and railroad co-workers (for seven years) was William Seip.
His eye problems caused him to lose about one-quarter of his regular work time. He was discharged by the railroad in May 1889 because of color blindness, after which time he accepted a lower-paying position as a day laborer with the company. Dr. Homer D. Young treated his eye disease in the early years after the war, and provided a prescription which James used for many years and which helped alleviate his discomfort. Jacob D. Laciar, former captain of James' Company A in the army, saw him at intervals after the and noticed problems with the eyes.
In the postwar years, James was a member of the Grand Army of the Republic, a national group of Union Army veterans who lobbied for and received health benefits in the form of pensions in return for their military service.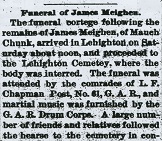 Lehighton Press, Nov. 10, 1892
James applied for and was granted a federal government pension as compensation for his eye condition. Every year or two, he was examined by military physicians to gauge the condition of his health. In July 1886, one examiner wrote that James "cannot read at night, & but little by day... Spectacles do him no good. Can not see distance...."
James died on Nov. 3, 1892, at the age of 45. In an obituary, the Lehighton Press said that the funeral cortege:
...arrived in Lehighton on Saturday about noon, and proceeded to the Lehighton Cemetery, where the body was interred. The funeral was attended by the comrades of L.F. Chapman Post, No. 61, G.A.R., and martial music was furnished by the G.A.R. Drum Corps. A large number of friends and relatives followed the hearse to the cemetery in conveyances. The G.A.R. comrades came to Lehighton via Central Railroad.
Among those who prepared his body for burial and/or attended the funeral were J.H. Keenly, Henry M. Haggerty and Josiah W. Harlan, all of Mauch Chunk. A standard-issue military stone was placed at his grave. Efforts are underway to locate and photograph the marker.
Joanna lived as a widow for another 16 years. She was awarded James' Civil War pension, receiving $8.00 per month.
She was afflicted with heart and kidney disease and when stricken with chronic bronchitis, her death began to decline precipitously right before Christmas 1907. After several weeks of suffering, she died on Jan. 6, 1908, at the age of 60. Burial was in Mauch Chunk Cemetery. Her son in law Joseph Schurman was the informant on her official certificate of death.
~ Daughter Hattie (Meighan) Reichel ~
Daughter Hattie Meighan (1867-1931) was born in April 1867.
She lived with her Heilman grandparents in Mauch Chunk at the age of three, in 1870, and at the age of 13 in 1880.
She wed Edward Reichel (1864-1957) when she was age 21 and he 24, in about 1888.
They had no children, but provided a home for Hattie's spinster aunt Sophia Heilman circa 1900-1910. Edward was employed for many years in a furniture factory, where he was a cabinet maker, salesman and superintendent. In the censuses of 1900-1910-1920-1930, they made their residence in Allentown or in nearby South Whitehall Township, Lehigh County, PA.
Hattie died in 1931, at the age of 64. Edward outlived her by more than a quarter of a century. He passed away in 1957. Both rest for eternity in Allentown's Fairview Cemetery.
~ Daughter Annie (Meighan) Schurman ~
Daughter Annie J. Meighan (1873- ? ) was born in 1873 in Mauch Chunk.
She was a silk weaver.
She married Joseph Schurman (1874- ? ), a native of New York State, in about 1903.
They had six known children -- Mary D. Schurman, Joyce A. Schurman, John D. Schurman, Martha S. Schurman, James M. Schurman and Joseph H. Schurman.
In 1910, the census shows this family living in Mauch Chunk, with Annie's 30-year-old, unmarried sister Jessie Meighan living under their roof, and Joseph working as a railroad brakeman. By 1920, they migrated to Allentown, Lehigh County, PA, with a house on Washington Street. The 1920 census lists Joseph's occupation as "Veneering - Furniture Factory," while 14-year-old daughter Mary was employed in a thermometer works.
~ Daughter Jessie (Meighan) Brighton ~
Daughter Jessie Meighan (1875-1918) was born on May 13, 1875 (or 1880) in Mauch Chunk.
She is said to have been a silk mill weaver and an operator for Bell Telephone. In 1910, she dwelled under the Mauch Chunk roof of her sister Annie Schurman.
Sometime between 1910 and 1918, she married Albert Brighton ( ? - ? ), believed to have been a moving picture actor. He died before 1918.
After the death of her husband, Jessie moved into the home of her sister Hattie Reichel in Allentown at the corner of 18th and Jonathan Streets. She died there on Nov. 23, 1918, at the age of 43, of heart valve failure and buildup of fluids in her tissues. Burial was in Allentown's Fairview Cemetery. Brother in law Edward Reichel provided information details for her Pennsylvania certificate of death.
Her grave apparently was never marked.
Copyright © 2011-2014, 2019 Eugene F. Podraza and Mark A. Miner