John J.P. Hoye Jr.
(1882-1947)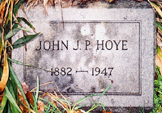 Franklin Cemetery, Dunbar

John J. Paul Hoye Jr. was born on May 31, 1982 in Dunbar, Fayette County, PA, the son of John J.P. and Louisa (Minerd) Hoye Sr.

He was the first child born after his parents had migrated to Dunbar from Oakland, Garrett County, MD.
Little is known of John's life. He never married.
He is known to have worked at the Dunbar Furnace circa 1902.
During the decade of the 1900s, John migrated to the West Coast. He resided in Oregon, where he was employed in Portland as a "stationery engineer," and later still in Washington State.
In the winter of 1920, he traveled back to Dunbar for a visit with family. His sister Arona Cole was deathly ill with bronchial pneumonia and influenza and died on Feb. 11, 1920. John "went to Pittsburgh to take charge of the body," said the Connellsville Daily Courier. He escorted the remains back to Dunbar for the funeral, held at the home of their sister Anna Bunting, and led by a distant cousin, Rev. David Ewing Minerd, the famed "Blacksmith Preacher" of Fayette County.
According to the 1942 book, The Hoyes of Maryland, authored by Capt. Charles E. Hoye, John "later farmed near Smithfield," PA.
John began to suffer from pulmonary tuberculosis in about 1944. After suffering from the illness for nearly three years, he spent the final five months of his life as a resident of the Fayette County Home in Uniontown. There, at age 64, he passed away on April 1, 1947. His remains were lowered into rest beside his parents' in the Franklin Cemetery in Dunbar. His grave marker was still legible when photographed in 2003.
Copyright © 2005, 2022 Mark A. Miner