Edwin Jay Jewell
(1885-1945)
Edwin Jay Jewell was born on Jan. 4, 1885 in Center Township, Wood County, OH, the son of William L. and Pera (Minerd) Jewell.
On Dec. 23, 1911, Edwin married Nellie Mae Rockwell (Sept. 26, 1888-1919). She was the daughter of Myron and Ellen (Edison) Rockwell, and a native of Liberty Township, Henry County, OH.
They became the parents of three sons -- Lawrence Rockwell Jewell, Cleo Clinton Jewell Rockwell and Edward Jay Jewell Shufeldt.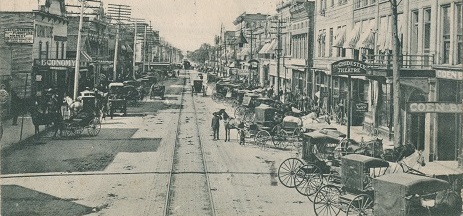 Main Street looking north, Bowling Green, OH
When Edwin registered for the military draft during World War I, he stated that he was a welder at Bunting Brass. He had grey eyes and black hair.
In 1917-1919, Nellie lived with her parents in their home at 829 National Avenue in West Toledo, Lucas County. A newspaper once said of her that she "was of a loving disposition, ever ready to do a kind act. She was a devoted wife and mother..."
Tragedy struck the family when Nellie Mae came down with a case of iinfluenza in mid-March 1919. The illness developed into pneumonia, and she was admitted to St. Vincent's Hospital. No recovery was to be.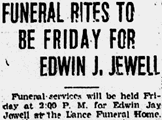 Obituary, 1945

After two weeks of suffering, she died on March 22, 1919, at the tender age of 30 years, five months. Rev. Bender preached the funeral sermon. She was buried in her parents' lot in Wauseon, Fulton County, OH. An obituary appeared in the Fulton County Tribune.

Edwin outlived his wife by more than a quarter of a century.

He died at age 60 on Christmas Eve 1945. He was buried at Union Hill Cemetery near Tontogany, Wood County.

The Jewells are mentioned in the excellent 1996 book by Ivan Stearns, The History/Genealogy of John and Nancy McCullough Jewell. The volume is available for sale through the Wood County Chapter of the Ohio Genealogical Society.

~ Son Lawrence Rockwell Jewell ~

Son Lawrence Rockwell Jewell (1913-1986) was born on Jan. 20, 1913.

On Aug. 12, 1940, in nuptials held in Wauseon, OH, he entered into marriage with Myrtle Nancy Hammersmith (June 10, 1921-2000), a native of Center Township, Beaver County, PA.

Together, the couple produced six known daughters -- among them Judith K. Crandall, Linda M. Martinez, Carol S. DeVerna, Marlene E. Rahm, Bertha Mae Goeckerman and Deborah Harding.

The Jewells resided for years in Luckey and Stony Ridge, Wood County. He was employed as a driver for the Kenosha Trucking Company, retiring in 1973. Myrtle earned income as a licensed practical nurse for 30 years at St. Charles Hospital in Oregon, OH.

Lawrence passed away on Feb. 13, 1986.

Myrtle lived for another 14 years and resided at West Railroad Avenue. At the age of 78, she surrendered to death in Heartland of Perrysburg on April 2, 2000. The Bowling Green Sentinel-Tribune published an obituary. They rest together in Troy Township Cemetery, Luckey, Wood County.

Daughter Judith Kay Jewell (1942-2006) was born on Feb. 20, 1942 in Bowling Green. When she was age 19, on April 15, 1961, she married Clarence Crandall (June 15, 1938-2019), a native of Adrian, MI and the son of Clarence O. and Dorothy (Timmerman) Crandall. Their nuptials were held in Stony Ridge, OH. The trio of sons they bore together were Charles Crandall, John Crandall and Brad Crandall. Judith pursued a working career as a licensed practical nurse. She was employed for 23 years at Heartland of Perrysburg, OH and in Fort Myers, FL for four years at HCR Manor Care. In her free time, she was a member of the Eagles and liked to bake, cook, crochet, make crafts and read. Clarence earned a living through his employment with Libbey-Owens-Ford in East Toledo and Rossford, OH. He too liked to read, watch television and solve word search puzzles. Their final years were spent in Cape Coral, FL. Death enveloped her at the age of 64 in Fort Myers' Health Park Medical Center on June 13, 2006. Per her wishes, said the Toledo Blade, her eyes and tissues were donated to medical science. The remains were brought back to Ohio for burial in Troy Township Cemetery. Clarence survived for another dozen-plus years. He passed away in Genoa Retirement Center at the age of 80 on Jan. 27, 2019.
Grandson Charles Crandall wed Marlene. They have lived in Bowling Green.
Grandson John Crandall is married to or a companion of Michael Hentges. The pair reside in Cincinnati.
Grandson Brad Crandall entered into marriage with Laura. They dwell in Toledo.
Daughter Linda M. Jewell (1944- ? ) was born in about 1944. Circa 1990, she entered into marriage with Lupe H. Martinez.(April 19, 1939-2010), son of Juan and Guadalupe (Hernandez) Martinez of Sugar Land, TX. He had been married before to Jan ( ? - ? ). Children in this family were Matthew Martinez, Keith Martinez and Larry Smith. The Martinez brood made a home in Rossford, OH. For 30 years, Lupe earned a living as a welder and janitor with the Toledo Machining Plant of Chrysler Corporation in Perrysburg. He was a member of the United Auto Workers Local No. 1435. He retired in July 1998 at the age of 59. Lupe was active with the Church of the Good Shepherd in Wayne. Said his Toledo Blade obituary, "Lupe loved to minister to children at VBS and spent much of his time reading his Bible and praying for his family and friends. He cherished the times when his four grandchildren were in his living room eating or acting up. In his spare time he enjoyed spending time with and cooking for his family; he loved sharing his Mexican cuisine with others." Sadly, at the age of 70, Lupe passed away in Fort Myers' Gulf Coast Medical Center on Jan. 6, 2010. Funeral services were held in the family church, presided by Rev. Ron Merritt. His remains were lowered under the sod of Troy Township Cemetery, Luckey, OH. As a widow, Linda has resided in Florda.
Step-grandson Matthew Martinez was deceased by 2010.
Grandson Keith A. Martinez joined the Air National Guard and in 1986 trained at Lackland Air Force Base in Texas. He entered into marriage with Beth. They have dwelled in Sandusky, OH. Two offspring are Keith Martinez II and Jenna Martinez.
Grandson Larry Smith was united in wedlock with Jennifer. Circa 2010, they lived in Toledo. Their pair of daughters are Brittany Smith and Courtney Smith.
Daughter Carol S. Jewell (1945- ? ) was born on Aug. 5, 1945 in Bowling Green. She was a 1963 graduate of Eastwood High School and an alumna of the Toledo Academy of Cosmetology. On July 5, 1964, at the age of 18, she was joined in wedlock in Monroe, MI with Richard R. DeVerna Sr. (Jan. 17, 1941-2022), son of Dolas and Luelle DeVerna of Latcha, OH. Their union endured the ups and downs of a remarkable nearly 57 years. Together, they produced three children -- Richard DeVerna Jr., Scott DeVerna and Renee McDaniel. They lived in Genoa, OH in 1970. For 27 years, Carol was employed as a certified nursing assistant, first working at Heartland of Perrysburg, OH. When they relocated to Fort Myers, FL, she joined the staff of Heartland of Fort Myers, working there until retirement. Richard was the owner/operator of DeVerna Towing Service for three decades. Said an obituary, "Carol loved her home projects regardless of the challenge. Her passion was caring for others, and dedicated much of her care to Alzheimer's patients. In her free time, she enjoyed cake decorating." Richard liked to watch old Western movies on television. Their final home together was in Walbridge, Wood County. She passed away at home at the age of 75 on May 30, 2021. The widowed Richard moved to Stony Ridge but only outlived his bride by just over seven months. At the end he was admitted to Hospice of Northwest Ohio in Perrysburg. He entered into final rest on Jan. 8, 2022.
Grandson Richard DeVerna Jr. wed Lisa. They have resided in Huron, OH.
Grandson Scott DeVerna makes a home in Walbridge, OH in 2021 and in Stony Ridge, OH in 2022.
Granddaughter Renee DeVerna married Scott McDaniel. The couple put down roots in Walbridge, OH.
Daughter Marlene E. Jewell (1947- ? ) was born in about 1947. She was united in matrimony with Robert Rahm ( ? - ? ). Marlene was in Florida in 2019.
Daughter Bertha Mae Jewell ( ? - ? ) was born on (?). She was a 1968 graduate of Eastwood High School. On June 27, 1970, she entered into the rite of wedlock with Scott Leslie Goeckerman (July 19, 1948-2015), son of Clarence W. and Margaret (Allen) Goeckerman of Toledo. The wedding was held at the Stony Ridge United Methodist Church, presided by the hand of Rev. Lewis Wilson. In announcing the marriage, the Bowling Green Daily Sentinel-Tribune published her bridal portrait and said that her dress "was floor-length Alencon lace worn with a mantilla veil. Her bouquet was a cascade of white roses, carnations, stephanotis, baby's breath and ivy." The two offspring of this union were Teresa Jo Smith and Jason Goeckerman. Scott was a 1967 graduate of Lake High School and joined the U.S. Air Force in young manhood, during the Vietnam War. The newlyweds' first home was at an air base in Minot, ND. He served until completing his service in 1971. He went on to a teaching career for 15 years at Penta Career Center and six years at Owens Community College. He served as president of the Zion Lutheran Church council in Latcha, OH and was active with the posts of the Pemberville American Legion and Walbridge Veterans of Foreign Wars. Evidence suggests that the couple divorced. By 2000, Bertha had migrated to Arizona and was living in Chandler, AZ. She was diagnosed in 2009 with primary billary cirrhosis, an illness where the kidneys fail. Due to increasing medical costs, her daughter organized a Go Fund Me page which raised more than $3,300. As of 2015, Scott made a home in Luckey, OH. He passed away in the Veterans Administration Hospital in Ann Arbor, MI on Jan. 31, 2015. Survivors included seven grandchildren. Funeral services were held at the Zion church, by the hand of Rev. Robert Sander, and the Toledo Blade printed an obituary.
Granddaughter Teresa Jo Goeckerman ( ? - ? ) married (?) Smith. She was in San Diego in 2016 when organizing a Go Fund Me page for her mother.
Grandson Jason Goeckerman wed Patty.
Daughter Deborah Jewell ( ? - ? ) became the wife of Kenneth Harding. Their residence circa 2006 was in Perrysburg, OH..
~ Son Cleo Clinton Jewell Rockwell ~
Son Cleo Clinton Jewell (1914-1992) was born on Jan. 6, 1914 in Liberty Center near Napoleon, Henry County, OH, but sometimes given as Michigan.
In adulthood he stood 5 feet, 11 inches tall and weighed 1
In adulthood he stood 5 feet, 11¾ inches tall and weighed 140 lbs.
Cleo's first wife was Adda Mae Langhorst (1919-1992), a native of Schenectady, NY. The pair married in Lucas County on Oct. 21, 1938.
They did not reproduce.
The Rockwells made a home together in Toledo in 1940, under the roof of Adda Mae's widowed mother Ione Langhorst. At that time, Cleo worked as a metal burner at Manufacturers Steel Supply Company and Adda Mae as a voice teacher for a theatrical agency. When Cleo registered for the military draft that year, their address was 1912 Glenwood Avenue. They divorced in the 1940s.
Then on Feb. 8, 1947, he tied the knot in Lincoln Park with Louise Hester (Kesler) McDonnell (1913-1987). Louise is believed to have brought a stepdaughter into the union, Jenna. The pair also did not reproduce.
At some point Cleo went to work for General Motors Corporation, from which he retired. The couple then appears to have moved to Rowan County, NC.
Sadly, Louise died in Salisbury, Rowan County on Sept. 12, 1987.
Cleo's final place of residence was in Salisbury. He passed away there at the age of 78 on April 21, 1992. A brief notice of his death was printed in the Charlotte Observer.
Stepdaughter Jenna (1932- ? ) was born in 1932 in Ohio. She grew up in Toledo.
~ Edward "Jay" Jewell Shufeldt ~
Son Edward "Jay" Jewell (1915-1984) was born on Nov. 3, 1915 in Toledo, OH or in Owosso, Shiawassee County, MI.
He was only age four at the death of his mother. He was taken in as a foster child by Ira and Mary "Anna" (Darr) Shufeldt in Liberty Township, Henry County, OH, and then adopted as their own. He stood 6 feet, 1½ inches tall in adulthood and weighed 160 lbs.
Edward's first wife was Frances M. Tudoroff (1917-1992). They were married in Fulton County on Aug. 31, 1935, when Edward was age 19.
Their only known son was Cleo Joseph Shufeldt.
Circa 1935-1938, the family dwelled in Swanton, Fulton County, OH.
Living in Toledo, in 1940, Edward was employed as a section hand by the New York Central Railroad. Their address at that time was 1675 Avondale.
At the age of 32, on Sept. 13, 1947, Edward wed for the second time to Marjorie Haywood Ritter (1917- ? ). Their ceremony occurred in Indiana.
Edward tied the knot a third time with Anna Elizabeth Shackleton (1917-1998). They eventually divorced but remarried each other. The relationship soured a second time, and a second divorce was approved in Wood County on Feb. 25, 1970 on charges of "gross neglect" and "extreme cruelty."
For a fifth time, to a fourth bride, Edward entered into marriage in about 1972 with Ella.
Their final home together was in Monroe, MI.
Edward was cut away by the angel of death on Jan. 29, 1984.
Son Cleo Joseph Shufeldt (1936-2000) was born on June 4, 1936 in Lucas County and named for his father's brother. As with his father, Cleo was married more than once. With his first wife, Letitia "Tish" Gozdowski ( ? - ? ), he was the father of Deborah Zutavern, Dawn Joseph, Nicholas Shufeldt and Donald Shufeldt. He was employed for more than three decades with CSX Railroad. He earned additional income working for Pastime Bar for 25 years. He was a computer expert, and "his family considered him a computer genius," said the Toledo Blade. Circa 1935-1938, he dwelled in Swanton, Fulton County, OH. . His second wife was Nancy L. Ettl (1935- ? ). They were wed on May 15, 1976, when he was age 39 and she 42. They lived in Toledo. The couple divorced in Lucas County on Aug. 30, 1979, with Nancy suing on grounds of gross neglect/extreme cruelty. At the end he dwelled in Oregon, Lucas County. While in Mississippi, in the town of Tunica, he died at the age of 64 on June 21, 2000. He was survived by four grandchldren and one great-grandchild. Ex-wife Letitia married again to Robert Daly, and they remained together for 42 years.
Granddaughter Deborah L. "Debbie" Shufeldt (1957-2016) was born on July 28, 1957 in Toledo. She was a 1975 graduate of Whitney High School. She was joined in wedlock with Richard Zutavern ( ? - ? ). Their union endured for 33 years. Together, they produced a family of two -- Scott Zutavern and Nicole Zutavern. For more than 25 years, she was employed at the Bob Evans Restaurant in Perrysburg. Said an obituary, "Debbie was a member of Epiphany of the Lord Parish-St. Thomas Aquinas Church. She enjoyed many things like shopping, gambling, playing cards and had a wonderful zest for life. Debbie was always putting her family first." Sadly, at the age of 58, Debbie died unexpectedly in Mercy-St. Charles Hospital on March 12, 2016.
Granddaughter Dawn Shufeldt was united in matrimony with Anthony Joseph ( ? - ? ). Anthony was deceased by 2016.
Grandson Nicholas Shufeldt wed Carrie.
Grandson Donald E. Shufeldt ( ? - 2006) was born on (?). He was an alumnus of Waite High School. During his career, he was employed by Dresch Tolson Dental Laboratory. Donald dwelled in Oregon, OH in the mid-2000s. Grief cascaded over the family when, at the age of 43, he died in Toledo Hospital on Sept. 29, 2006. His obituary was printed in the Toledo Blade.
Copyright © 2002-2003, 2005-2007, 2010, 2023 Mark A. Miner