George Levi Jewell
(1874-1941)
George Levi Jewell was born on March 21, 1874 in Wood County, OH, the son of William Lacon and Pera (Minerd) Jewell.
On Aug. 12, 1894, at the age of 20, George married 16-year-old Elizabeth "Isabelle" Hickman (1878-1976). He maiden name also has been spelled "Heckman."
They had four children -- Lillie Lucille Fuller, Pearl Jewell, Bertran Jewell and John Jewell. The first of their children was born in Center Township, Wood County.
When the federal census was enumerated in 1900, George and Isabelle had been married for four years. They resided near Milan in Augusta Township, Washtenaw County, MI, where he worked as a day laborer.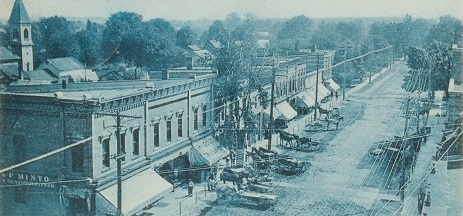 Rare blue-tinted view of Milan
Heartache rocked the family when George and Isabelle separated and divorced between 1902 and 1910 in Michigan.
The 1910 census shows the George living in Augusta Township, and working as a general farmer. Under his roof that year were young daughters Lillie and Pearl and son Bertran. The marriage ended in about 1910 or 1911.

Ethel (Throop) Jewell
After a period of adjustment, George married his second wife, Ethel E. Throop (1892-1964) in about 1911. Age 18 at the time of marriage, she was almost 20 years younger than her husband.
They went on to have nine more children -- Rosemary "Rose" Jewell, Thomas "Earl" Jewell, May Jewell, Delora Jewell, George Jewell, Wendel Jewell, Ivan Jewell, Clarence Jewell and Earl Jewell.
In the 1920 census, the Jewells were residing in the south half of Augusta Township, east of the town of Milan.
The 1930 census shows the family in Augusta Township, with six children, grandson Leslie Fuller and housekeeper Ida Davis also in the household.
George died in 1941.
Ethel survived her husband by 23 years. She passed away in 1964.
His former wife, Isabelle, died in 1976.
~ Daughter Lillie Lucille (Jewell) Fuller ~
Daughter Lillie Lucille Jewell (1896- ? ) was born in 1896.
She married (?) Fuller and had one son, Leslie Fuller (1920- ? ).

Thomas E. Jewell
~ Son Thomas "Earl" Jewell ~
Son Thomas "Earl" Jewell (1913-1991) was born on May 7, 1913, of his father's second family.
He married Erma Mae Borders (1915-1989).
They produced seven known children: Betty Jewell, William "Bill" Jewell, Roy T. Jewell, , Norman Charles Jewell, Sherman E. Jewell Sr., Thomas "Tom" Jewell and Harold C. Jewell.
Circa 1940, he made his home in Augusta, Washtenaw County, MI.
Earl served at some point in the U.S. Armed Forces, likely during World War II.
He later left his family, in about 1949 when his son was age 13, and started another family.
Erma married again, to Albert Wayne Goldsmith. She died in Supter, Wayne County, MI on Oct. 2, 1989, at the age of 74.
Earl died on Jan. 6, 1991, at the age of 78, in or near Cullman, Cullman County, AL.
Son William "Bill" Jewell (1932- ? ) was born in 1932 in Milan. He married Virginia (?) and they had a daughter, Wonda Lee Jewell.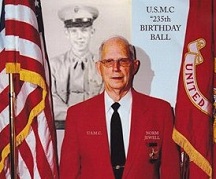 Norman C. Jewell at a U.S. Marine
Corps 235th Birthday Ball
Son Roy T. Jewell (1935-2009) was born on March 6, 1935 in Milan. Roy married Jeanette (?). He died on Dec. 27, 2009, just two days after Christmas, in Maybee, Monroe County, MI.
Son Norman Charles Jewell (1936- ? ) was born on Sept. 24, 1936 in Milan. During the Korean War, he served in the U.S. Marine Corps. Returning home to Michigan after the war, he worked in the General Motors assembly plant in Willow Run, MI. He married Margaret Kay Anderson in 1960, and they had three children -- Lawrence Ray Jewell, Johnathon David Jewell and Charles Norman Jewell. Norman and Margaret divorced in 1977 after 17 years of marriage. He retired from the Willow Run plant in 1993, and has volunteered at the Veterans Administration Hospital in Ann Arbor, MI.

Sherman E. Jewell
Son Sherman E. Jewell Sr. (1938-2006) was born on Sept. 11, 1938 in Whittaker, Washtenaw County, MI. Sherman married Bobbi Smith in 1961, when he was age 24. They had five children -- Dreama Jewell, Raymond Jewell, Ronald "Ronnie" Jewell, Sherman E. Jewell Jr. and Brian Scott Jewell. In 1991, he resided in Rock, Delta County, MI, and retired that year from General Motors. He married again at the age of 55, on May 27, 1994, to Jeannie Hadel, a bus driver for Mid Pen School. They were more than three decades apart in age. Sherman Sr. and Jeannie had two more children -- Michael Scott Jewell and Matthew George Jewell. Sherman Sr. died on Nov. 16, 2006 in Rock. His remains were returned to Milan for burial in Marble Park Cemetery. Tragically, great-grandson Brian died at the age of 23 on March 21, 1994. He left behind a young son.
Son Thomas "Tom" Jewell (1940- ? ) was born in 1940.
Son Harold C. Jewell (1941-2011) was born on Oct. 17, 1941. He was married and had four children: Jackie Jewell, Scott Jewell, Tina (Braley) Jewell and Vincent Jewell. Circa 1985, he made his home in Ypsilanti, MI. Harold spent his final years in Whitemore Lake, Washtenaw County, MI. He died there on March 4, 2011, at age 69.
~ More on the Jewells ~
The Jewells are mentioned in the excellent 1996 book by Ivan Stearns, The History/Genealogy of John and Nancy McCullough Jewell. The volume is available for sale through the Wood County Chapter of the Ohio Genealogical Society.
Be sure to visit Andrea (Sutfin) Jewell's family page on Ancestry.com.
Copyright © 2002, 2006-2007, 2012 Mark A. Miner