Lillian (Jewell) Farmer
(1864-1910)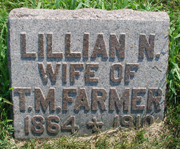 Oak Grove Cemetery

Lillian N. (Jewell) Farmer was born on Nov. 23, 1864 in Wood County, OH, the daughter of William L. and Pera (Minerd) Jewell.
In September 1885, when she was 20, Lillian married Thomas M. Farmer (1866-1929), an emigrant from England, the son of Samuel and Charlotte Farmer. He had come to America in 1872, when he was but six years of age.
The Farmers bore a brood of three known children -- Rose E. Farmer, I. Pearl Farmer and Earl H. Farmer.
In about 1890, Thomas was elected captain of the volunteer fire department in Bowling Green, Wood County, and served in the position for a decade.
When the federal census was taken in 1900, the Farmers made their home on Utah Street in Toledo, Lucas County, where Thomas was an agent for Standard Oil. Living in their household that year were two of their three children. For some reason, daughter Pearl was not in the residence, and is missing from the census listing.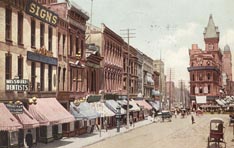 Kansas City's Main Street

Thomas apparently performed well in his work, and was transferred to Standard Oil's operations in Missouri. In 1909, the Farmers resided in Kansas City, MO. At the time, Standard Oil founded by John D. Rockefeller Sr. was one of the largest, and most dominant and profitable, corporations in all of the United States, both loved and hated by the American people.

The following year, in 1900, the Farmers had returned east, with Thomas assigned as a "special agent" to Standard Oil's headquarters in Cleveland, Cuyahoga County, OH. They made their home on Lakeland Avenue in Lakewood, a suburb west of Cleveland.

The census of 1910 shows the family in Lakewood, with Thomas's widowed mother, 67-year-old Charlotte Farmer, living under their roof.

Sadly, Lillian suffered from lung cancer. She passed away in Cleveland in late April 1910, at the age of 46. The funeral was held in Cleveland. Members of Thomas' old fire department made the trip to pay their respects, "which greatly touched the heart of Mr. Farmer," said the Bowling Green Daily Sentinel. Pallbearers were fellow employees of Standard Oil. Lillian's remains were transported by railroad to Bowling Green, where she was buried at Oak Grove Cemetery.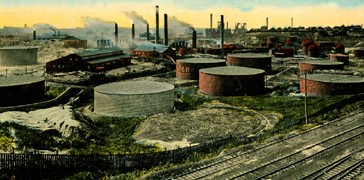 Cleveland's sprawling Standard Oil works and storage tanks in the early 1900s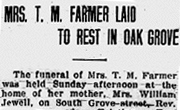 Obituary, 1910

The fates of Thomas and the children are unknown. It's believed that Thomas married again, to Hattie (?) (1875- ? ), who in 1920 were residing in Akron, Summit County, OH, with Thomas marked as a laborer in an oil cloth works, but this is not confirmed.

By 1930, the census shows that Thomas was living along Jerusalem Road in Jerusalem Township, Lucas County, near Toledo, OH, where he worked as a commercial salesman for an oil refinery. He is marked as married, but residing with his widowed 53-year-old sister in law, Gustave B. Rogers.

Following retirement, Thomas moved to Barberton, Summit County, OH. He suffered from "exhaustion" and anemia, and died from their effects at the age of 63 on May 25, 1929. His remains were laid to rest in Lakewood Cemetery, presumably in Cleveland. "Ralph Farmer" was the informant for Thomas' certificate of death.

The Farmers are listed in the excellent 1996 book by Ivan Stearns, The History/Genealogy of John and Nancy McCullough Jewell. The volume is available for sale through the Wood County Chapter of the Ohio Genealogical Society.

~ Daughter Rose E. Farmer ~

Daughter Rose E. Farmer ( ? - ? )

~ Daughter I. Pearl Farmer ~

Daughter I. Pearl Farmer ( ? - ? )

~ Son Earl H. Farmer ~

Son Earl H. Farmer (1888- ? ) was born in 1888.

One son born to the couple was They had one known son, Thomas M. Farmer II.

One son born to the couple was Thomas M. Farmer II.

Circa 1909, they lived in Arkansas when their son was born.

In the 1920 census, they are marked as living on Parkwood Avenue in Toledo, where Earl was employed as district sales manager for a bottle factory.

Ten years later, in 1930, they made their home on Prospect Avenue in Toledo, with Earl working as an assistant service/sales manager in the glass industry.
Grandson Thomas M. Farmer II was born in Arkansas.
Copyright © 2002, 2005, 2007-2008 Mark A. Miner