Home

William Samuel Jewell
(1867-1944)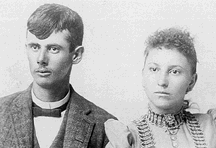 William Samuel Jewell was born on Oct. 21, 1867 in Wood County, OH, the son of William L. and Pera (Minerd) Jewell. He appears to have been named in part for his maternal grandfather, Samuel Minerd.
On Oct. 25, 1891, when he was age 24, William married 19-year-old Rachel "Alvira" Kring (1872-1944). She was the daughter of Peter and Martha J. (Swinehart) Kring.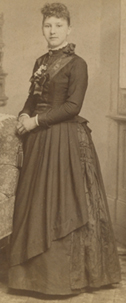 Rachel is seen at right in a photographic portrait taken in Bowling Green in 1891, the year she was married.
The Jewells had six children -- Earl Edwin Jewell, Myra Edna Jewell, Walter R. Jewell, Ethel "Marie" Kirian, Florence Esther Jewell and Helena Lucille "Helen" Wilcox.
Sadly, two of their daughters died in infancy -- Myra in February 1895 of scrofula, a type of tuberculosis in the lymph nodes of the neck, and Florence in April 1910.
According to the excellent 1996 book by Ivan Stearns, The History/Genealogy of John and Nancy McCullough Jewell, the Jewells resided in Liberty Township and Metamora, OH. They were farmers.
When the federal census was enumerated in 1900, the William and Alvira and their three children made their home in Center Township, Wood County, where William labored as a farrmer. Boarding in their home that year was 43-year-old Joseph Carroll, a farmer laborer.
In 1903, the Jewells resided in Deshler, Henry County, OH. Will's mother came for a visit, and before leaving telephoned a niece to tell her about the upcoming trip. Wrote the niece:
They are planing to stay a wk. but I bet they won't. My I'd hate to eat Vira's cooking a wk. Don't tell what I said.
Seen here is a rare old postcard photograph of Deshler's Main Street from the early 1900s. Note the telephone poles as well as the horses and buggies along the street.
The 1910 census shows the Jewells living on a farm in Liberty Township, Henry County, where William is labeled as a farmer doing general farm work.
In about 1915, the Jewells relocated again to the village of Grand Rapids in Wood County. It's said they wanted to live nearer to Alvira's mother, who was very ill. The 1920 census shows them in Grand Rapids, where William was the proprietor of a "racket" store. Also living in their household that year were their son Earl and his wife Hope, and daughters Marie and Helena. Earl and Marie both worked in sales at the store.
In the early 1940s, the Jewells resided at 579 Damascus Street in Liberty Center, near Deshler.
William suffered from stomach cancer. At the age of 77, he passed away from its effects at home on New Year's Day 1944, just two hours and 15 minutes after midnight. He was laid to rest in Union Hill Cemetery.
Adding to the family heartache, 10 months later, Alvira died in October 1944, at the age of 72. They are buried together in Union Hill Cemetery in Wood County. Daughters Florence and Edna also rest for eternity in the family plot.
Farmer's grain elevator in Deshler, a site with which the Jewells would have been familiar

Son Earl Edwin Jewell (1892-1974) married Hope Shedron (1898-1975) on Oct. 25, 1916, when he was age 24, and she was age 21. The newlyweds are seen at left. As a young adult, when he registered for the draft during World War I, Earl worked as the manager of his father's store in Grand Rapids. He later labored as a "custodian at the Wood County Courthouse, the City Building, Rogers Drug Store, the old Montgomery Ward Store and the Nawthorn-Mellody Dairy," said his newspaper obituary. They had one daughter, Martha Jane Jewell. Earl passed away in his home in Wood County at the age of 82 on Oct. 7, 1974, and is buried at Oak Grove Cemetery in Bowling Green. Hope died the following year, on Oct. 20, 1975, in Wood County Hospital, at the age of 77.
Granddaughter Martha Jane Jewell ( ? - ? ) married Frank Richard Howe (1920-2005). They resided in Southern California in Orange, Orange County, and had two children, Carolyn Howe and Gary Howe.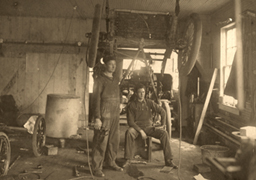 Earl Jewell (seated) in what appears to be an automobile repair garage. Notice the undercarriage of a vehicle and tires hanging from the ceiling.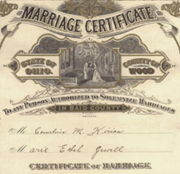 Daughter Ethel "Marie" Jewell (1900-1989) married Cornelius M. "Neil" Kirian ( ? - ? ). Despite their difference in religion (she was Protestant, he Catholic), they were married on June 19, 1922, and Marie joined the Catholic faith. Their elaborate Wood County marriage certificate is seen at right. They lived in Toledo, Lucas County, OH. They had three children -- Norbert "Bert" William Kirian Sr., Donald Frederick Kirian and Doris Grajczyk. Neil was a mechanic and landscaper during his working life. Marie was a seamstress and expert in everything she tried, having made her own dresses since the age of 17. During the Great Depression, they lost their garage business after extending credit to customers who could not repay their debts. The Kirians celebrated their 50th wedding anniversary in 1972 with a trip to Norfolk. She passed away at the age of 89 on April 6, 1989, in Toledo Hospital.
Son Bert Kirian (1923-1991) married Leocadia A. "Laura" Skibinski (1926-1988). He was a building inspector in Toledo, and she was a production worker at Woolson Spice Company, retiring in the 1950s.
Son Donald Frederick Kirian (1926-1988) married Virginia Mae West (1926-2001). They lived in Norfolk, VA, where he was an insurance salesman and later a truck driver.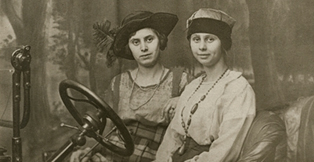 Marie Kirian and Helena Wilcox in a studio photograph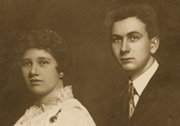 Son Walter R. Jewell (1896-1969) married Lula Ruth Creager (1895-1990). Walter was a farmer in West Unity, OH, and was a member of the Church of Christ in Bryan, OH. Circa 1920, they lived in Damascus, Henry County. They had one daughter, Margaret Walter. Walter died at home on Aug. 3, 1969, at the age of 73. Lula outlived her husband by more than two decades. She died at the age of 94 in Wauseon, Fulton County, OH on Jan. 27, 1990. Their daughter Margaret Jewell married Howard E. Walter (1918-1999) on May 14, 1942 in Napoleon, Henry County, OH. They had three children -- Ruth Ann, Linda Lou and Jimmie J. Tragically, Howard was injured in an automobile accident, and died from the injuries at age 81 on Dec. 19, 1999, in Toledo.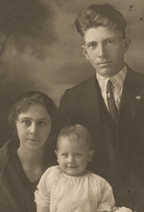 Daughter Helena Lucille Jewell (1904-1954) married Stanley G. Wilcox (1901-1971) on Dec. 7, 1921. The year before marriage, Stanley lived in Pontiac, Oakland County, MI, where he worked in a factory. As a married couple, they resided in Bowling Green, Grand Rapids and Liberty Center, OH. Helen passed away at the young age of 50 on Dec. 5, 1954. Stanley worked as an assembler in an automobile factory, and outlived his wife by 17 years. He died in 1971. They had three sons -- Herbert W. Wilcox, Robert J. Wilcox and Clifford R. Wilcox.
The Jewell History/Genealogy is available for sale through the Wood County Chapter of the Ohio Genealogical Society.
Copyright © 2002, 2004, 2006-2007, 2010 Mark A. Miner