Lillian 'Mana' (Johnson)
Prachar Hass
(1873-1942)
Lillian "Mana" (Johnson) Prachar Hass was born on April 10, 1873 (or 1872) at Sego near Somerset, Perry County, OH, the daughter of David R. and Mahala (Miner) Johnson.
She began life on her parents' farm in Ohio, but later became a pioneer settler of Kansas at the age of three, and she grew to adulthood in Concordia, Cloud County, KS.
Little is known about Lillian except for a few tidbits. The federal census of 1900 shows Lillian residing with her widowed father near Condordia, Cloud County. She was age 27 at the time.
Three years later, when she was age 31, in 1903, Lillian resided in Nebraska in the town of Deshler, Thayer County. That year, on April 23, 1903, she returned to Concordia to marry 25-year-old Charles Prachar (1878- ? ), of Superior, Nuckolls County, NE.
By 1910, the marriage apparently had ended, as she had returned to her father's household and resumed using the name "Johnson." She and her father are enumerated together in the 1910 census.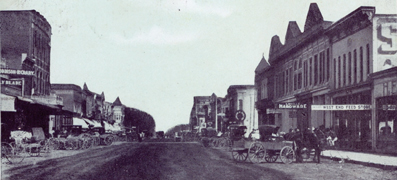 Sixth Street in Concordia, circa 1908
On May 2, 1912, Lillian purchased a tract of land from her widowed father for $50 and "other valuable conditions," read the deed. The land comprised the southeast quarter of the northeast quarter of Section 34, Township 6, Range 3, west of the 6th P.M.
The 1920 census shows her living alone in her own home in the Concordia area, at the age of 46, working as a farmer. Residing next door was her 58-year-old married sister Laura Kate Swearingen.
On April 12, 1920, at the age of 47, Lillian married a second time to former Concordia dairy farmer Jacob Albert "Jake" Hass (Nov. 28, 1867-1942), also spelled "Haas." The nuptials were performed at the home of Rev. J.A. Spencer in Concordia, which the Concordia Press reported as a "quiet marriage ceremony... We wish his [sic] couple much joy and happiness." A related story in the Concordia Blade-Empire referred to the couple as "good people."
Jacob was a native of Ohio and the son of (?) and (?) (Speelman) Hass. At the time of this marriage, Jacob was living on a farm in northern California. He had been married previously to Pharaba McCoy (1873- ? ) and brought these offspring to the second union -- Samuel Hass, Rachel Allen, Albert E. Hass, Jesse Merton Hass and Everett Edward Hass.
The couple appears to have begun married life in Concordia, as Mana was still there in October 1920 when named in a Concordia News story about early pioneer settlers. By 1930, the Hasses had relocated to El Nido, Merced County, in the San Joaquin Valley of northern California. Jacob continued his labor as a dairy farmer, and son Jesse assisted in hauling dairy products to market. Living next door in 1930 were 46-year-old Wilbur S. Hass and his wife Nelda. They remained in Merced County during the 1930s and are shown there in the 1940 federal census enumeration. That year, at age 71, Jacob had no occupation.
In a twist of fate, both Mana and Jacob died in the same year and in fact just two months apart. He succumbed first, at age 74, on May 9, 1942.
Mana apparently spent her final months in Stanislaus County, CA. She passed away there at the age of 70 on July 17, 1942. Burial was in the Masonic section of Merced Cemetery. [Find-a-Grave]
~ Stepson Samuel Hass ~
Stepson Samuel Hass (1902- ? ) was born in 1902 in Kansas.
~ Stepdaughter Rachel (Hass) Allen ~
Stepdaughter Rachel Hass Allen (1904-1951) was born on July 20, 1904 in Kansas. News of her birth was printed in the Concordia (KS) Blade-Empire.
She wedded (?) Allen ( ? - ? ).
She passed into eternity on June 14, 1951, at the age of 45, in Sacramento County, CA. Interment was in the Hass family plot in Merced Cemetery, and the word "Daughter" -- not "Wife" -- is inscribed on her grave marker.
~ Stepson Albert E. Hass ~
Stepson Albert E. Hass (1909-1968) was born on March 6, 1909.
He lived in Merced County.
He died on Sept. 18, 1968.
~ Stepson Jesse Merton Hass ~
Stepson Jesse Merton Hass (1911-1986) was born on Sept. 8, 1911 in Kansas.
He resided in Merced County, CA.
He died at the age of 74 on April 14, 1986. Burial was in Merced Cemetery.
~ Stepson Everett Edward Hass ~
Stepson Everett Edward Hass (1913-1986) was born on Sept. 8, 1913 in Merced County, CA.
As an adult, he dwelled in Stanislaus County, CA.
Death swept him away at the age of 72 on May 16, 1986, just a little more than a month after his brother Jesse. Interment was in Merced Cemetery.
Copyright © 2000, 2009, 2018 Mark A. Miner