Laura Kate (Johnson) Swearingen
(1861-1955)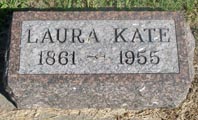 Pleasant Hill Cemetery
Laura Catherine "Kate" (Johnson) Swearingen was born on Sept. 23, 1861 at Sego near Somerset, Perry County, OH, the daughter of David R. and Mahala (Miner) Johnson. She grew up on her parents' farm, but as a teenager became a pioneer settler of Kansas.
In 1876, as a 15-year-old, Kate left their old family farm near Sego and traveled with her parents to Kansas, settling on a farm south of Concordia, Cloud County, KS.
On Dec. 16, 1880, at the age of 19, Kate married 22-year-old Thomas Jared Swearingen (1858-1932). Tom was a native of Carroll County, OH, who came to Kansas as a boy, first to Allen County in 1863, and thence to Cloud County in 1867. He is said to have traded a mule and a horse for 80 acres south of Concordia when he was too young to qualify to homestead. A local newspaper later said he was "probably one of the earliest pioneer settlers of Cloud county."
The newlyweds "began housekeeping on his claim in Center township," said The Kansan, "and where they have made their home [ever since."
Their four children were Arley Zachariah Swearingen, Grace Maude Mansfield, Mabel Henrietta Ewing and Leslie Paul Swearingen.
Pioneer days in Kansas were very difficult for the former Ohioans, physically and emotionally. Among other difficulties, son Arley later talked of Indians chasing him as a boy.

A old bird's-eye view of Concordia, looking south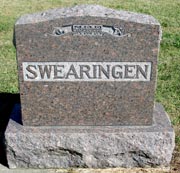 Pleasant Hill Cemetery
Thomas was called "the oldest settler of Cloud County, reckoning years of continuous residence." The Kansan recalled an important moment in his life which shaped his character:
Circumstances brought the editor of The Kansan and Mr. Swearingen into intimate acquaintance and friendship many years ago. It was in August, 1868 that the Indians raided the Republican Valley, Benjamin White was killed by them in Buffalo township, and on the same day Gordon Winbigler was killed by a part of the same gang of marauders near where Republic City was since located.... Following that raid they left their claims, some going to Manhattan, others to Clifton, some left the country for good, our own family came to Oak Creek, in this county -- living in the dugout on the bank of the creek, on the claim now owned by Joe Naillieux. Their next door neighbors were the Swearingens, a bit farther up the creek. Mrs. Swearingen, Tom's mother, was an experienced pioneer woman -- a Christian woman to the very core of her. Without her inspiration and helpfulness many of the other women homesteaders would have given up in despair... [Tom] was a worthy son of such a fine pioneer mother and 'carried on' throughout his life in such a way as would have been in full measure of her hopes and aspirations for him, as a man of fine character, commanding the respect of all who knew him. Such a man was Tom Swearingen.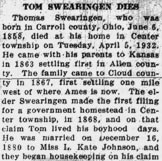 The Kansan, 1932
When the federal census was taken in 1920, the Swearingens lived next door to Kate's unmarried sister Lillian "Mana" Johnson in the Concordia area.
At some point in time, Thomas and Kate became the owners of three town lots in Geetts or Elida, Roosevelt County, NM. How these tracts came into their possession, or why, is a mystery for now, though it might have been an investment in a land speculation venture. Whether or how often the couple traveled to New Mexico may never be known.
In 1927, heartache shook the family when unmarried son Leslie died when suffocated by swelling due to the mumps. He was buried in the family plot at Pleasant Hill Cemetery.
Thomas died at home on April 5, 1932, at the age of 74. Following the funeral held at the Christian Church in Concordia, he was laid to rest in Pleasant Hill Cemetery. In addition to his children, he was survived by 12 grandchildren and a brother, Franz Swearingen. In a long obituary, The Kansan said:
Tom Swearingen was one of the finest men we have ever known. He was noted for his unfailing good nature and his pride in his good name. His personal honor and integrity was a passion with him. Of him it can be truthfully said: "His word was as good as his bond."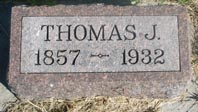 Pleasant Hill Cemetery
At his death, Thomas left no will. Thus, he was considered "intestate" by the Cloud County probate court. Son Arley was appointed to administer the estate, which included filing legal documents so that he, his mother and two adult siblings would receive the appropriate assets from the estate to which they were entitled. The deceased's estate included 120 acres of land, live stock, grain and farm machinery, as well as a World War I Liberty Bond worth $50. A more specific inventory of his farm holdings included the following: three horses, two cows, eight milk cows, seven calves, a half interest in a bull, one wagon, one set of harness, a walking cultivator, a binder, one sulky plow and lister, a two-section harrow and 250 bushels of corn.
Arley sold quantities of cream, eggs and poultry, as well as calves and hogs, to generate income.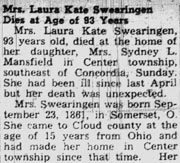 xxxx
Kate lived to the age of 93. She became seriously ill in April 1955, and resided under the roof of her married daughter Maude Mansfield south of Concordia.
There, Kate died on July 3, 1955. An obituary in The Kansan said that "She had been ill since last April but her death was unexpected." A funeral was held at the Evangelical United Brethren Church, officiated by Rev. Donald D. Hines. She was placed at eternal rest beside her husband in Pleasant Hill Cemetery, in the same lot as her parents. At the time, reported The Kansan, she was survived by 12 grandchildren and 16 great-grandchildren.
Unfortunately for her heirs, Kate also died intestate. Included in the inventory of her possessions, in addition to the 200-acre family farm in Sections 33 and 34, Township 6 and Range 3 of Cloud County, and the town lots in New Mexico, was $2,566 held in savings and checking accounts with the First National Bank of Concordia. Her daughter Maude Mansfield filed a legal claim to make sure that all the assets of the estate were divided equally among the rightful heirs
Copyright © 2000, 2003, 2009-2010 Mark A. Miner