Home

Freeman King
(1832-1889?)
Freeman King was born in 1832 in Somerset County, PA, the son of Thomas R. and Sarah "Sally" (Younkin) King.
He grew up working as a laborer on his father's farm in or near New Lexington, Somerset County.
At the age of 18, in 1850, he was counted within the family on the U.S. Census. He attended his sister Susan's wedding in December 1856, held at their father's home..
Evidence hints that Freeman migrated by 1860 to Ohio and established a home in Fairfield County. The federal census enumeration of 1860 shows him boarding in the home of Ralph and Ann Black in Pleasant Township, Fairfield County. If this is all correct, then on Dec. 18, 1862, he was joined in marriage with Elizabeth Jamison ( ? -1889), an immigrant from England. Justice of the peace J. Brisby officiated at the wedding.
The couple went on to bear several known children, all in Ohio -- Nettie King, Williametta/Wilmetta Leckrone, Iva King, Virgie Lewis, Bessie F. King, Finley King, Bertman C. King, Elizabeth George and Xema Park Page.
With the nation aflame during the Civil War, Freeman registered for the military draft in June 1863. Nothing has been found to indicate that he actually joined the army or saw any type of service.
At the birth of their daughter Williametta in 1866, they were in Thornville, Perry County, OH. The 1870 and 1880 censuses shows the family in Rush Creek Township near Lancaster, Fairfield County, with Freeman earning a living as a farmer.
Freeman passed into eternity in Rush Creek, Fairfield County on Aug. 29, 1889.
Elizabeth's fate is not known.
Decades after Freeman's death, their descendants held a local family reunion. One took place in August 1933 at "Ye Olde Mill" north of Newark, Licking County, with son Finley and his son Floyd and family attending. Another was held on Aug. 6, 1939 at Finley's home. The Newark (OH) Advocate reported the names of attendees: Mr. and Mrs. Bert King of Newark; Mrs. Virgil Lewis of St. Petersburg, FL; Wilmetta Leckrone and daughter Fern of Glenford; Elizabeth George and son James, Walter Miller and Steve Golois of Cleveland; Mr. and Mrs. Glen Leckrone of Urbana; Mr. and Mrs. DeVere Wilson of Columbus; Mr. and Mrs. Hugh McTague and daughter Suzanne of Columbus; Mr. and Mrs. John Shaffer and daughter Kay of Columbus; Mrs. Xeina Park of Columbus; Mr. and Mrs. Orville Williams and children Eddia and Willanna of West Alexandria; Rev. and Mrs. Andrew Bradow and children Joyce, Charles and King of West Alexandria; and Mr. and Mrs. Floyd DeRolph and children Lois and Raymond.
~ Daughter Nettie King ~
Daughter Nettie King (1865- ? ) was born in about 1865 in Ohio.
~ Daughter Williameta (King) Leckrone ~
Daughter Williameta King (1866-1942) -- also spelled Willameeta, Wilmetta and Willmettie -- was born on Dec. 21, 1866 in Thornville, Perry County, OH.
She wedded David H. Leckrone (1866-1931).
Their offspring were Glenn David Leckrone, Chloe DeRolph, Orval Freeman Leckrone, Luke H. Leckrone and Fern Leckrone.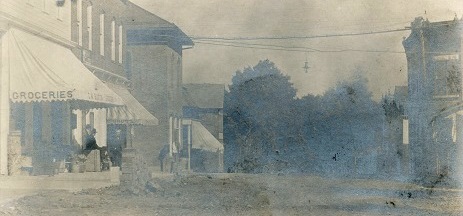 Thornville, Ohio, home of the Leckrones.
Considered "well known" in the community, David owned a general mercantile business and was a Baltimore and Ohio Railroad agent at Chalfant Station, Perry County for 41 years. The couple dwelled in the Chalfants area and belonged to the Church of the Brethren in Thornville. At the age of 65, David contracted uremic poisoning and suffered for 10 days until the Angel of Death carried him away on Dec. 20, 1931. Funeral services were held at the Olivet Church near Glenford, with Rev. Clyde Mulligan presiding. Wilmetta outlived her spouse by 11 years and resided in Glenford, Thorn Township, Perry County. Having been felled by a cerebral hemorrhage in August 1942, she lingered for several months until relieved of her sufferings on Nov. 24, 1942 at the age of 75. Interment of the remains was in Glenford's Highland Cemetery, and an obituary was published in the Newark Advocate and Lancaster Eagle-Gazette.
Grandson

Glenn David Leckrone

lived in Marietta, Washington County, OH circa 1931. He relocated by 1942 to Beverley, OH.
Granddaughter Chloe Leckrone

married (?) DeRolph. The couple made a home in Thornville.
Grandson Orval Freeman Leckrone

established a residence in South Zanesville, Muskingum County, OH. By 1942, he had moved to Gratiot, Licking/Muskingum County, OH.
Grandson Luke H. Leckrone

(1903-1915) died in about 1915.
Granddaughter Fern Leckrone

was unmarried and living at home in 1931 and in Celina, OH in 1942.
~ Daughter Iva King ~
Daughter Iva King (1869-1939) was born in about 1869 in Ohio.
~ Daughter Virgie (King) Leewis ~
Daughter Virgie King (1872-1955) -- also spelled "Vergie" -- was born in 1872 in Ohio. She married Albert Emmet "A.E." Lewis (Nov. 17, 1872-1932), son of Almond and Malinda (Boring) Lewis of Ohio. The couple did not reproduce. He is known to have worked for several years as a lumberman and to have retired in 1922. They relocated for a time to Washington, DC. Then in 1926, she and Albert migrated to Florida where they spent the rest of their lives in St. Petersburg, Pinellas County. The federal census enumeration of 1930 shows that neither the 59-year-old Albert nor 57-year-old Virgie had an occupation. Their address at that time was 219 Fourth Avenue North. Sadly, Albert suffered a massive heart attack and died suddenly on June 18, 1932, at the age of only 59. Interment of the remains was in Royal Palm Cemetery in St. Pete. As a widow, Virginia lived for another 23 years.Her address was 335 Seventh Avenue North. She passed into eternity on Jan. 22, 1955. A short obituary appeared in the Tampa Bay Times.
~ Daughter Bessie F. King ~
Daughter Bessie F. King (1875-1928) was born in about 1875 in Ohio, possibly a twin with her brother Finley.
~ Son Finley King ~
Son Finley King (1875-1948) was born in about 1875 in Ohio, possibly a twin with his sister Bessie. He was united in matrimony with Lizzie Cooperrider (March 7, 1878-1966), a Thornville native and daughter of Lewis and Margaret (Anspach) Cooperider. The couple produced two children -- Edna Bradow and Floyd King. The family were longtime farmers along the Thornville-Glenford Road in Perry County. They belonged to Grace Lutheran Church, where she was active in the Esther Circle. She also was a member of the Lakeview Garden Club. Finley succumbed to death after a long illness on June 19, 1948. Funeral services were held in Grace Lutheran Church in Thornville, with an obituary appearing in the Lancaster Eagle-Gazette. Rev. Walter S. Langhans officiated at the funeral service, with interment in the Lutheran Reformed Cemetery. Lizzie outlived her spouse by 18 years and remained in Thornville. She died at Grant Hospital in Columbus at the age of 88 on July 15, 1966. Her funeral took place in the family church, led by Rev. Robert Pflueger.
Granddaughter Edna King ( ? -1985) was born in (?). She married Rev. Andrew E. Bradow ( ? -1967). The two offspring born to this marriage were Joyce Elaine Juergens and Rev. Charles "King" Bradow. Andrew was a 1926 graduate of the Theological Seminary at Capital University. His first church congregation was Grace Lutheran in Eaton, OH, and he spent four years in this position. Then, for 16 years, he pastored the Salem Lutheran Churc of West Alexandria, Preble County, OH. Circa 1929, Andrew was elected president of the Sunday School Convention of the Dayton Conference of the Evangelical Lutheran Joint Synod. He was installed in 1947 as superintendent of the Lutheran Welfare League of Central Ohio, and served in this position for two decades until death. He suffered a heart attack at home on Sept. 26, 1967 and was admitted to Grant Hospital in Columbus, where he died at the age of 63 on Oct. 4, 1967. Funeral services were held in the Christ Lutheran Church of Columbus, with Rev. Charles H. Lange presiding. An obituary was published in a number of newspapers across Ohio. Edna endured for another 18 years. Her final address was at 2633 Petzinger Road in Columbus. She passed into eternity at St. Anthony's Hospital in Columbus on Feb. 15, 1985. An obituary was printed in the Dayton Daily News. As of 1967, their daughter Joyce was married to attorney Carl E. Juergens of Springfield, OH, while their son King served as executive director of the Lutheran Foundation at Ohio State University.
~ Son Bertman C. "Bert" King ~
Son Bertman C. "Bert" King (1878-1952) was born on April 6, 1878 in Bremen, OH. At the age of 22, he resided at Chalfants, Perry County. The day after Christmas 1900, he was joined in wedlock with 24-year-old Addie Denison (April 1, 1876-1952), also of Chalfants and the daughter of Abisha and Sarah (Cochran) Denison Sr. Rev. D.S. Priest officiated at the nuptials. For more than four decades, Bert worked in Newark for Rutledge Clothing Company in South Park Place and later with the Harry J. Rook Inc. clothing store. He was a member of First Methodist Church of Newark and president of the Retail Clerks' Association of Newark. Sadly, both husband wife died the same year. She succumbed to death in January 1952. Bert outlived her only by five months. As his health failed, he went to live with his sister Zema Page near Thornville, and died there at the age of 74 on June 26, 1952. Rev. Joseph O'Reilly preached the funeral sermon, with burial in Highland Cemetery, as reported in the Newark Advocate.
~ Daughter Xema (King) Park Page ~
Daughter Xema King (1884- ? ) -- sometimes spelled "Xena" and "Zema" -- was born on June 22, 1884 in Thornville, Perry County, OH. She was twice wed. Her first husband was flour-miller Wilmer C. Park (Aug. 27, 1885- ? ), son of Charles and Amanda (Sewart) Park of Huron County, OH. The couple tied the knot on Sept. 22, 1907 in Perry County, when she was age 23 and he 22. Rev. R.H. Griffith, of the Methodist Episcopal Church, officiated. The two known daughters born to this union were Elouise Schaefer and Adrienne R. McTeague. She is known to have traveled to Newark for New Year's Day 1938 dinner at the home of her brother Bert. Then, on Dec. 2, 1942, at the age of 57, she was united in matrimony with 67-year-old widower Arthur Alfred Page (June 13, 1875-1951). The ceremony was led by Rev. C. Carlton Babbs. At the time of her marriage to Arthur, she lived at 792 South Remington Road and he at 517 South Champion Avenue, both in Columbus. A native of Sego, Perry County, Arthur was the son of William and Caroline (Duesenberry) Page and had been married before to Bertha L. Ardrey (April 10, 1877-1940). He thus brought a son into the second union, Richard Page. With his first family, Arthur had had lived in Columbus, OH, where he was a cabinet maker and they belonged to the Wilson Avenue Church of Christ and he to the Hombolt lodge of the Masons. He also held a membership in the Bruno Grange in Thornville, where he relocated with Zena circa 1946. When his health declined due to coronary heart failure and hardening of the arteries, Arthur was admitted to Newark Hospital. There, he was cut away by the Grim Reaper at the age of 75 on March 18, 1951. His obituary was printed in the Newark Advocate. W.A. Moore led the funeral service, with burial following in Mt. Perry Cemetery. Zema outlived her spouse for several years but her final fate is not yet known.
Granddaughter

Elouise Park (1911- ? ) was born on March 31, 1911. She was trained as a stenographer and in her early 20s was employed in Columbus. On Sept. 22, 1935, at the age of 24, she married 21-year-old John L. Schaefer (April 11, 1914- ? ), son of Albert E. and Nellie (Ebright) Schaefer.

The event was a double wedding, with her sister Adrienne joined in marriage with Hugh W. McTeague on the same day and by the same clergyman. The groom was three years younger than the bride.
Granddaughter Adrienne R. Park

(1913- ? ) was born on Dec. 14, 1913. She lived in her early 20s in Columbus where she earned a living as a beauty operator. When she was 22 years of age, on Sept. 22, 1935, she married 24-year-old salesman

Hugh W. McTeague (March 24, 1911- ? )

, son of Hugh J. and Pearl (Page) McTeague of Columbus. Officiating at the wedding ceremony was Rev. John B. Taylor. The event was a double wedding, with her sister Elouise marrying John L. Schaefer on the same day and by the same clergyman.
~ Daughter Elizabeth (King) George ~
Daughter Elizabeth King (1888- ? ) is believed to have been born on May 6, 1888 in Thornville. This needs to be confirmed. She wedded (?) George. Her residence circa 1942 was in Cleveland.
Copyright © 2014, 2019, 2022
Research for this page graciously shared by the late Donna (Younkin) Logan, Sylvester Everhart Jr., Linda Marker, Marian (Smith) Posey, Laurel Posey, Loretta (Adams) Kelldorf and Kay Lynn Younkin.