Sarah 'Sally' (Younkin)
Weimer King
(1807-1854)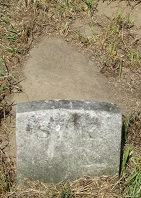 Sarah's headstone (flat) and footstone lettered "S.K."
Sarah "Sally" (Younkin) Weimer King was born on Feb. 10, 1807 (or Jan. 8, 1808) in Turkeyfoot Township, Somerset County, PA, the daughter of Johannes "Frederick" and Catherine (Patton) Younkin. She was christened in baptism on July 3, 1808.
At about the age of 19, in or before 1826, she married her first husband, 27-year-old Michael Weimer (1799-1828), son of John and Maria Margaretha (Schneider) Weimer of Milford Township. There was a difference of eight years between the couple.
To them were born four children over the span of just a few years – Aaron "Harry" Weimer, Joanna Weimer, Adeline Weimer and Michael Weimer.
Michael is known to have held a business account at the John McMillan tannery in Listonville. His entries from the years 1853 to 1855 are recorded in the tannery's business ledger which is preserved today. The entries read as follow:
...a deer skin at 50 cents, Sept. 14, 1853 – paying A. Feltkirkner, cost $3.75, blacking scraps of belowsleather, 25 cents, and a letter postage [no cost listed], Jan 2, 1854 – a QR SL [shoe leather] weight 8 lbs., cost $2.50, Jan. 23, 1854 – a set of chairs, cost $6.00, April 28, 1854 – 8 lbs. of wool at 25 cents, cost $2.00, a letter [no cost listed] and a note on Thomas T. King, $9.65, June 5, 1854 – brass, 98 cents and accafortis, 18¾, Sept. 1854 – a CS [calfskin] for Ason, 75 cents Sept. 20, 1854 – a pair of uppers, 62½ and a butter keg 37½, Oct. 24, 1854 – uppers for Boots + Cramping, $1.37½, Nov. 1854 – a Saddle at $15.00, March 19, 1855 – 18¼ lbs. veal [no cost listed], June 15, 1855 – iron, $1.72, Aug. 24, 1855.
Fate and heartache rocked this family on Sept. 15, 1828, when Michael died at the age of 29. The cause of his untimely death is not known, but his demise left Sally a single mother with four mouths to feed.
Sally remained a widow for about two years and then in the mid-1830s, she was joined in holy matrimony with widower Thomas R. King (1807-1861), son of John Christopher and Delilah "Hiley" (Rush) King, also of Turkeyfoot Township. (The Younkin and King clans were close, and Sally's brother Henry married Thomas' sister Mary.)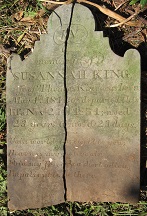 Grave of Thomas' 1st wife Susannah who died 1834
Thomas' first wife Susannah (1811-1834) tragically had died Nov. 27, 1834, at the age of 23 years, 6 months and 23 days, with burial in the Younkin family cemetery. On her grave marker, which survives today despite being cracked in half vertically, contains this epitaph: "Vain world farewell to you, Heav'n is my native air. I bid my friends a short adieu, Impatient to be there."
Sarah and Thomas produced eight known children of their own -- Freeman King, Susan Elder, Alexander King, Amanda Rodman, Nancy Leichliter Conn, Sarah A. King, Josephine King and Anna A. King.
Sally's father passed away in August 1843. A few weeks later, an estate sale was held to dispose of inventory from his farm and home. Thomas attended the event and purchased a shovel, bees (second choice), hogs (first choice) and a beef cow.
When the federal census was taken in 1850, the Kings resided on a farm in Upper Turkeyfoot. All seven of the children were in the household, ranging in age from 18 to 2. Sally's son Michael Weimer, a 21-year-old blacksmith, also lived under their roof that year. Their near neighbors included 82-year-old widow Rebecca King and, several farms away, Sally's widowed mother and married brother Frederick F. Younkin and his family.
Sadly, having borne 11 children, Sally died at age 46 on July 29, 1854. She was laid to rest in the family cemetery on the Younkin farm.
Thomas survived another seven years. He is believed to have married again, to Catherine (?) (1812- ? ), a talented spinner. They are thought to have had a son of their own, Martin King (born 1856). The combined family is listed together on the 1860 census of Upper Turkeyfoot.
Thomas died at the age of 54 on Dec. 11, 1861. He is reputedly burned in Ursina, Somerset County.

Tree line and partial stone fence mark boundaries of the Younkin family burying ground where Sally (Younkin) Weimer King was laid to rest in July 1854.
~ Daughter Joanna Weimer ~
Daughter Joanna Weimer ( ? - ? ) was born in Somerset County.
~ Daughter Adeline Weimer ~
Daughter Adeline Weimer ( ? - ? ) was born in Somerset County.
~ Daughter Missouri E. King ~
Daughter Missouri E. King (1840- ? ) was born in 1840.
She was educated at home as a seamstress.

Nothing more is known.
~ Daughter Sarah A. (or "Sabina") King ~
Daughter Sarah A. (or "Sabina") King (1844- ? ) was born in 1844.
She learned the art of sewing at a young age and in 1860, at age 16, was considered a seamstress.
Her story has faded from view.
~ Daughter Josephine King ~
Daughter Josephine King (1848- ? ) was born in 1848 in Upper Turkeyfoot. She is lost to history.
~ Daughter Ann A. King ~
Daughter Ann A. King (1852- ? ) was born in 1852.
Copyright © 2014, 2019, 2022
Research for this page graciously shared by the late Donna (Younkin) Logan, Sylvester Everhart Jr., Linda Marker, Marian (Smith) Posey, Laurel Posey, Loretta (Adams) Kelldorf and Kay Lynn Younkin.