Andrew L. Luckey
(1905-1986)


Andrew and Grace Luckey
Andrew L. Luckey was born on Aug. 31, 1905 in or near Dawson, Fayette County, PA, the son of Joseph M. and Sara Catherine (Minerd) Luckey.
As a young man, Andrew worked on a farm in Iowa for his friend Ivan Cross. He also labored in a meat packing plant in Cudahy, Wisconsin. His brother Charles apparently also worked with him in Cudahy, as he married a local girl there, Anna Bedi, in 1926. Andrew ultimately returned to Dawson for good, where he was a longtime farmer.
On Dec. 20, 1932, at the age of 27, Andrew married 25-year-old Grace Marie Strickler (June 2, 1907-1991), daughter of William and Anna (Cowan) Strickler, and a native of Vanderbilt, Fayette County. Grace was teaching school at the time in Morgantown, Monongalia County, WV, and the nuptials took place there, officiated by Rev. Sheridan Watson Belle of the First Methodist Episcopal Church of Morgantown.
They produced three children -- Wesley Luckey, Sara Ann "Sally" Harley and Ivan Luckey.
Grace was a teacher, having studied in 1927 at California State Teachers College. Despite her married status, she taught elementary education at Franklin Township School in Vanderbilt and Gault School in Lower Tyrone Township (1927-43); and Perryopolis, Whitsett and Brownfield Schools in the Frazier School District (1948-69), all in Pennsylvania.
The 1940 federal census shows the family residing in Lower Tyrone Township, with Andrew providing farm labor, and Grace teaching.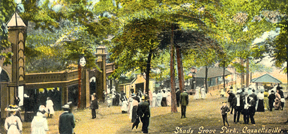 Shady Grove Park, site of the 1930 Minerd-Miner
Reunion at which George handled refreshments
During the 1920s and early '30s, Andrew went with his parents and siblings to the annual Minerd-Miner Reunions held in Fayette and Somerset Counties. Among the cousins he got to especially know and like was Dr. Roy Sheppard Minerd, son of his mother's cousin Rev. Isaac Herschel Minerd. In 1949, while in Erie with Grace visiting friends, Andrew tried to find Roy, who had once been in medical practice there. They searched telephone directories but could not locate him -- which was because Roy had been living for some time in Smethport, McKean County, PA.
At the 1930 reunion, held in Shady Grove Park in Uniontown, he headed the refreshment committee. Other organizers that year included Arnold Overholt, president; Ernest E. Minerd, secretary; Mary Adaline (Luckey) Malone and Frank Zearfoss, general committee; Bess (Minerd) Lemon, speakers committee; Dr. Paul David Luckey, sports committee; Edith (Erwin) Minerd, invitation committee; Frank Woodmancy, publicity committee; and Dr. Harold "Daniel" Minerd, transportation committee.
Andrew and Grace made their home on the home farm in Dawson, near his parents, with three generations interacting all the time. In a July 1950 letter to cousin Roy Minerd, Andrew's mother wrote: "Andrew's 2 boys are away in Boy Scout Camp this week. We miss hem so much."
They were members of Bryan Methodist Church. He belonged to the James Cochran Lodge of the Masons, was past master of the Dawson Grange and a member of the Dawson-Vanderbilt Lions Club. Among his roles with the Grange was to volunteer on the annual Fayette County Union Grange Picnic Association, an event held at the Dawson Driving Park. He was elected master of the Dawson Grange in 1943, and hosted the annual grange picnic on his lawn in August 1956.

Dawson Fairgrounds, from an old postcard
Andrew also was active with the annual homecoming celebration of the Bryan Methodist Church in Dawson, and the Daily Courier quoted him in June 1940 as saying, "come and bring a basket and enjoy a pleasant day with your friends." The men's progressive Bible class of the church regularly met at their home. He helped charter a Boy Scouts troop at the church in 1975, working with distant cousins James McKnight and Elmer Younkin of Dawson.
In politics, Andrew was elected as chairman of the Lower Tyrone Township Board of Supervisors in the mid-1950s.
When the Borough of Dawson celebrated its centennial anniversary in 1972, Andrew and Grace made a donation to the event, as did his sister and brother in law, Martha and Waide Bailey. All were listed in the official program booklet as "patrons."
Andrew died of a heart attack at the age of 80 in Highlands Hospital and Health Center in Connellsville on May 8, 1986. He was interred in Green Ridge Memorial Park near Connellsville. At the time of death, said the Connellsville Daily Courier, he was survived by six grandchildren and one grandchild.
Grace survived her husband by many years. In the early 1990s, she relocated to Zelienople, Butler County, PA to join her sister in law Mary Malone in a retirement community.
Grace died on Nov. 24, 1991.

Wesley Luckey

California University
of Pennsylvania
~ Son Wesley Luckey ~
Son Wesley R. Luckey (1934- ? ) was born in about 1934 near Dawson.
He married Jane Pryde ( ? - ? ), daughter of Thomas Pryde of Greensburg, Westmoreland County, PA. News of their engagement was published in the Pittsburgh Press.
Their one known daughter is Judith Elizabeth Luckey.
He obtained his bachelor of science degree in elementary education in 1959 from what is now California University of Pennsylvania. He obtained his master's degree in 1963 from West Virginia University and took additional studies at the University of Pittsburgh.
Wes taught at William Penn and Yough Schools in the Elizabeth Forward (PA) School District (1959-1965). He then became elementary principal at Boston, Elizabeth, Central, Greenock, William Penn, Mt. Vernon and Yough Elementary schools, PA (1966-95).
Janeobtained her bachelor of arts at Marietta College in 1961. She taught American history at Wilkinsburg (PA) School District (1961-66) and then moved to Central Highlands (PA) Pre-School (1975-96).
Their home for many years has been in Elizabeth, Allegheny County, PA.
Wes graciously has shared information about this family.
~ Son Ivan Luckey ~

Ivan Luckey
California University
of Pennsylvania
Son Ivan Luckey (1935- ? ) was born in 1935 near Dawson.
He obtained his degree in industrial arts in 1956 from what is now California University of Pennsylvania. He taught industrial arts at Redstone High School (1956-57) in Fayette County, PA, and at Canton (OH) High School (1957-60).
He married Nancy Kraemer ( ? - ? ), daughter of A.H. Kramer of Uniontown, on June 12, 1956, just a week after his college graduation. At the time, Nancy worked in Uniontown for Bell Telephone Company.
They relocated to Canton, OH in about 1957 and later resided in Cleveland, Cuyahoga County, OH.
Their three children were Alan M. Luckey, David W. Luckey and Jeffrey Paul Luckey.
Circa 2006, they made a home in Houston, TX.
Son Alan M. Luckey (1958- ? ) was born in 1958 in Cleveland. He wedded Wendy Diane Winborn (1957- ? ). They have made a home in Minot, ND.
Son David W. Luckey (1961- ? ) was born in 1961 in Cleveland. He was joined in matrimony with Diana Lynn (1965- ? ). They have resided in Houston, TX and have one known son, Zachary R. Luckey.
Son Jeffrey Paul Luckey (1962- ? ) was born in 1962 in Cleveland. He was united in wedlock with Deborah Jane (1962- ? ). They are the parents of Eric A. Luckey, Amber Lynn Luckey and Ashley Ann Luckey. Since the 1980s, they have dwelled in Pasadena, TX.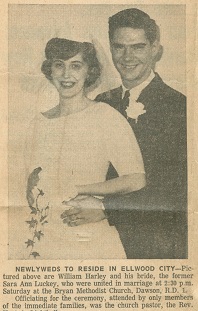 The Harley wedding news
~ Daughter Sara Ann "Sally" (Luckey) Harley ~
Daughter Sara Ann "Sally" Luckey ( ? - ? ) was born in (?).
She married William Harley ( ? - ? ), son of Clyde Harley of Aliquippa, Beaver County, PA.
They are the parents of Diane Lynn Harley.
The Harleys established a residence in Fombell, PA.
After receiving her bachelor of science from California University of Pennsylvania in 1973, Sally worked as a substitute teacher in the Ellwood City (PA) Area Schools. She also has been a township secretary in her municipality and active with the local Woman's Club.
Bill also received his bachelor's degree from California, in 1964, and obtained a master's of education there in 1968. He has taught industrial arts at Ellwood City (PA) Area Schools (1964- ? ).
In 1992, Sally and Bill brought her aged aunt, Mary (Luckey) Malone, to the Minerd-Miner Reunion in Somerset County, PA.
Daughter Diane Lynn Harley received her bachelor of science in 1989 from the University of Pittsburgh and her master's degree in 1989 from California University of Pennsylvania. She has taught special education in the Ellwood City (PA) Schools, starting in 1989.
Copyright © 2012, 2018 Mark A. Miner