Mary Ellen (Martin) Martin
(1857-1938)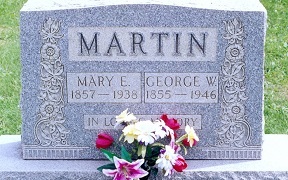 Mt. Moriah Cemetery

Mary Ellen (Martin) Martin was born on Dec. 17, 1857 in Preston County, WV, the daughter of James K. and Margaret (Minerd) Martin.
In about 1876, at the age of 19, Mary Ellen married 21-year-old George W. Martin (1855-1946). It is not known if Mary Ellen and George were related.
They had four children -- Luther F. Martin, John C. Martin, James "Bruce" Martin and Isaac N. Martin.
The Martins were farmers, and resided near Albright, Preston County. Little is known about their lives.
Heartache rocked the family in the winter of 1877 when son Isaac, three months old, came down with the croup. He did not recover, and died on March 12, 1877.
In 1935, Mary Ellen was mentioned by name in the Clarksburg Exponent obituary of her sister Kate Skinner.
Mary Ellen passed away on Christmas Day 1938, just eight days after her 81st birthday. She was laid to rest in the Mt. Moriah Cemetery near Valley Point, Preston County.
George outlived her by eight years. He died in 1946, of causes unknown, and was buried beside his wife.
~ Son Luther F. Martin ~
Son Luther F. Martin (1880- ? ) was born in 1880.
He was a farm laborer circa 1900.
Circa 1957, he resided at Albright.
His fate is unknown.
~ Son John C. Martin ~
Son John C. Martin (1886- ? ) was born in 1886.
John lived in Albright in 1957.
Nothing else about him is known.
~ Son James Bruce Martin ~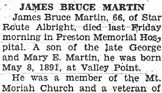 Preston County Journal

Son James "Bruce" Martin (1891-1957) was born in 1891.

He served in World War I as a private in Battery B of the 31st Field Artillery of the U.S. Army.

He married Melinda Ellen (1899- ? ).

The couple were the parents of three children -- Kenneth Ray Martin, Paula Mae Derr and Betty Lou Titchnell.

James died at age 66 on Jan. 4, 1957, with his obituary published in the Preston County Journal. He was buried at Mt. Moriah. His wife is buried beside him, but it is not clear in what year she died.

Copyright © 2006-2007, 2014 Mark A. Miner