Margaret (Minard) Martin
(1834-1905)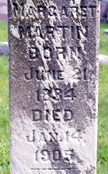 Mt. Moriah Cemetery
Margaret (Minard) Martin was born on June 21, 1834, likely in Turkeyfoot Township, Somerset County, PA, the daughter of Burket and Susan (Hartzell) Minerd. Her husband was a veteran of the Civil War.
As a young girl, Margaret moved with her parents to near Terra Alta, Preston County, WV.
On Nov. 15, 1851, when she was 17 years of age, Margaret married 20-year-old James K. Martin (1831-1900), the son of Isaac and Susanna (Metheny) Martin, near Valley Point, Preston County. Officiating was Cronrad Ringer. Among others, the event was witnessed by James' siblings Rolla F. Martin and Lydia A. Smith. Any formal record of their marriage kept by the county was destroyed in a courthouse fire in 1869.
James stood 5 feet 6 inches tall as a young man.
On or about March 20, 1862, at Bruceton Mills, he enlisted in Company H of the 3rd Regiment, Potomac Home Brigade, also known as the 3rd Maryland Infantry, where he would go on to serve as sergeant. Company H took on the nickname "West Virginia Snake Hunters."
James held the rank of corporal in Company H. The company was commanded by Capt. W.A. Faulkenstine of Bruceton Mills, and by first lieutenant Frederick Pringey, a cousin of Margaret's and the son of Joseph and Margaret (Younkin) Pringey. Sadly, cousin Frederick lost his life to disease at Camp Patrol in January 1863.

James named as a corporal in a broadside featuring the "West Virginia Snake Hunters" -- his Civil War regiment, the 3rd Potomac Home Brigade.
Courtesy Genealogy of Some Early Families in Grant and Pleasant Districts
Very little is known of individual specifics of James' wartime service. The 3rd Maryland first was assigned to railroad guard duty along the Upper Potomac in Maryland and Virginia. It saw action in West Virginia in 1862 at Grass Lick on April 23, Wardensville on May 7, Franklin on May 10-12 and Moorefield on June 29. Ordered to Harper's Ferry, the regiment took part in the siege of the town on Sept. 12-15, 1862 and surrendered on the final day's action. The men were paroled and released the next day and sent to Annapolis and thus served in the defense of Baltimore until June 1863. Then from June 28 to July 16, 1863, the 3rd Maryland performed guard duty along the Washington branch of the Baltimore and Ohio Railroad.
On the move again,the regiment was ordered to Annapolis and environs. When James' term of service expired on March 30, 1864, he re-enlisted at Ellicott's Mills near Baltimore. They stayed at Annapolisuntil Confederate Gen. Jubal A. Early's invasion of Maryland in July 1864. The regiment was posted to Frederick, MD on July 7-8, 1864 and participated in the Battle of Monocacy on July 9. From there they pursued Early's forces including hostilities at Snicker's Gap on July 18, Bolivar Heights on Aug. 6, Halltown on Aug. 8, Charlestown on Aug. 9 and Berryville on Aug. 13. The men spent the balance of the war in the Harper's Ferry District until May 1865 when ordered to Baltimore. James received his honorable discharge at Ellicott's Mills, MD, now Ellicott City, west of Baltimore, on May 29, 1865.
After the war, James returned home to his family. They lived on "a little farm of fifty acres" at Valley Point.
Nine children born into this family were Mary Ellen (Martin) Martin, Susan V. Sisler, Emma Jane Lamberd, Victoria Bell Falkenstine Miller, Lucinda "Katherine" Skinner, Jasper Newton Martin, Nancy "Anna" Metheny, Louisa Alice "Lyde" Liston and Wilbert O. Martin.


James' and cousin Frederick Pringey's names in a list of 3rd Maryland Home Brigade soldiers in the 1882 History of Preston County, West Virginia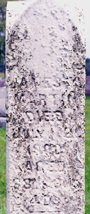 James' grave
James suffered from many ailments in his later years. In 1884, Jasper N. Martin wrote that James:
...came to my house [near Valley Point] on his way home from Kingwood and seemed to be suffering and was give out and walking with two canes. He complained of Rheumatism all over him but worse in his legs and feet. He stayed all night and was a little better next morning and went home but has hand rheumatism every since, one spell after another.
The Martins were active in the Mt. Moriah Methodist-Episcopal Church. He and Jacob Martin, William King, Daniel Martin and James Lenhart were confirmed as trustees of the congregation in April 1888. One of Margaret's presumed kin, Catharine Ann (Hartsell) Martin, wife of Daniel, is said to have been the very first burial in those grounds circa 1881.
In 1894, James wrote: "About 8 or 10 years ago I fell on a fork handle and the end of the handle caught under the ribs on left side and hurt me badly.... In 1890 or '91, I contracted disease of stomach and was sick for a long time and have not been able to do any work since." In 1892 he suffered a stroke.
In June 1900, when the federal census was taken, James and Margaret were residing in the Pleasant District of Preston County, having been married for 50 years. Of their nine children, seven were living as of that year. James' occupation was listed as "farmer."
James died after a long illness of "dropsy" on July 21, 1900, at the age of 68. In his obituary, the West Virginia Argus reported that "The funeral was held Sunday afternoon in the M.E. church, conducted by Rev. Henry Friend of Albrightsville, after which the burial took place in the graveyard near the church. A large crowd of friends and neighbors attended the funeral."

The Martins' entry in a list of burials at Mt. Moriah Cemetery

Genealogy of Some Early Families in Grant and Pleasant Districts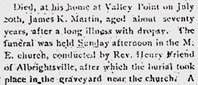 James' obituary, West Virginia Argus

Interment was at the Mt. Moriah Church Cemetery, three-quarters of a mile south of the village of Valley Point.

The widowed Margaret then lived with her son Wilbert, on the 50-acre farm. Wilbert was said by his uncle and aunt,Lewis and Lydia A. (Martin) Smith, to have had "not much more than ... one horse, one cow and one road wagon."

She petitioned the government to be awarded her late husband's pension. Among those signing or witnessing affidavits were Willie H. Rodeheaver, Joseph A. Martin, McClellan and Belle Hartman, John J. Martin, Catie Martin, David A. Smith, Joel Titchenell,

She died on Jan. 14, 1905. They are buried together at Mt. Moriah.

Their and some descendants' names were published in the 1980 volume, Genealogy of the Jacob and Mary (Connoly) Feather Family by Edna (Davis) Rogers (McClain Printing Co., Parsons, WV).

Copyright © 2000-2001, 2006, 2011, 2019, 2023 Mark A. Miner