Margaret (Minard) Martin
(1834-1905)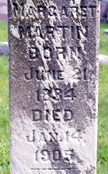 Mt. Moriah Cemetery
Margaret (Minard) Martin was born on June 21, 1834, likely in Turkeyfoot Township, Somerset County, PA, the daughter of Burket and Susan (Hartzell) Minerd. Her husband was a veteran of the Civil War.
As a young girl, Margaret moved with her parents to near Terra Alta, Preston County, WV.
On Nov. 15, 1851, Margaret married James K. Martin (1831-1900), the son of Isaac and Susanna (Metheny) Martin, near Valley Point, Preston County. Among others, the event was witnessed by Rolla F. Martin and Lydia A. Smith.
James stood 5 feet 6 inches tall as a young man.
On March 1862, he enlisted in Company H of the 3rd Regiment, Potomac Home Brigade, where he would go on to serve as sergeant. Among his mates in the regiment was his wife's cousin, Frederick Pringey, son of Joseph and Margaret (Younkin) Pringey. Sadly, cousin Frederick lost his life to camp disease.
Very little is known of James' wartime service. He was discharged at Ellicott's Mills (now Ellicott City) on May 29, 1865.
After the war, James returned home to his family. They lived on "a little farm of fifty acres" at Valley Point. Their nine children were Mary Ellen (Martin) Martin, Susan V. Sisler, Emma Jane Lamberd, Victoria Bell Falkenstine Miller, Lucinda "Katherine" Skinner, Jasper Newton Martin, Nancy "Anna" Metheny, Louisa Alice "Lyde" Liston and Wilbert O. Martin.


James' and cousin Frederick Pringey's names in a list of 3rd Maryland Home Brigade soldiers in the 1882 History of Preston County, West Virginia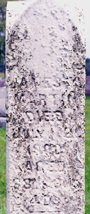 James' grave
James suffered from many ailments in his later years. In 1884, Jasper N. Martin wrote that James:
...came to my house [near Valley Point] on his way home from Kingwood and seemed to be suffering and was give out and walking with two canes. He complained of Rheumatism all over him but worse in his legs and feet. He stayed all night and was a little better next morning and went home but has hand rheumatism every since, one spell after another.
In 1894, James wrote: "About 8 or 10 years ago I fell on a fork handle and the end of the handle caught under the ribs on left side and hurt me badly.... In 1890 or '91, I contracted disease of stomach and was sick for a long time and have not been able to do any work since." In 1892 he suffered a stroke.
In June 1900, when the federal census was taken, James and Margaret were residing in the Pleasant District of Preston County, having been married for 50 years. Of their nine children, seven were living as of that year. James' occupation was listed as "farmer," as was his son Jasper, who was living with his wife in the parents' household.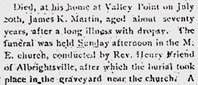 James' obituary, West Virginia Argus
James died after a long illness of "dropsy" on July 21, 1900, at the age of 68. In his obituary, the West Virginia Argus reported that "The funeral was held Sunday afternoon in the M.E. church, conducted by Rev. Henry Friend of Albrightsville, after which the burial took place in the graveyard near the church. A large crowd of friends and neighbors attended the funeral."
His weathered grave marker at Mt. Moriah Cemetery near Valley Point is seen here.
Margaret then lived with her son Wilbert, who was said to have "not much more than ... one horse, one cow and one road wagon." She died on Jan. 14, 1905. They are buried together at Mt. Moriah.
Their and some descendants' names were published in the 1980 volume, Genealogy of the Jacob and Mary (Connoly) Feather Family by Edna (Davis) Rogers (McClain Printing Co., Parsons, WV).
Copyright © 2000-2001, 2006, 2011, 2019 Mark A. Miner