Nancy Anna (Martin) Metheny
(1855-1900)
Nancy "Anna" (Martin) Metheny was born on April 2, 1855 in Preston County, WV, the daughter of James K. and Margaret (Minerd) Martin.
Nancy married Alpheus (or "Alford" or "Alfred") Metheny (July 1848-1920). They were about seven years apart in age.
They together produced eight offspring, of whom six are known -- Vergie O. Metheny, Lelitia B. "Lissia" Metheny, James D. Metheny, George Harvey Metheny, Marshal H. Metheny and Katie P. Metheny. Two other children died prior to 1900.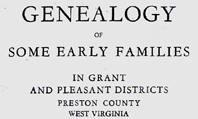 Book naming the Methenys

The federal census enumeration of 1880 shows the family in the Pleasant District of Preston County, with Alpheus earning a living as a laborer.

By 1900, still in Pleasant, his primary source of income was farming.

Sadness blanketed the family when, at the age of 45, Nancy Ann passed away on Nov. 20, 1900. The cause is not yet known. Her remains were laid to rest at Mt. Moriah Cemetery at Valley Point, Preston County.

Alpheus outlived her by two decades. Circa 1910, all of the children had left the family home with the exception of his 24-year-old son George.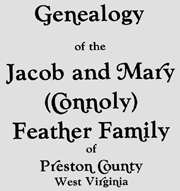 Book citing the Methenys

He died on Jan. 6, 1920, at the age of 72, and was buried beside his wife.

A record of their burials was published in the 1933 book, Genealogy of Some Early Families in Grant and Pleasant Districts, Preston County, West Virginia, authored by Edward Thorp King, of Marshalltown, Iowa.

Little else is known of the Methenys' lives, except that their descendants are listed in the 1980 book, Genealogy of the Jacob and Mary (Connoly) Feather Family of Preston County, authored by Edna (Davis) Rogers, and published by McClain Printing Company.

~ Daughter Vergie O. Metheny ~

Daughter Vergie O. Metheny (1877- ? )

~ Daughter Lelitia B. "Lissia" Metheny ~

Daughter Lelitia B. "Lissia" Metheny (1880- ? ) was born in April 1880.

~ Son James D. Metheny ~

Son James D. Metheny (1885- ? ) was born in Aug. 1885 in Preston County.

~ Son George Harvey Metheny ~

Son George Harvey Metheny (1886-1955) was born in April 1886.

He grew to adulthood laboring on the home farm in Preston County's Pleasant District.

On Dec. 28, 1918, when he was 32 years of age, and she 17, he married Laura Belle Shears (1901-1981), the daughter of Minerva (Feather) Shears. Officiating was Rev. John H. Howard of the Methodist Episcopal Church in Kingwood.

They resided in Albright, Preston County, and had four children -- Virginia Pearl Christopher, William Ray Metheny, Edna Lucinna Liston and Georgie Pauline Thomas.

George died of heart trouble at the age of 68 on March 14, 1955. He was laid to rest at Mt. Moriah in Valley Point.

Laura Belle outlived him by more than a quarter of a century. She died in 1981.

Daughter Virginia Metheny married Gilbert Oscar Christopher (1914-1967), the son of Albert Hall and Ocie Margaret (Liston) Christopher and the grandson of John Anderson and Louisa (Martin) Liston.

Son William Ray Metheny (1921- ? ) was born in 1921. He married Virgie Myrtle Rodeheaver (1914-1964), the daugher of Grant and Lillie (Teets) Rodeheaver. The wedding took place on Aug. 9, 1949, in Oakland, Allegany County, MD. They had two children -- Wendy Lee Cress and Billy Metheny. Virgie passed away at age 49 on April 22, 1964, "following a brief illness," said the Preston County Journal, with burial at Mt. Moriah Cemetery.

Daughter Edna Metheny ( ? - ? ) married Edwin Liston (1912- ? ), the son of Curtis and Jennie (Nedrow) Liston, and a native of Connellsville, Fayette County, PA. They had two children -- Gary L. Liston and Carol Y. Liston.

Daughter Georgie Metheny (1930- ? ) was born in 1930. She married Robert Thomas (1918- ? ), the son of Charles W. and Estella M. Thomas, and a native of Leisenring, Fayette County, PA. The Thomases had one son, Mark A. Thomas.

~ Son Marshal H. Metheny ~

Son Marshal H. Metheny (1888- ? ) was born in Oct. 1888 in Preston County.

~ Daughter Katie P. Metheny ~

Daughter Katie P. Metheny (1892- ? ) was born in July 1892 in Preston County.

Copyright © 2006 Mark A. Miner