Home

Susan V. (Martin) Sisler
(1860- ? )
Susan V. (Martin) Sisler was born in 1860 in Preston County, WV, the daughter of James K. and Margaret (Minerd) Martin.
On Jan. 28, 1881, the 21-year-old Susan married 40-year-old widower Harrison L. "Harry" Sisler (1841- ? ). The ceremony was performed by S.A. Sisler, apparently a relative of the groom. Their marriage license is still on file at the Preston County Courthouse in Kingwood, WV.
Susan and Harrison had three known sons -- Harvey Sisler, Fred Sisler and William H. Sisler.
Harrison's first wife was Mary J. Deberry, and they had produced a family of six children. Sadly, daughter Ida died at the age of four inthe Portland District of Preston County on May 25, 1870. Harrison and Mary migrated in about 1877 to Minnesota, establishing their home in Kelso, Sibley County, where Harrison was a farmer. The five sons, as shown on the 1880 federal census of Sibley County, were Walter H. (age 16), Warren Lee (12), Edward A. (9), Samuel J. (7) and Eugene (3), all born in Virginia. The 1880 census record shows Harrison as widowed, and his 33-year-old sister Mary Hayze living with the family as a house keeper.
It's surmised that Harrison returned to West Virginia in 1881 to marry our Susan, and then took her back to Minnesota to help raise his boys.
When a special census was taken of Minnesota in 1885, 44-year-old Harrison was enumerated with his wife, "S.B. Sisler," age 24. In their household were stepsons Walter H. Sisler (age 21), E.A. Sisler (age 14), Samuel Sisler (age 11?), all born in Virginia, and Eugene Sisler (age 8, born in Minnesota). As well, two-year-old son Harvey Sisler, born in Minnesota, was in the residence, the eldest of Susan and Harrison's own sons.
After son Fred was born in September 1885, in Minnesota, the family moved to Nebraska. Son Willie was born there in August 1888.
The family did not remain for long in Nebraska, and within a few years moved back to Minnesota. The federal census of 1900 shows a portion of the family making its home in Redwood County, MN -- 59-year old "Harry" as head of the household, marked as married, and working as a teamster at "odd jobs." Sons Fred (age 14) and Willie (11) also were in the residence, but Susan's whereabouts are unknown, and her name has not been found on the 1900 census.
After that, the fates of Susan and Harrison are lost to history.
~ Fates of Susan's Children ~
The 1910 federal census of Seattle, King County, WA shows unmarried sons Fred and William boarding in the household of Anne Neorenta. The residence was located on Second Avenue Northeast. Both men were employed that year as wagon drivers for a feed and fuel company, a business possibly owned by their older half brother Warren.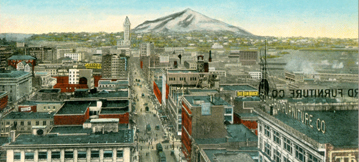 Seattle skyline with the eternal presence of Mount Rainier seen some 50 miles away, but appearing to be much closer
Son Fred Sisler (1885-1926) married Elizabeth "Libbie" Richmond (1880-1947), the daughter of Lewis B. and Sarah (Palmer) Richmond. They made their home in Seattle. Sadly, Fred passed away at the age of 41, in Seattle, on Oct. 7, 1926. Libbie outlived her husband by more than two decades. She surrendered to death in Seattle at the age of 67 on July 13, 1947.
~ Fates of Susan's Stepchildren ~
Stepson Walter H. Sisler (1864- ? ) married Leanna "Annie" (?) (1864- ? ), a native of Minnesota, whose father was German. They had at least seven children, of whom four are known -- Alta R. Sisler, Martha R. Sisler, John Howard Sisler and Warren L.B. Sisler. The 1900 census shows the family living as farmers in Sheridan, Redwood County, MN, with 21-year-old cousin Sadie C. Sisler and 22-year-old Glen Rowley boarding in their home. In the 1900s, they pushed further west into Idaho, and settled in New Plymouth, Canyon County. Walter's occupation in 1910 was "ditch rider."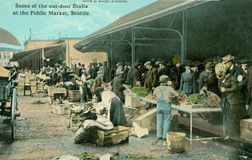 Seen at right is a vintage old postcard view of some of the outdoor stalls at the public market in Seattle.
Stepson Warren Lee Sisler (1867-1935) married Carrie R. Evenson (1870-1957), the daughter of Chris and Mary (Hansen) Evenson. Carrie was an immigrant from Norway, having arrived in the United States in 1881. They were wed in about 1888. They had at least eight children, of whom five daughters are known -- Mary Sisler, Blanche I. Sisler, Anna M. Sisler, Laura Sisler and Grace L. Sisler. When the 1900 census was enumerated, the family lived in Redwood Falls, Redwood County, MN, and Warren was a farmer. Boarding in their home that year was 16-year-old Ernest Stebbins. In about 1906 or '07, the Sislers moved further west, to Seattle, King County, WA, where Warren became proprietor of a grain company. The 1920 census of King County shows Warren, Carrie and their three youngest daughters living under the same roof on Ravenna Boulevard. That year, in 1920, Warren was employed as manager of Spokane Grain Company, and daughter Anna as a stenographer for a dock company. By 1930, Warren was working as a building contractor, and 26-year-old daughter Laura as a bookkeeper for a transfer company. Warren died in Seattle at the age of 68 on Dec. 15, 1935. Carrie is believed to have lived another 22 years as a widow, and to have died at the age of 87, in Seattle, on Oct. 31, 1957.
Stepson Samuel J. Sisler (1872- ? ) was a carpenter. He boarded with the family of August and Emma Boltz in Vail, Redwood County, MN in 1900. In 1900, he married Falvena (or "Seine") (1880- ? ), a native Minnesotan whose parents were immigrants from Sweden. Sometime in the 1900s, they moved to Idaho, making their home in New Plymouth, Canyon County. The census of 1910 shows him working in New Plymouth as a farm laborer. By 1920, the Sislers had relocated again, to Union Gap, a few miles south of Yakima, Yakima County, WA. The 1920 census shows Samuel's occupation as "farmer." They apparently had no children.

Typical hay harvesting operation at a Yakima farm in the early 1900s
Stepson Edward A. Sisler (1873-1910) was a laborer in a Minnesota gold mill. For a reason not yet known, he was admitted to the State Hospital for the Insane in St. Peter, Nicollet County, MN. He was a resident there in 1900 at the time of the U.S. census, and was marked as unmarried. He remained in the hospital for at least a decade, as shown in the 1910 census. Sadly, Edward died at the hospital at the age of 37 on Aug. 10, 1910.

State Hospital for the Insane in St. Peter, Minnesota, where Edward Sisler lived for at least a decade, and died in 1910
Stepson Eugene Sisler (1877-1929) married Ida J. (?) (1875- ? ), a Minnesota native, in about 1902. They had at least one daughter, Bernice M. Sisler. As with his brother Warren, Eugene and Ida migrated to Washington State, settling in Seattle, King County, sometime before 1908. The federal census of 1910 shows the family living on East 56th Street, with Eugene employed as a city detective. Eugene continued his work as a police officer for the City of Seattle during the 1910s. When the 1920 census was taken, Eugene, Ida and Bernice made their home together, along with Ida's unmarried sisters Ava and Myrtle. Eugene died in Seattle at the age of 52 on April 29, 1929. Ida appears as a 55-year-old widow on the 1930 census of Seattle, with 22-year-old daughter Bernice in the home, located on 34th Avenue Northeast. Neither of them was employed in 1930.
Copyright © 2006, 2008 Mark A. Miner