Arthur Austin McKnight
(1846-1928)
Arthur Austin McKnight was born in December 1846 in Fayette County, PA, the eldest son of William and Mahala (Minerd) McKnight.
In about 1869, when he was age 23, Arthur married 20-year-old Elizabeth Jane McGovern (1849-1926).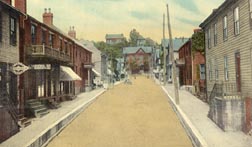 Fayette City's Market Street, looking east
Their five children were Mary E. Prewett, Anna Hester Fox, Isabelle "Belle" Longfoot, Mahala "Hallie" McKnight and William McKnight.
The McKnights resided over the years at Fayette City in Fayette County and in Canonsburg, Washington County, PA, where Arthur found work as a coal miner.
When the federal census was taken in 1880, Arthur and Elizabeth and their family lived next door to Arthur's parents near New Salem in Menallen Township, Fayette County. His occupation was listed simply as "miner."
The census of 1900 shows Arthur and Elizabeth continuing to reside in Menallen Township. Arthur made a living that year as a farmer. Living under their roof were married son and daughter in law, William and Ellen McKnight, and their young children Catherine and Thomas. Two doors away was the family of distant cousin Robert Milroy Everly and his family. Whether the McKnights and Everlys knew they were related can only be supposed.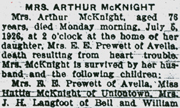 Elizabeth's obituary, 1926
By 1910, Arthur and Elizabeth were living in separate households -- Arthur in the home of his daughter Mary McKnight in Canonsburg in North Strabane Township, Washington County -- and Elizabeth in the residence of married daughter Anna Fox in Brownsville, Fayette County. At the age of 65, Arthur had no occupation that year, and living two doors away were his son and daughter in law William and Ella McKnight and their family of children.
When the census again was taken in 1920, Arthur remained apart from his wife, and lived in Canonsburg with his son and daughter in law William and Ella McKnight. Arthur was retired, and son William worked as a "farm manager."
Having been afflicted for four months, Elizabeth died of heart disease ("chronic myocarditis") at age 76 on July 5, 1926, at the home of their daughter Mary Prewett in Avella, PA. She was buried in Canonsburg Cemetery.
Arthur survived his wife by two years. Afflicted with cancer of the face, he became an invalid. Nine days after his 82nd birthday, he died in or near Avella. He was laid to rest in Oak Spring Cemetery, Canonsburg.
Copyright © 2000, 2002, 2009-2010, 2014, 2019 Mark A. Miner