Robert C. 'Milroy' Everly
(1863-1949)
Robert C. Milroy "Roy" Everly was born in 1863, most likely in or near Herring, Preston County, WV, the son of Absalom and Sarah (Carroll) Everly.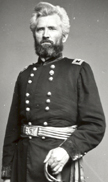 Milroy Everly's
namesake, Civil War
Gen. Robert H. Milroy
His father was a Civil War veteran, and he apparently named after one of his father's favorite commanders, General Robert Huston Milroy -- seen here -- perhaps best known for being found innocent of wrongdoing after his defeat at the Second Battle of Winchester, VA.
Milroy married Amanda Hauger (1866-1928), a native of Elliottsville, Fayette County, PA. They had seven children, including John Edward Everly, James Milroy Everly, Katherine Rankin and Cora J. Helmick, who lived to adulthood, and Joseph (1894), Goldie (1901) and an unnamed son (1902), who all died in infancy.
In about 1888, the Everlys moved to Revere, in South Union Township, Fayette County, where they remained the rest of their lives. Their residence was located along the McClellandtown Road, just a few miles from the county seat of Uniontown.
The census of 1900 shows Milroy and Amanda, their three children and mother in law Elizabeth Hauger residing in Menallen Township Fayette County. His occupation was written as "farm laborer." Two doors away was the family of distant cousin Arthur McKnight and his family. Whether the Everlys and McKnights knew they were related can only be supposed.
In 1923, when The History of West Virginia, Old and New was published by the American Historical Society, Inc., Milroy was mentioned in a profile of his brother J. Ami Everly (Vol. II., page 412). The profile referred to Milroy as "a farmer near Uniontown." The volume may be found today in the West Virginia and Regional History Collection at West Virginia University.
Amanda suffered from a "lingering illness," said the Uniontown Morning Herald. She died at age 63 on May 26, 1928, at the home of their daughter Cora in Uniontown. She was laid to rest at at Sandy Hill Cemetery, a small graveyard near New Salem, following a service conducted by Dr. Burr McKnight.

Grave of Milroy and Amanda near New Salem, PA
Milroy outlived his wife by 21 years. When the federal census was taken in 1930, he made his home with his married daughter and son in law, Katherine and C. Lawrence Rankin, and their three children, near Uniontown. He was employed that year as a laborer in a local coke yard. Living next door was his married son and daughter in law, John E. and Elizabeth Everly, and their five children.
Tragically, later in 1930, he suffered through the heartbreaking death of son John in a coal mine accident. In 1949, he also endured the death of son James, a veteran of World War I.
Milroy died at the home of his daughter Cora Helmick on July 14, 1949, at the age of 86. Funeral services were held in the Helmick home, led by Rev. William Hogg of the Asbury Methodist Church. He was laid to rest beside his wife, with grandson serving as pallbearers. A number of their distant cousins also rest in this cemetery, including Mahala (Minerd) McKnight and her adult children; and Civil War veteran John Freeman Rockwell, but is it not known whether they knew each other, or were aware of the distant Minerd family connections.
~ Son John Edward Everly ~

John E. Everly
Son John Edward Everly (1893-1930) was born in 1893. He grew up near the coal fields of Uniontown, Fayette County, and was a coal miner.
He married Mary "Elizabeth" Brooks (1893- ? ) in about 1915, when he was age 20, and she 22.
They had five children -- Leonard Earl "Pie" Everly, Arthur Everly, Elizabeth Everly, Howard Everly and William Harold "Honey" Everly.
The federal census of 1930 shows the Everlys making their residence near Uniontown, with John employed as a coal mine foreman. Living next door were John's married sister and brother in law, Katherine and C. Lawrence Rankin, and his widowed father Milroy.

Uniontown Morning Herald
Tragically, John was killed on Sept. 22, 1930, "in a fall at the Royal mine of the W.J. Rainey, Inc.," reported the Uniontown Morning Herald. He is one of an alarming number of cousins to lose their lives in the coal, coke and steel industries. The funeral was held at his home near Revere, with burial at the Sandy Hill Cemetery. The Junior Order of United American Mechanics No. 167 read a ritual at the grave, with Christian services conducted by Rev. E.A. Hodil of the Third Presbyterian Church of Uniontown, assisted by Rev. Burr R. McKnight. Said the Morning Herald, "Music was furnished by Mrs. R.H. Jeffrey and Miss Lois Hodil."
Elizabeth spent many years as a widow, and made her home circa 1936 in Uledi, Fayette County.
Son Leonard Earl "Pie" Everly (1915-1993) was born in 1915. He married Dorothy Lentz ( ? - ? ). He later married Evelyn McClelland Dennis of Uniontown. Earl died in 1993 and is buried with Dorothy at Sandy Hill Cemetery near New Salem.
Son Arthur Everly (1916-1936) was born in 1916. He married Thelma Jane Speelman ( ? - ? ) and had two children. He labored for the Clyde Mine in Fredericktown and for Republic Steel Corporation. After Thelma's passing, Arthur married Maxine Freeman. Arthur, Jane and son Terry rest for eternity at Sylvan Heights.
Son William Harold "Honey" Everly (1922-1999), also known as "Bill," was born in 1922. He married Alice Divil ( ? - ? ). They lived in Uniontown and had two children.
Daughter Elizabeth Everly (1917-2003) was born in 1917. He married Albert Rockwell ( ? - ? ) of Fayette County. They had five children, with their eldest son born in March 1936 at the home of an aunt, Katherine Rankin, on McClellandtown Road. Later, the Rockwells moved to Michigan, settling in Wyandotte, Wayne County. Many of their descendants remain in Michigan today.
Son Howard Edward Everly (1919-1979) was born in 1919. He married Phyllis Griffiths ( ? - ? ), a native of Brownsville, Fayette County, in 1941. He served in the Japanese Theatre during World War II. Following his discharge and return home, they relocated to Michigan where they raised their four children in Ferndale, Oakland County. Howard and their son William Earl Everly (1952-1992) are buried at their former homesite in Fairview, Oscoda County, MI. The family continues to expand and three sons and nine grandchildren live today in Iowa.
Granddaughter Cathie Everly was united in marriage with Paul J. Yamilkoski. They reside in Toddville, IA. Cathie is the compiler of family history, a member of the Clark County (NV) Genealogy Society and has contributed significantly to this biography. Heartache rocked this family when their grandson Noah Paul Yamilkoski, a seventh grader at Center Point-Urbana Middle School in Marion, IA, died at the age of 13 after fighting cancer.
~ Son James Milroy Everly ~
Son James Milroy Everly (1888-1949) was born in 1888.
He wedded Florence Brooks ( ? -1946), the daughter of Anna (Banzer) Brooks. The Everly and Brooks families were close, as James' brother John wed Florence's sister Mary Elizabeth.
James served in the U.S. Army during World War I, and later belonged to the local American Legion. Trained as a painter, he made a living as a painting contractor and was president of Uniontown Paint and Glass Company.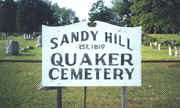 James Everly's final resting place
Sadly, Florence died in September 1946 at the home of her mother in McClellandtown. Following a funeral held at Uniontown's Third Presbyterian Church, she was laid to rest in Sylvan Heights Cemetery. Six nephews were pallbearers -- Jack Fleming, Don Helmick, Earl Everly, Arthur Everly, Howard Everly and Harold Everly.
James only survived Florence by a little more than two years. He married again, to Ruth (?).
At the age of 60, he passed away in the Veterans Hospital in Aspinwall, near Pittsburgh, on March 12, 1949. He was buried in the Everly family's traditional resting place of Sandy Hill Cemetery near New Salem.
~ Daughter Cora (Everly) Helmick ~
Daughter Cora J. Everly (1890-1973) was born in 1890.
She married Albert Earl Helmick ( ? -1943), the son of Mrs. N.H. McElroy. They resided in Uniontown and later at 904 Morrell Avenue in Connellsville, Fayette County.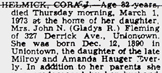 Uniontown Morning Herald
Cora was a member of the Asbury United Methodist Church, the A.E. Jones Sunday School Class, the Women's Civic League, the YMCA Auxiliary and the Golden Age Club.
Albert, a veteran of World War I, was a member of the Milton L. Bishop Post No. 301 of the Connellsville American Legion.
They had three children -- Gladys R. Fleming, Donald Helmick and Carl Helmick.
Sadly, Albert died at the age of 56 in the Veterans Hospital in the Bronx, NY, on Dec. 26, 1943. His remains were returned for burial at East Oak Grove Cemetery in Morgantown. At the time of Albert's passing, in the midst of World War II, son Donald was serving in the U.S. Navy in Michigan City, IN and son Carl in the Navy in Miami and daughter Gladys Fleming lived in Connellsville.
Cora outlived her husband by three decades. She was a member of the Order of Eastern Star and the Ladies of the GAR Civil War circle, who were "active... in keeping alive the traditions of the Grand Army of the Republic," said the Uniontown Morning Herald. She also is known to have spent a week or so at a time at the Methodist Training Center at Jumonville, near Uniontown.
She passed away on March 1, 1973, at the age of 82, and is buried at Lafayette Memorial Park.
~ Daughter Katherine (Everly) Rankin ~
Daughter Katherine Milroy (1899- ? ) was born in 1899.
She married C. Lawrence Rankin (1894 - ? ). They were wed in about 1916, when she was age 17 and he was 22. They had at least three children -- Margaret L. Rankin, Charles R. Rankin and Katherine J. Rankin.
The Rankins lived in Revere south of Uniontown in 1930 as shown in the federal census. That year, Lawrence was employed as a truck driver for an explosives company, most likely in the coal mining industry, and Katherine's widowed father made his home under their roof.
In 1932, the family made headlines in the Uniontown Morning Herald when they organized a surprise birthday party for daughter Margaret, which was "a delightful social affair... Guest found entertainment and diversion in games and dancing, with gifts and luncheon, concluding features of the party, and music by Mr. and Mrs. Charles Jeffries and children of Uniontown, and Bert Frost of Revere." Among the guests from Revere were Evelyn Higginbotham, Helen Frost, James Speelman, Lois Richter, Mary Ellen Ringer, Elizabeth Everly, Margaret Rankin, Katherine and Joseph Rankin, Dorothy Dressel, Dwight and Ralph Higinbotham, Vernon Ringer, Terny and Donald Lapenta, distant cousin James Minerd (which one?), Roy Williams, Harwood Everly, Harold Everly, Charles Rankin, Robert Mouser, Donald Williams, Walker Harshman, Earl Everly, Arthur Everly, grandfather Milroy Everly, Mr. and Mrs. Charles Sickles and Mary Mouser. Other guests, said the Morning Herald, were aunt Cora Helmick and children Carl and Gladys, Mr. and Mrs. Charles Jeffries and children Evelyn, Robert, Ruth and Beatrice of Uniontown; Leta Cramer, Frances Bryan, Myers Newman and Bernard McIrravey, of Balsinger; Vera and June Ramsey of Belle Vernon; and Virginia Rawson of New Salem.
By 1946, the family had relocated to Washington, DC. Katherine and daughter Katherine are known to have returned to Connellsville from time to time for family visits.
Nothing more is known but will be researched.
Copyright © 2002-2009, 2015, 2019 Mark A. Miner