Thus he is a major link between the two major McKnight branches of the Minerd-Miner-Minor family.
John entered in the bonds of marriage with Frances Wood (1870-1931), a native of Menallen Township, Fayette County, and the daughter of Abner and Martha (Johnson) Wood. Frances' grandfather, Daniel Johnson, had come to Fayette County from Ohio. Frances' parents were members of the Cumberland Presbyterian Church of Uniontown, Fayette County.
Little is known of the McKnights' married lives. In 1899, when Frances' mother died in Uniontown, the obituary said they were living in nearby Redstone Township.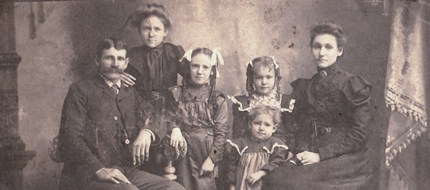 John and Frances with their four girls circa 1902 -- Pearl (age 12), Clara (9), Katherine (7) and Belle (3).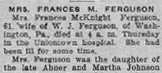 Uniontown newspaper
In 1910, John worked as a janitor in a bank, and lived on Dunlap Street in Uniontown.
Sadly, John suffered from asthma, and became deathly ill in the summer of 1910. His body succumbed to the illness on July 12, 1910, at the young age of 44. He is buried in Sandy Hill Cemetery, near New Salem, Fayette County. His daughter Frances was the informant for his official Pennsylvania death certificate, listing his parents' names as "H. McKnight" and "B. Minerd."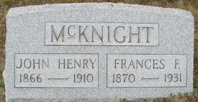 Sandy Hill Cemetery
Shortly after John's death, daughter Pearl wrote a letter to an aunt, Martha (Nutt) McKnight, dated July 22, 1910. The letter demonstrates the various interconnections between the two major McKnight family branches:
We are all real [well] except Mama. She hasn't been very well lately. If she is better next week she and I are going to Uncle Charlie's for a few days. Aunt Jane said you wanted some carpet rags. We have about 30 or 35 lbs. and if you want them come up right away or let us know for we expect to move soon. I suppose they sell for about .10 [cents] but can determine the price when you come up... We are getting along real well but of course miss Papa very much.
As a widow, Frances remained in the Uniontown area, in a home on Nutt Avenue. The 1920 federal census shows her heading a household there with single daughters Katherine and Belle, and married daughter and son in law Pearl and John D. Kerfoot, residing under her roof. Age 49, and with no occupation, she relied on income from her offspring who held jobs -- Katherine (private nurse), Belle (stenographer for a contracting company) and Pearl (public school teacher).
After more than a decade as a widow, Frances married W. James "W.J." Ferguson (1869- ? ), who was a native of Iowa. Nothing about him before that time is known. They were wed sometime in the 1920s.
The newlywed couple relocated to Strabane Township nearby Washington, Washington County, PA. They were dairy farmers along McBride School Road.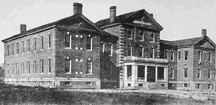 Uniontown Hospital
Frances passed away in 1931 in the Uniontown Hospital (seen here in a rare old postcard view). She had "been ill for some time," said her newspaper obituary. She was buried beside her first husband at Sandy Hill.
J.W.'s fate is not yet known.
~ Daughter Clara Frances (McKnight) Lowdermilk ~
Daughter Clara Frances McKnight (1893-1967) was born in 1893.
She married Oceola "Burns" Lowdermilk (1887- ? ) in about 1917, when she was age 24 and he 31. Burns was a native of Maryland. They resided in Clarksburg, Harrison County, WV in the early 1930s, where Burns was employed as chief electrician for the Hope Natural Gas Company.
The Lowdermilks had three children -- twins Barbara Ella Thomas and Kathryn Frances McDonnell, and John Milton Lowdermilk.
They resided at 112 Hartland Avenue in Clarksburg, and were members of the Stealey Heights Methodist Church. Suffering from "an extended illness," reported the Clarksburg Exponent, Clara went to live in the Heritage Convalescent Home.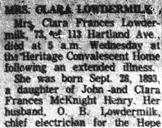 Clarksburg Exponent, 1967
She died in Bridgeport, near Clarksburg, on Jan. 18, 1967, at the age of 73. She was laid to eternal rest in Bridgeport Cemetery. At the time of her death, Clara was survived by nine grandchildren and two great-grandchildren.
Daughter Barbara Ella Lowdermilk (1919- ? ) was born in 1919, a twin with her sister Kathryn Frances. On Sept. 28, 1942, at the age of 23, she married 23-year-old Harold Lightner Thomas (1919- ? ) in Harrison County. He was the son of Fred and Clara (Bennett) Thomas.
Daughter Kathryn Frances Lowdermilk (1919- ? ) was born in 1919, a twin with her sister Barbara. At the age of 22, she wed 24-year-old Joseph Andrew McDonnell (1917- ? ) on July 8, 1941, in Harrison County. He was the son of John and Katie (Walsh) McDonnell.
Son John Milton Lowdermilk (1921- ? ) was born in 1921. He was united in matrimony with Veda Monena White (1921- ? ) the day after Christmas in 1942. She was the daughter of Rockford D. and May (McCarty) White.
~ Daughter Belle (McKnight) Coughenour ~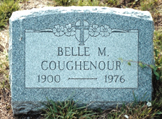 Sandy Hill Cemetery
Daughter Belle McKnight (1900-1976) was born in 1900.
She married Victor H. Coughenour ( ? - ? ).
She was a stenographer at a contracting company in 1920. They lived in Uniontown circa 1967-1973.
Belle died in 1976, at the age of 76, and is buried beside her parents in Sandy Hill Cemetery.
~ Daughter Katherine (McKnight) Paine Rogers ~
Daughter Katherine McKnight ( ? - ? ) wed (?) Paine ( ? - ? ).
She was a private-duty nurse in 1920 and lived in Fairmont, WV circa 1931.
By 1967, she had remarried to William Rogers ( ? - ? ) and lived in Pittsburgh. She was alive in 1973 when mentioned in the Uniontown Morning Herald obituary of her sister Pearl Kerfoot.
Copyright © 2000-2006, 2009, 2011, 2014, 2016 Mark A. Miner