As second cousins, the couple wed on Sept. 19, 1911, when he was age 24 and she 23.
Prior to marriage, when the federal census was taken in 1910, when William was age 23, he resided in the home of his parents near Grindstone, Fayette County. The census-taker recorded his occupation as "engineer - coal mine." In that same enumeration, the 21-year-old Dora lived under her mother's roof in Dawson, Fayette County, and with Dora's three unmarried brothers.
As young newlyweds, William and Dora resided in Brownsville, Fayette County.
In 1918, after the United States entered World War I, William enlisted in the 80th Division of the 205th Infantry. He was assigned to the Military Police.
While stationed for training at Camp Lee, VA, he wrote many letters home, including several to his brother James. Copies of some of these letters are now preserved for posterity in our archives.
In a letter dated May 2, 1918, William good naturedly but prophetically asked his brother to "take good care of Dora while i am gone. If there is anything she needs you help her out. And if i come back i will return it and if i do not get back you will be out."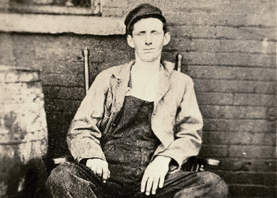 William in his work overalls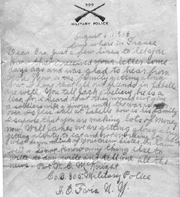 Letter sent home, 1918
William sailed for Europe in May, 1918. In a letter written Aug. 6, 1918 from "Somewhere in France," he told James that "we are getting along alright, getting plenty to eat and not working to hard."

News clip, 1918
Tragedy struck just 17 days after William's last letter to his brother. While riding on the railroad near Paris on Aug. 23, there was a horrible collision with another train, and William was killed immediately. A French newspaper reported that:
Last Friday (Aug. 23, 1918) evening while American troop trains were passing through Enghien-les-Bains a work train crashed into a troop train and one American soldier, Private William McKnight, was killed outright. Another man ... was terribly injured and four other men were more or less seriously hurt. McKnight's body ... [was] brought into Enghien-les-Bains... An impressive funeral service was arranged by the Municipal Authorities of Enghien [and] was held for ... McKnight. On Saturday evening near the hospital. Red Cross men and women were present at the services. An abundance of beautiful flowers were placed on the coffins by French, British and American sympathizers. A most impressive ceremony. Dr. Lelary the mayor of Enghien-les-Bains in an eloquent oration paid a high tribute to the American Army and to the unfortunate soldiers. Many inhabitants ... accompanied the hearse.
Shattered by her horrific loss, Dora turned to her married brother, John A. Strauch, for support. She moved into John's home on Braddock Avenue near Uniontown, and is shown there on the federal census of 1920.
In September 1921, William's body was shipped back to the United States for burial. The funeral service was held in the Methodist- Episcopal Church in Dawson, and generated many news headlines. His flag-draped casket was photographed being carried into the church, and later being placed in the hearse. Burial was at the Dickerson Run Cemetery.
An image of William in his Army military police uniform was our "Photo of the Month" in December 2001.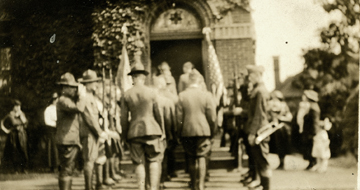 William's military funeral in 1921, after his body was returned to the United States three years after his death.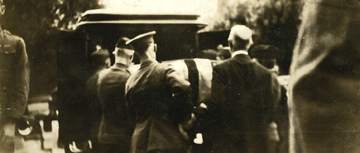 ~ Dora Rebuilds Her Life ~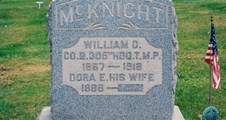 Dickerson Run Union Cemetery
During her years as a widow, Dora was active with the Dawson Grange, and provided flowers for the organization's 50th anniversary celebration in the Bryan Methodist Church. Perhaps that is where she met her second husband, Charles "Henry" Gilmore, who was overseer of the Grange.
She also served on committees for the Jolly girls 4-H Club of Lower Tyrone Township, and for Children's Day at the Bryan Church. Dora was a member of the Willing Workers Class at the church, hosting meetings at her home, and as an officer of the American Legion Auxiliary to the Milton J. Newmyer Post at Dawson. She once gave a talk at to Willing Workers group on "Are Sunday Sports a Hindrance to the Church or the Right Use of the Sabbath?"
During the decade of the 1920s, Dora married Charles "Henry" Gilmore Sr. (April 9, 1882-1947), a native of St. James Park near Dawson, and the son of Thomas and Mary Jane (McGinnis) Gilmore.
A widower, Henry's first wife was Sylvia Hazen. He brought four children to the marriage with our Dora -- Charles Henry Gilmore Jr., Dorothy Waychoff, Robert Gilmore and William Gilmore.
When the census was taken in 1930, the Gilmores resided near Dawson, where Henry was manager of a general farm. He was a member of the Bryan Methodist Church and the James Cochran Lodge of the Masons. Circa 1947, he was employed as a laborer by the Borough of Dawson.



Fairgrounds in Dawson
Burdened with hardening of the arteries, Henry suffered a heart attack in 1946 and lived for another year. He passed away on Nov. 28, 1947, at the age of 65. The Daily Courier said his death following "a prolonged illness." Burial was in Dickerson Run Union Cemetery, with their pastor Rev. Sherman L. Burson officiating.
In addition to two husbands, Dora also outlived two stepsons -- Charles Henry Gilmore (who died in 1971) and William A. Gilmore (February 1973).
Dora died on March 31, 1973, at the age of 85, in Connellsville State General Hospital. The obituary in the Connellsville Daily Courier noted her membership in the Bryan Methodist Church but did not mention her first husband, William Curtis McKnight. At her passing, she was survived by stepchildren Robert H. Gilmore of Warner Robbins, GA and Dorothy Waychoff of Connellsville, as well as four grandchildren and seven great-grandchildren.
~ Stepson William A. Gilmore ~
Stepson William A. Gilmore (1922-1973) was born on Feb. 5, 1922 in Dawson.
He was married twice, first to Virginia Heisterman ( ? -1946). They had two children -- John Henry Gilmore and Janice Mae Leonard.
William was a veteran of World War II and a longtime employee of the United States Civil Service.
Sadly, Virginia died in 1946. The following year, William's father died. At the time William made his home in Richmond, VA.
William married again to Margaret (?). Later in life, they lived in Allentown, Lehigh County, PA.
William died on Feb. 12, 1973, in Allentown. He was buried in Allentown's Grandview Cemetery.
~ Stepdaughter Dorothy (Gilmore) Waychoff ~
Stepdaughter Dorothy Gilmore ( ? - ? ) was born in (?).
She married Robert D. Waychoff.
Circa 1973, they lived in Connellsville.
~ Stepson Robert H. Gilmore ~
Stepson Robert H. Gilmore ( ? - ? ) was born in (?).
He made his home in Harrisburg, Dauphin County, PA in 1947.
Later, he resided in or near Warner Robbins, GA.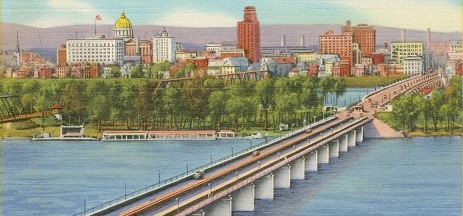 Harrisburg, PA
~ Stepson Charles Henry "Jack" Gilmore Jr. ~
Stepson Charles Henry "Jack" Gilmore Jr. (1912-1971) was born in 1912.
He married Louise A. (?) and they had two sons -- William H. Gilmore and Samuel A. Bailey.
As an adult they resided in Pottsville, Schuylkill County (in 1946-1947) and in Harrisburg, Dauphin County, PA, at 2973 Heather Place.
Charles died in Harrisburg Hospital at the age of 59 in August 1971. At the time he was survived by seven grandchildren.
Copyright © 2000-2001, 2010, 2018 Mark A. Miner