Home

Anna Mathilda (Meinder) Bucher
(1817- ? )
Anna Mathilda (Meinder) Bucher was born in December 1817 in Rockland Township, Berks County, the daughter of Burkhard and Elizabeth (Konrath) Meinder.
She was baptized at the age of seven months in the Mertz Church in Dryville, Rockland Township on July 5, 1818. Serving as her sponsors were her relatives Wilhelm and Magdalena Konrath.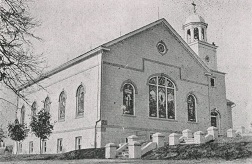 Later version of Mertz Church, where
Anna was baptized, as shown in 1939
Anna married Gideon Buchert (1816- ? ), a German name Americanized and shortened to "Bucher." They were wed before she reached the age of 21.
They had five known children -- William Bucher, Catherine Bucher, Mary Jane Bucher, Emeline Bucher and Daniel "Albert" Bucher.
They lived circa 1842 in Clinton Township, Lycoming County, PA. That year, she received a bequest of $332.42 from the estate of her late grandfather, William Cronrad ("Kronrath" or "Conrad").
By 1860, the family had moved to Mifflinburg, White Deer Township, Union County, PA, where Gideon worked at "spinning & carder" and daughter Catherine, age 15, as a "weaver." Boarding in their home that year was 38-year-old "spinner" George Nevil, more than likely an assistant to Gideon in their trade. Classified advertisements of the time in the Lewisburg (PA) Chronicle suggest that the Buchers' home was located near the property of the Sheffield Iron Company and a four-story wool factory where Gideon may have labored.
The Buchers made a monumental decision to pull up stakes during the early years of the Civil War and migrate west to Indiana. They made the move with their children in about 1862. After arriving in Indiana, the family name occasionally was spelled "Butcher."
Sadly, evidence suggests that Anna died sometime during the decade of the 1860s.
When the federal census enumeration was made in 1870, the widowed Gideon dwelled on a farm in Warren Township, Warren County, IN with daughter Emma and son Albert in the household. Boarding with the family in 1870 were 24-year-old farmer James J. Barr, 25-year-old farmhand Zopher Tyler and 23-year-old "school marm" Sarah Deweese.
~ Son William Bucher ~
Son William Bucher (1841-1902) was born on Jan. 7, 1841 in Pennsylvania.
At the age of 21, in 1862, he migrated to Indiana with his parents and younger siblings.
On Nov. 17, 1864, he married Indiana native Elizabeth Whiteman (Feb. 1850- ? ).
The couple produced one known son, Orien E. Bucher (born in 1866). Elizabeth would have been but 16 years of age at the birth of her son.
The 1870 federal census of Rockville, Parke County, IN lists William's occupation as "carder and spinner wool."
With the productivity and efficiency of machines quickly surpassing hand-weaving, William turned to the retail trade during the 1870s. In 1880, now in Rosedale, Florida Township, Parke County, he worked in the grocery business. Their son was not in the household that year.
The census of 1900 of the town of Rosedale shows William engaged in the silver smith industry and Elizabeth earning income as a dressmaker. By that year, they had been married for 35 years. Other sources state that he was a jeweler at the time.
Stricken with tuberculosis in the last year of his life, it became harder and harder for William to breathe. Sadly, due to the effects of strangulation, he died in Rosedale on Oct. 21, 1902, at the age of 62. Burial was in Rosedale Cemetery in Parke County.
Son Orien E. Bucher (1866- ? ) was born in about 1866 in or near Rockville, Parke County, IN.
~ Daughter Catherine Bucher ~
Daughter Catherine Bucher (1845- ? ) was born in 1845.
Circa 1860, living with her parents in Mifflinburg, White Deer Township, Union County, PA, she earned income as a weaver in a nearby factory.
Catherine's father and mother migrated to Indiana in 1862, when Catherine was age 17. She she join them in their new home? Or remain behind in Pennsylvania?
Her name does not appear in the 1870 U.S. Census of her father's household in Warren County, IN.
~ Daughter Mary Jane Bucher ~
Daughter Mary Jane Bucher (1849- ? ) was born in 1849.
~ Daughter Emeline "Emma" (Bucher) Meredith ~
Daughter Emeline "Emma" Bucher (1851- ? ) was born in November 1851. At the age of 11, she relocated with her family to Indiana.
At the age of 18, in 1870, she made a home with her widowed father in Warren Township, Warren County, IN.
On Nov. 23, 1871, when she was just turning age 20, Emma married farmer James P. Meredith (1846- ? ), also spelled "Merideth," a native of Ohio. The nuptials took place in Warren County.
The couple produced four children, of whom only two are known, Annie Meredith and Lelah Kipple. Two were deceased by 1900.
When the federal census enumeration was made in 1880, the family residence was on a farm in Warren Township. At some point he worked in elevators, possibly of the grain variety.
Sadly, James passed away sometime between 1888 and 1900. Details are being researched.
Emma maintained a home in 1900-1902 in Attica, Fountain County, IN, where she earned a living working as a laundress. She died in or before 1906.
Daughter Annie Meredith (1872- ? ) was born in about 1882 in Warren County, IN.
Daughter Lelah F. Meredith (1888-1907) was born on Jan. 26, 1888 in Attica, Warren County. At the age of 12, in 1900, she lived with her widowed mother in Attica, Fountain County, IN. On July 21, 1906, when she would have been age 18, she was united in holy matrimony with 24-year-old John A. Kipple (May 10, 1882- ? ), a native of Dauphin County, PA and the son of John H. and Anna J. (Miller) Kipple. The wedding was held in Fountain County, officiated by Merritt Owen. At the time of marriage, John was employed as a railroad brakeman in Attica. Tragically, Lela was not destined to enjoy long years. She contracted pulmonary tuberculosis about the time she was married and suffered for 18 months. Then she was felled by heart failure and, unable to rally, she died on Dec. 5, 1907, less than 17 months into her wedded life. Burial was held in Riverside Cemetery in Attica. No stone is known to mark her grave, but her name is said to be listed in cemetery burial lists. John's fate after that is unknown.
~ Son Daniel "Albert" Bucher ~
Son Daniel "Albert" Bucher (1860-1923) was born on Feb. 9, 1860, most likely in Mifflinburg, Union County, PA. At the age of two, in 1862, he traveled with his parents across several states and into Indiana, where he grew up. Circa 1895, he was a farmer in Warren County, IN.
On June 30, 1895, at the age of 35, he was united in holy matrimony with Lou "Emma" Morgan (Oct. 11, 1868-1930), sometimes spelled "Luemma," daughter of James W. and Rebecca (Wagner) Morgan. Mr. Covey performed the nuptials.
They settled permanently on a farm in Antioch near Attica in Davis Township, Fountain County, and bore two known children -- James Merrill Bucher and Mae Blue Hoagland. Heartbreak enveloped the young family when son James died in infancy.
The couple joined the United Brethren Church at Riverside, IN, where Albert "was a faithful and consistent christian," said the Fountain-Warren Democrat.
The Buchers' home in the early 1920s was two miles northeast of Bethel Church. As his health failed due to tuberculosis over the last few years of his life, Albert remained "industrious and energetic, cheerful and optimistic, always seeming to get much enjoyment out of life, even in the presence of physical infirmities," said the Democrat. "He was a true and faithful husband, a kind and loving father and will be sadly missed in the home."
Albert died at home on March 10, 1923. The funeral was held in the family church, officiated by Rev. U.S. Ferguson, with burial in Bethel Cemetery. [Find-a-Grave]
Emma lived for another seven years as a widow with an address of 1214 South Perry Street. Suffering from a strangulated umbilical hernia, she was admitted for surgery to Home Hospital in Lafayette, Tippecanoe County. She was stricken with a cerebral embolism and on July 26, 1930 was cut away by the Grim Reaper. Her nephew by marriage, Lloyd Oliver of Attica, signed the death certificate.
Daughter Mae Bucher (1898-1972) -- also spelled "Bucker" -- was born in about 1898 near Attica in Davis Township, Fountain County. On March 24, 1919, in nuptials held in Warren County, she wedded Ralph Gale Blue (Feb. 22, 1897-1923). A native of Attica, he was the son of William L. and Ella Belle (Stephenson) Blue. The newlyweds resided under the roof of Mae's parents in Davis Township in 1920, with Ralph and his father-in-law laboring as farmers. The couple bore one known son -- Ralph G. Blue. Ralph was employed at the Nathan pants factory in Attica. In June 1923, while in poor health, he learned that his sister Mary Blue had died in Canton, OH. While preparing arrangements for her funeral, he began bleeding from the spleen. The family was grief-stricken when Ralph Sr. died on June 6, 1923, at the age of 26, after only four years of marriage, and with Mae expecting their first child. After funeral services in the home of Mae's parents, his remains were lowered into repose in Highland Cemetery in Williamsport, Warren County, IN. The Lafayette Journal and Courier printed an obituary. After about two years as a widow, in 1925, she wedded farm laborer George "Ray" Hoagland (1897-1994). Their wedding was held at Veedersburg, Fountain County. They produced these known children -- Violet Lee Hoagland, Grace Eleanor Hoagland, Emma Kochert, Mary Lou Jackson, Betty Bruner and Charles Lee Hoagland. Circa 1930, their home was in Romney, IN. Over the years, she dwelled in Fountain, Montgomery and Tippecanoe Counties in Indiana. U.S. Census records show them in 1930 in Lafayette, Tippecanoe County and in 1935-1940 in Coal Creek, Montgomery County. She was a member of the Christ United Methodist Church and was active in its Martha Circle. Their address in the early 1970s was at 2800 Meadow Drive in Lafayette, IN. On Oct. 22, 1972, while at Sunday church services, she became ill and was rushed to Home Hospital. She succumbed later that day at the age of 75. An obituary was published in the Journal and Courier. Ray outlived his wife by 22 years. At the end, he was admitted to Regency Place. He died on or about Sept. 5, 1994 at the age of 97. An obituary in the Journal and Courier numbered his survivors as 20 grandchildren, 31 great-grandchildren and three great-great grandchildren as well as a number of step-grandchildren.
Grandson Ralph G. Blue (1923-1992) was born on Dec. 3, 1923 in Attica, Fountain County, and was named for his father who had died several months earlier. During World War II, he served in the U.S. Army Air Corps as an aviation mechanic, specializing in "Flying Fortresses." He returned home after the war and on Sept. 12, 1948, the 24-year-old Ralph was united in wedlock with Norma Jean Caldwell ( ? -2004), daughter of Gerald and Mary Gladys (Quinn) Caldwell. Their nuptials were held at Caldwell, IN. The Blues produced four offspring -- Judy Whitney, Linda Blue, Marilyn Yundt and Charles "Chuck" Blue. Ralph founded Blue Fence Company in Lafayette in 1966 and operated the company for the balance of his life. They were members of Christ United Methodist Church in Lafayette, and Ralph was active in the Mount Olive lodge of the Masons, the Shawnee Order of the Eastern Star and the Valley of Indianapolis Scottish Rite. Their address in the early 1990s was 3453 Indiana U.S. Route 43 South. Ralph's health began to fail in February 1991, and he was admitted to St. Elizabeth Hospital Medical Center on Oct. 27, 1991. He died there at the age of 68 on Jan. 22, 1992. An obituary in the Lafayette Journal and Courier included his photograph. Norma lived for another dozen years and remained in their home. Believed to have been suffering from cancer, she passed into eternity in St. Elizabeth Medical Center on July 25, 2004. Rev. F. Kaye Bass and Rev. Craig LaSuer co-officiated at the funeral service, with burial in Tippecanoe Memory Gardens.
Granddaughter Emma E. Hoagland (1927- ? ) was born in about 1927 in Lafayette, Tippecanoe County, IN. She wedded Joseph Kochert. They lived in Lafayette, IN in 1972. Later, she married Floyd Perkins and moved to Oxford, IN. Circa 2004, her home was in Otterbein, IN.
Grandson Charles Lee Hoagland (1929- ? ) was born in about 1929 in Lafayette, Tippecanoe County. He wedded Louise ( ? - ? ). They dwelled in Camby, IN in 1972 and in Bargerville, IN in 1992-2004
Granddaughter Betty J. Hoagland (1933- ? ) was born in about 1933 in Indiana. She was joined in matrimony with Richard L. Bruner. Circa 1972-2004, they made a home in Waveland, IN.
Copyright © 2011, 2019 Mark A. Miner