Burkhard Meinert (Meinder)
(1760s?-1822)
Burkhard Meinert (Meinder) was born in the late 1760s in Oley Township, Berks County, PA, the son of Friedrich and Catherine (Nein) Meinert Jr. His first name also has been spelled "Burkhart," "Burgard," "Borghardt" and "Berghardt" over the years, among other variations, and his surname also has been spelled as "Meinter" and "Minder."
He was named after his uncle Burkhard Meinert who lived in Macungie Township, Northampton County, PA. He also had cousins who apparently shared the name -- Burket and Frances (Skinner) Minerd and Burket and Susan (Hartzell) Minerd.
Burkhard's family name eventually became "Meinder" though we do not know how or why. As with other Pennsylvania Germans, his name went through various spellings in official documents due to what appears to have been carelessness or apathy of local officials.



A rare sketch of Reading, PA, published in the 1840s
In genealogy records of descendants of son Johannes ("John"), it's said that Burkhard was an immigrant from Heidelberg, Germany. While not precisely true -- Burkhard was born in Pennsylvania -- this could be a clue to the family's origins.
The name of Burkhard's first wife is unknown. They lived in Potter Township, Centre County, PA in 1793 when their only son was born -- Johannes "John" Minder.
As recorded under the name "Burchard Minder," on Oct. 7, 1794, he and Joseph Sigfrid were witnesses at the marriage of his sister Susan Minder to Jacob Sigfrid. His name was published in a related list many years later in the Records of the American Catholic Historical Society of Philadelphia, Vol. 8.
After several years as a widower, Burkhard married his second wife, Elisabetha "Elizabeth" Konrath ( ? - ? ), also spelled "Cronrad" and "Conrad," the daughter of Wilhelm Konrath. They were married May 29, 1798 at Trinity Lutheran Church in Reading, Berks County, with Rev. Daniel Lehman performing the ceremony.
Burkhard's wife, son Johannes and father-in-law, Wilhelm Konrath (also spelled "Willhelm Kronradt") were communicants of the Christ (Mertz) Lutheran Church of Rockland Township, Berks County.
Burkhard was a yeoman by trade, owning a farm in Rockland Township. The township was created in 1758 out of Oley Township. Tax records of Northampton County in 1786 show Burkhard, spelled "Borgert Meinert," with the occupation of blacksmith. He owned 11 acres of land, one horse and two hed of cattle.
They were active members of, and had their children baptized at, the Mertz Church in Dryville, Rockland Township. Burkhard and Elizabeth were recorded as "communicants" in the church in June 1811. They also were sponsors for other relatives and friends baptized in the church, such as Catharine Bäyer, baptized in June 1819 and the daughter of Wilhelm Bayer and Susanna Kronrath; and in January 1822 for Jakub Christmann, son of Johann Christmann.
Burkhard and Elizabeth had eight known children -- Daniel Meinder, Jonathan Meinder, Maria Schröder, Salome Lies, Maria Magdalena "Lena" Reider, Benjamin Meinder, Anna Matilda Buchert and Lydia Meinder.
At the birth of their daughter Salome, in April 1809, the couple had her baptized at the age of four months on Aug. 15, 1809 in Rockland Township. A birth and baptismal certificate -- known in German as a taufschein -- was prepared and decorated to celebrate the occasion. The original taufschein today is believed to be in the collection of the Berks County Historical Society in Reading and is cited in the 1998 book by Klaus Stopp, Printed Birth and Baptismal Certificates of the German Americans.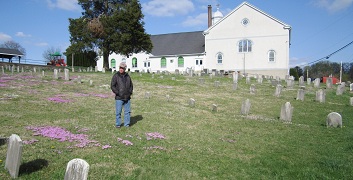 Cousin-researcher Eugene Podraza searching in vain for Burkhard's grave in the Christ (Mertz) Evangelical Lutheran Church Cemetery, Dryville, PA, April 2013.
In his will, penned and signed in the German language and dated Oct. 21, 1822, Burkhard wrote:
As the weaknesses come closer and the strength diminishes even though my mental powers are still strong and well for which mercy be praise and thanks to that God who has guided me since my youth. And if it pleases the Lord to stand by me with his goodwill and mercy in this earthly vale then honor be to Him alone. With this I have deliberately and in good conscience ordered, this, my last will and testament, and I wish that such will be honored and followed by my heirs and successors after my death.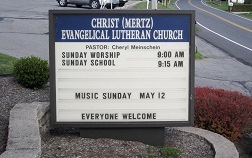 Signage at the Mertz Church circa 2013
He also wrote that I command and it is my will that my present wife, Elizabeth, shall have all my real estate and movable property." He stated that "She shall also inhabit my plantation in aforementioned Rockland Township, together with my minor children..." Daniel Jung ("Young") and brother in law John Cronrad served as executors of the estate. An inventory of his estate, still on file in the Berks County Courthouse, shows that his livestock included one mare, one horse, one colt, four heads of horn cattle and one calf, 10 hogs, four sheep and seven geese.
By Nov. 30, 1822, he was dead. No obituary has been found in an index of the German-language Reading Adler newspaper spanning the years 1797-1824. A sale of his estate assets was held to raise funds to pay his debts. Copies of the related paperwork remains on file today in the Berks County Courthouse in Reading.
It is believed that Burkhard and Elizabeth are buried at the cemetery at Mertz Church in Rockland. However, there are no legible gravestones for either of them. Cousin researchers Mark Miner and Eugene Podraza walked the cemetery in April 2013, noting that most of the texts were in German, and that many had faded badly, or were not readable at all anymore.
~ Daughter Maria (Meinder) Schroeder ~
Daughter Maria Meinder ( ? - ? ) is believed to be the same "Maria Meinter" who was a communicant in the Mertz Church of Dryville, Berks County on May 3, 1823.
She married Daniel Schröder (Schroeder) on Sept. 23, 1828, in Oley Township, Berks County. Nothing more is known.
~ Daughter Lydia Meinder ~
Daughter Lydia Meinder (1820- ? ) was born on June 10, 1820 in Rockland Township, Berks County.
She received her baptism at the Mertz Church on Nov. 19, 1820, sponsored by Wilhelm and Suanna (Kronrath) Beyer. On her baptismal record, her last name was spelled "Meinter."
Nothing more is known.
Copyright © 2000-2001, 2011, 2013, 2019 Eugene F. Podraza and Mark A. Miner