Benjamin Meinder
(1815-1889)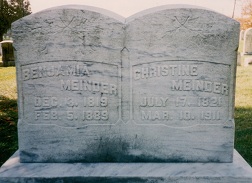 St. John's Cemetery, Hamburg
Benjamin Meinder was born on Dec. 3, 1814 in Oley Township, Berks County, PA, the son of Burkhard and Elizabeth (Konrath) Meinder. (The year of his birth also is showing in variant records as 1815 and 1819.)
At the age of eight months, on Aug. 6, 1815, according to church records, Benjamin was baptized in the Mertz Church in Dryville, Rockland Township. Benjamin Mertz and Catharina Joder attended the ceremony and were his godparents.
When he was 17 years of age, on April 15, 1832, he received communion in the Mertz Church.
Benjamin married Hamburg resident Christiana Albrecht (1821-1911), daughter of Frederick Christian and Sophia Catharine (Baldauf) Albrecht who emigrated to the United States from Durrmenz, Wurtemburg, Germany in about 1819. Christiana's family name was Americanized to "Albright."
Her siblings were Lucinda Albright, Sophia Albright, Johanna Louisa "Hannah" Tobias and Isabella Weidman.
They resided in Hamburg, Windsor Township, Berks County, where Benjamin labored for decades as a blacksmith, boat maker and brewer. Hamburg was known as a stop on the Reading to Pottsville turnpike and Pennsylvania canal, and was a center for boat construction. It also was the home of the prominent Windsor Furnace, built in 1745 and rebuilt in 1822 as an important producer of iron.
The Meinders had nine known children -- Alfred Franklin Meinder, Augustus Meinder, Jeremias "Jeremiah" Meinder, Charles Meinder, Walter Meinder, Sophia Shuman, Alice Amanda Meinder, Franklin Meinder and Sarah Ellen "Sallie" Lesher.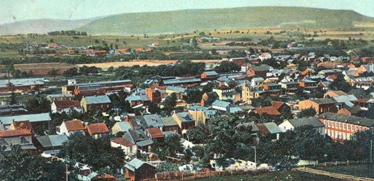 Bird's-eye view of Hamburg, early 1900s
When Benjamin reached age 21, he was entitled to receive his lawful share of his late father's estate. He received a payout of $111.84 held in trust by his guardian Benjamin Mertz, with payment made on March 27, 1837. The legal receipt Benjamin signed confirmed the identity of his late father. Then again in 1842, upon the death of his grandfather William Cronrad (Konrath) of Ruscombmanor, he received a bequest of several hundred dollars. In the legal instrument of this receipt, his name was spelled "Meinter" and his residence was Windsor Township.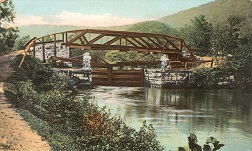 Canal in Hamburg
When the federal census of Hamburg was taken in 1850, blacksmiths William Wagner (age 18) and Jacob Fridrick (17) lived under their roof, and likely were apprentices. The family remained in Hamburg during the 1850s and the 1860s. In April 1857, Christiana and her siblings and George Shellenberger and Jeremiah Koller (guardians of other heirs) of their late father received a lump sum payment of $816.20 from the father's estate.
In March 1859, Benjamin was elected as a member of the town council of Hamburg.
The census of 1860 shows that Benjamin's primary occupation had changed to boat building. His father in law Frederick Christian Albright was a boat builder and millwright and had a boatyard in the southern part of Hamburg. The father in law died on April 20, 1854, which may have led to Benjamin to inherit or otherwise take control of the boat business.
In 1863, Benjamin completed a steam ship weighing 159.77 tons, with 104 horsepower. Using a play on words, it was christened the "Bay Meinder." It was sent to its new home port in Philadelphia, PA where it was in service for several decades. By 1870, it has been re-christened the Benjamin Meinder (also spelled "Benjamin Minder"). In 1878, it was based in Baltimore, weighing a reduced 135 tons. That year, it made 32 trips on the North Landing River in Virginia, bound for the Roanoke River.
At some point, by 1882, the Meinder was transferred to a new home port in Norfolk, VA, reduced to 127.70 gross tonnage. In an 1880 census report of marine engines and steam vessels, the Meinder was noted for "plying from Plymouth, North Carolina, as far north as Philadelphia [and] has one 18" by 18" non-condensing engine; boiler-pressure allowed, 50 pounds." Noted as a "barge" in the 1893 publication, Twenty-Fifth Annual List of Merchant Vessels of the United States in a section on unrigged vessels, its official government number was 2400. Its final outcome is unknown.

Pennsylvania boat building activity, 1870s
The boat building business was not without its risks and mishaps. In May 1863, the Reading Times reported that Solomon Barroll (or "Balthaser"), "while hauling logs to Meinder's Boatyard, on Thursday last, fell off the wagon, which struck some obstruction, and two wheels of the loaded wagon passed over his leg, breaking it below the knee."
On June 14, 1866, Benjamin and Christiana sold their interest in a Hamburg brewery building to Joseph Popp for a token dollar. The tract consisted of a three-story brick house and brewing operation along Main Street (Centre Turnpike), measuring 40 feet by 180 feet, and another tract measuring 23.5 perches. The property also was owned by John and Susanna Rothloff, and for reasons unknown, Benjamin sold his legal share, yet remained interested in the brewing business.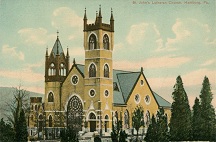 St. John's Evangelical Lutheran
Church, in an old postcard
Two years later, one of his brewery employees, Benedict Mirkhberger, died a traffic, horrific death. On a Saturday night in early February 1868, Mirkhberger entered Popp's Brewery, a competitor located in Hamburg. "Whilst there [he] accidentally fell into a brewing tub containing hot water, scalding him in a shocking manner," reported the Eagle. "He lingered until Sunday evening, when death ended his sufferings."
Benjamin became entangled in a legal matter in 1867 when he employed Jacob Earnst to cut wood on property he had purchased from William Kemp. In fulfilling the contract, Earnst cut beyond the property line by 40 feet and felled a prized Shellbark Hickory. Earnst offered to pay for the tree plus court costs but the owner refused and sued. The verdict was not guilty, as reported in the Reading Times.
In August 1868 Benjamin announced that he was preparing to construct a new brewery on Hamburg's Main Street. Said the Reading Eagle, it was to be built "in a section called 'Prospect Park.' because of the fine view it afforded of the town." The brewery sat on a lot in Windsor Township, bordering on the Hamburg borough line. It measured 542 ft. by 172 ft. and contained four acres on which sat a stone dwelling house, Swiss barn, frame brewery and stone beer vault.
The boat-building and brewing firms went out of business by about 1870. The brewery property was purchased at a sheriff's sale in April 1870 by Edwin Shalter, who paid $2,200. Then then flipped the tract and sold it for under $4,000 to William Deisher. Then in mid-April 1871, the Reading Times reported that for a price of $500, men named Wagner and Deitrich had sold one acre and 45 perches of "Meinder's boat yard" to Lenhart and Bear.
Standard history books about Berks County do not mention them by name. The 1909 Historical and Biographical Annals of Berks County, by Morton L. Montgomery, states the following in a chapter about the borough of Hamburg: "Numerous industries, such as for the distillation of whiskey, the brewing of beer, the building of boats, the manufacture of leather, bricks, chains, nails, wool hats, etc., were carried on for many years in the early history of this place as a town and afterward as a borough, but these have been abandoned for many years."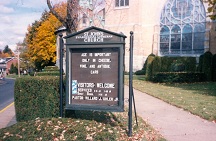 St. John's Evangelical Lutheran
Church today, built on the site
of the Meinders' old church
The 1870 census lists Benjamin's occupation as blacksmithing, and he often took on jobbing and horse-shoeing work. At that time, apprentice blacksmiths Henry Reitz (age 21) and David Heckman (18) boarded in the Meinder home.
The family is believed to have been members of a church in Hamburg that was the union of the Lutheran and Reformed congregations, built in about 1815. When the building was destroyed by fire in 1898, the Lutheran members of the church purchased the interests of the Reformed members, and constructed a magnificent building on the site, known today as St. John's Evangelical Lutheran Church.
Benjamin contracted a serious case of tuberculosis (consumption) and died from its effects in Hamburg on May 14, 1879, at the age of 62 years, 10 months, 18 days. He was laid to rest in the Saint Johns Evangelical Lutheran Church Cemetery in Hamburg, and the funeral sermon by Rev. Thomas Theophilus Iaeger was based on the text Psalm 112:1: "Praise ye the Lord. Blessed is he man that feareth the Lord, that delighteth greatly in his commandments." (King James Version)
A brief notice of his death was published in the local German-language Reading Adler, and the Hamburg column of the Reading Eagle said that "at one time [he was} one of our most prosperous and energetic business men, and also engaged for a number of years as a boat-builder..." A record of his death is kept in a "Register of Funerals" document on microfilm in the archives of the Historical Society of Pennsylvania in Philadelphia. The date of his death, as inscribed on his grave marker, is incorrect by a factor of 10 years -- showing "Feb. 5, 1889" rather than "May 14, 1879."
(Rev. Iaeger performed several weddings and funerals in the Meinder family, and is known to have been pastor of Lutheran congregations in Oley, Bern, Spies, Shalters and Kissinger until his death on May 13, 1888. In his career, he preached 5,258 sermons, baptized 6,263 children, performed 1,748 marriages, officiated at 2,472 funerals, confirmed 3,608 catechumens, gave communion to 74,750 individuals and prayed with the sick 2,860 times, according to the History of Berks County.)

The Meinder home and lot, sandwiched between State and Washington Streets, Hamburg, from the 1860 Atlas of Berks County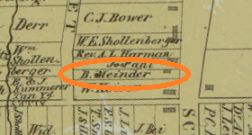 A closer look, Meinder lot in Hamburg, 1860
Christiana outlived him by more than three decades.
When the census again was taken in 1880, widow Christiana (named as "Dinah") headed a household including sons Walter and Franklin and daughter Alice. Walter's occupation was "laborer" and Franklin's as a "cigar maker" while Alice was simply shown as "at home."
On Feb. 20, 1885, she suffered the untimely death of her married son Charles, at the age of 37. No cause has been discovered.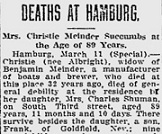 Christine's obituary in the Reading Eagle
The 1900 census shows Christiana living alone in Hamburg at the age of 77. She told the census taker that she had birthed 10 children but that only two of them were living at that time. In 1910, residing with her married daughter Sophia Shuman in Hamburg, she reported that she had birthed four children, with only one alive.
Christiana passed away at the home of her married daughter Sophia Shuman in Hamburg on March 10, 1911, at the age of 89 years. In her obituaries, the Reading Eagle and Hamburg Item referred to her as "Christie" and noted that she was Benjamin's widow and that he had been "a manufacturer of boats and brewer, who died at this place 32 years ago." It also said she was survived by nine grandchildren and one great-grandchild, and that her son Frank was living in Goldfield, Nevada.
After a viewing in the Shuman home, and a funeral service led by Rev. D.G. Druckenmiller, Christiana was placed at rest beside her husband in St. Johns Cemetery, with a prominent stone marking their grave.
~ Son Alfred Franklin Meinder ~
Son Alfred Franklin Meinder (1842-1845) was born in 1842.
Sadly, he passed away at the age of two years, five months in 1845, the same year as his infant brother Augustus died. The brothers are buried in the Meinder plot in St. Johns Cemetery in Hamburg, Berks County. (link)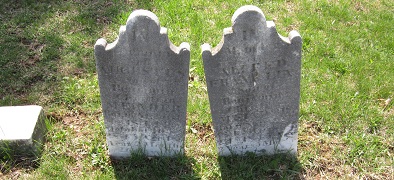 Badly faded graves of brothers Augustus (left) and Alfred Meinder, St. John's Cemetery, Hamburg, PA, who both died young in 1845.
~ Son Augustus Meinder ~
Son Augustus Meinder (-1845-) died in infancy, approximately 20 days old, and was laid to rest in St. Johns Cemetery. (link) His brother Alfred Franklin Meinder, age two and a half, also died that year, and they rest side by side at St. John's.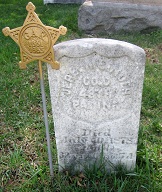 St. John's Cemetery
~ Son Jeremiah Meinder ~
Son Jeremias "Jeremiah" Meinder (1846-1878) was born on Jan. 3, 1846 in Hamburg, Berks County or in Schuylkill County, PA. He was confirmed in the family's church in Hamburg on March 8 or 9, 1862, by Rev. Thomas Theophilus Iaeger.
As a young man, he worked in his father's boat building business. He stood five feet, five inches tall, with hazel eyes, dark hair and light complexion.
He served in the Army during the Civil War, as a member of the 48th Pennsylvania Volunteer Infantry, considered part of the "Militia of 1863." His age at the time of enlistment, at Pottsville, PA, was 18 years, one month.
He was given the post of musician of Company D, and was a drummer with the regiment. The 48th Pennsylvania was mustered into military service in early July 1863 and discharged on Aug. 20, 1863, after a month-and-a-half of duty. He may well have re-enlisted in 1864, but this needs to be confirmed. Whether or not he saw any action is unknown. He mustered out of the army at Alexandria, VA following the war's end, on July 17, 1865.
On Oct. 2, 1867, Jeremiah married Augusta P. Blake (1841- ? ), a native of New York, and presumably the daughter of Elizabeth Blake, also of New York. He was age 21, and she 25, at the time of their nuptials. Rev. Augustus L. Herman performed the ceremony, and noted the event in his records.
In 1870, Jeremiah, Augusta and Elizabeth made their home together in the 4th Ward of Reading, Berks County. That year, Jeremiah worked as a boat builder, likely for his father. He also spent nine years traveling with O'Brien's Circus as a drummer and manager, and in November 1877 the menagerie was in winter quarters in Virginia.
He contracted a fatal case of spinal meningitis, and died on July 16, 1878, aged 32 years, six months and three days. He is buried in the Meinder family plot in St. Johns Cemetery, Hamburg, Berks County. (link) Rev. W.F.P Davis, pastor of the Reformed Church, preached at the funeral. In an obituary, the Reading Times reported that he was buried with military honors and that his pallbearers included Joseph S. Rothenberger, William Fesig, George Gear and James Francisw.
His name was inscribed on his grave marker as "Jere Meinder."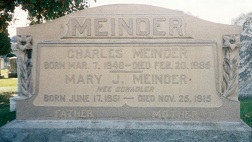 St. John's Cemetery
~ Son Charles Meinder ~
Son Charles Meinder (1848-1885) was born on March 7, 1848 in Hamburg.
He married Mary Jane Schadler (1851-1915) on Sept. 26, 1871, with Rev. Thomas T. Iaeger of St. John's Lutheran Church performing the ceremony at the clergyman's dwelling in Hamburg. He was age 23, and she 20, at the time of marriage. Her parents were Henry and Esther (Strohm) Shadler.
News of their nuptials was published in the Reading Adler a few weeks later, on Oct. 17, 1871. (In one transcription of Rev. Iaeger's records, her first name was listed as "Sarah I." Shadler.)
They are thought to have had two sons -- Frederick Henry Meinder (born 1872) and Charles Benjamin Meinder (born 1880).
Charles was community minded and circa 1875 served in the Blue Mountain Legion of local militia. Organized at Hamburg, it also was known as the Fourth Regiment, Company E. An 1875 Reading Times story about the legion said that "ever since its organization it has been continually increasing in popularity. The company has not yet been equipped in the full regimental uniform, the fatigue uniforms being worn at present."
Charles passed away on Feb. 20, 1885, at the age of 37. No obituary has been found in the Reading Eagle.
Mary survived him by three decades. The federal census of 1900 shows her living on Fourth Street in Hamburg with sons Frederick (age 28, a moulder) and Charles (19, laborer).
She was felled by a stroke and died on Nov. 25, 1915, at the age of 64. They rest for eternity in the Saint Johns Cemetery in Hamburg. (link). When going through their mother's estate, sons Charles and Frederick found $1,400 in gold and paper money she had hidden under carpets and oilcloth, with the news reported in the New Oxford (PA) Item.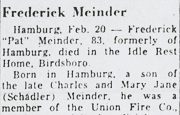 Reading Eagle, 1956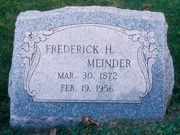 St. John's Cemetery
Son Frederick Henry "Pat" Meinder (1872-1956) was born on March 30, 1872. He was baptized by Rev. Iaeger a few months later, on June 16, 1872, and his sponsors were Henry and Hetty Schadler. Frederick was confirmed in the Lutheran Church on March 27, 1875, at the age of three. He never married but made his residence alone on Wayne Street in Hamburg. He made news in the Reading Eagle during Christmas Week in 1912, when he "sustained two fractures of the right leg, between the knee and ankle, in a fall near the corner of Pine and fourth Streets." He was employed circa 1927 by Speidel's Foundry in Hamburg and spent his career as an iron molder. He also was a longtime member of the Union Fire Company of Hamburg. Burdened with bronchial asthma and emphysema, he developed terminal pneumonia and died on Feb. 19, 1956 at the age of 84, in the Idle Rest Home of Birdsboro. Following funeral services in the Burkey & Spacht Funeral Home, led by Rev. Glenn Flinchbaugh, reported the Reading Eagle, he was laid to rest in the Meinder family plot, at St. John's Cemetery. William Becker of Hamburg provided information for his death certificate.
Son Charles Benjamin Meinder (1880- ? ) was born on Nov. 4, 1880 in Hamburg. He stood 5 feet, 8 inches tall, and weighed 140 lbs., with brown eyes and black hair. At the age of 29, Charles was employed as a shoemaker in Reading. He married Lillian Irene Foreman (1880- ? ) on Feb. 9, 1910, when he and she both were age 29, with the ceremony performed by justice of the peace James P. Boyle of Mauch Chunk, Carbon County, PA. In September 1918, when he registered for the military draft during World War I, he listed Lillian as his nearest relative and their residence as 37 Mulberry in Reading. At the time, his occupation was shoemaker for the Curtis & Jones company located at 8th and Oley Streets in Reading. The federal census of 1920 lists the family on Mulberry Street in Reading, with Lillie's sister Kathryn A. Foreman living under their roof. In 1920, Charles labored as a "first laster" in the shoe factory, a role involving the removal of tacks from the soles, sides and back of a forming shoe, and then sent on to a stitching specialist for sewing together. During World War II, when he registered for the military draft, he disclosed that he resided at 205 West Greenwich in Reading, and that his employer was Curtis, Stephens & Embry of 8th and Oley Street in Reading. He also revealed that he had scars from gunshot wounds on his right hip. Their fates after that are unknown.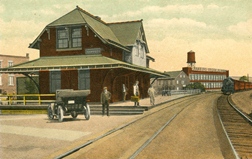 Railroad station in Hamburg, early 1900s
~ Son Walter Meinder ~
Son Walter Meinder (1851-1884) was born in 1851, most likely in Hamburg.
He lived at home with his widowed mother in 1880, when he was age 27. That year, the census-taker recorded his occupation as "laborer."
Tragedy shook the family in September 1884 when Walter was traveling in Kentucky. While in Glasgow, KY, he was killed in a railroad accident at the age of 32. The incident was reported in the Reading Times, but nothing further is known.
~ Daughter Sophia C. (Meinder) Shuman ~
Daughter Sophia C. Meinder (1854-1916) was born on July 6, 1854 in Hamburg. She was baptized and confirmed by Rev. Thomas T. Iaeger and joined the Lutheran Church on March 20, 1869, when she was 14 years of age.
At the age of 19, in about 1873, she married Charles Shuman (1851-1920). He was the son of Frank and Catherine (Koch) Shuman.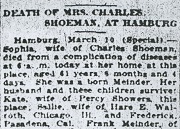 Reading Eagle, 1916
They had at least four children -- William Shuman, Frederick Shuman, Katharine L. "Kate" Showers and Sarah "Sallie" Walrath.
When the census was enumerated in 1880, the Shumans lived in Hamburg, where Charles plied his craft as a cabinet maker. In 1900, the family resided on South Third Street in Hamburg, a short distance away from Sophia's widowed mother. In their household were daughters Sallie and Kate, grandson Bryan J. Shuman (born October 1895) and granddaughter Sallie Bishoff (born February 1900). Sadly, the census-taker recorded that of the Shumans' 10 children, only three were alive at the time.
Circa 1905, Charles obtained employment as a night watchman at the Hamburg Silk Mill and held this job for the remainder of his life.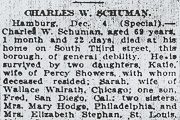 Reading Eagle, 1920
By 1910, still in Hamburg, Sophia's 88-year-old widowed mother resided under their roof. Sadly, the mother died in the Shuman home the following year, on March 11, 1911.
Sophia only survived her mother by six years. At the age of 61, she suffered a cerebral hemorrhage (stroke) and died nine days later on March 10, 1916, with burial in the old Meinder family plot at the St. Johns Cemetery, after a funeral led by Rev. C.D. Druckenmiller. Her obituary in the Hamburg Item said she had been a member of Samoset (or "Somerset") Council No. 225 of the Daughters of Pocahontas (the women's auxiliary to the Improved Order of Red Men, a fraternal lodge). At the time of her death, daughter Kate Showers resided in Hamburg; daughter Sallie Walrath in Chicago; and son Frederick in Pasadena, CA.
Charles outlived his wife by four years. His home was in his married daughter Kate Showers' residence on South Third Street near Windsor.
He endured atheroma, a disease involving the deterioration of the the inner walls of the arteries. He suffered a stroke and died on Dec. 4, 1920. Burial was with his wife in the Meinder plot at St. Johns, with Rev. Siegrist of the Bethany Methodist Episcopal Church performing the funeral service. (link)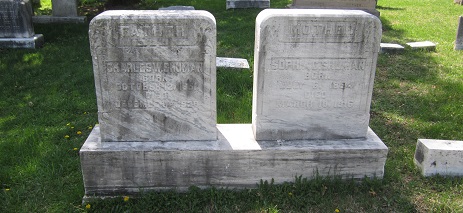 The Shuman grave at St. John's Cemetery, Hamburg
Son William Shuman (1872- ? ) was born in 1872. He died sometime before 1916, but the details of his life and death are veiled by the misty haze of the past.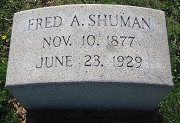 St. John's Cemetery
Son Frederick A. "Fred" Shuman (1877-1929) was born on Nov. 10, 1877 in Hamburg. He is believed to have served in the U.S. Army during the Spanish-American War. Circa 1916 -- at the death of his mother -- he made his residence in Pasadena, CA, and was named in her newspaper obituary. In 1920 -- at the passing of his father -- Frederick lived in San Diego, CA. He died on June 23, 1929, at the age of 52. He rests in St. John Cemetery. (link)
Daughter Sarah S. Shuman (1883-1966) was born in November 1879 in Hamburg. She wed certified public accountant Harry E. Walrath (1880-1959) but had no children. They lived in Chicago in 1920, with their home on Cuyler Avenue, and with Harry operating his own general practice. Harry passed away in 1959. Sarah resided later in life in Leesport and died in January 1966, at the age of 83, in the home of a nephew William B. Shuman of 341 Main Street in Reading.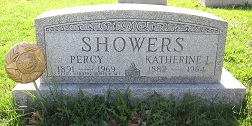 St. John's Cemetery
Daughter Katherine L. "Kate" Shuman (1881-1964) was born in January 1881 in Hamburg. At the age of 28, she lived at home with her parents in Hamburg, and was employed as an operator at an underwear mill. She married Percy Showers (1892-1969), son of Ephraim and Kate E. (Schucker) Showers of Duncannon, Perry County, PA. The couple did not reproduce, and resided at 536 South 15th Street in Reading. During World War I, Percy served as a second lieutenant with the 4th Infantry Regiment of the Pennsylvania National Guard, and the 109th Infantry. He was employed by the Pennsylvania Railroad for 45 years, retiring in 1956, and belonged to the Reading Hose Company, a volunteer fire fighting organization. Kate was a longtime member of St. John's Lutheran Church. She died at home on April 14, 1964, at the age of 82. Her funeral was led by Rev. Alfred H. Ero. Percy outlived his wife by five years. He died at age 77 on or about July 15, 1969, at St. Joseph's Hospital in Reading. Burial was in St. John's Cemetery.
Grandson Bryan J. (or "K.) Shuman (1897- ? ) lived with his grandparents in Hamburg in 1910, at the age of 13. By 1920, he had struck out on his own, and secured a job in Bethlehem, Northampton County, as a machinist in a steel works. That year, he boarded in the home of Edwin and Elizabeth Weaver. Nothing more is known.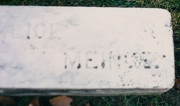 St. John's Cemetery
~ Daughter Alice Amanda Meinder ~
Daughter Alice Amanda Meinder (1857- ? ) was born on Oct. 27, 1856 in Berks County. When she was age seven months, she was baptized in the Mertz Church in Dryville, Rockland Township, Berks County. Church records show that her name, in German, was spelled "Alles."
When the federal census was taken in 1880, when she was age 22, she resided at home in Hamburg with her widowed mother and two older brothers, and had no occupation.
At the age of 24, in 1881, rumors began to circulate that she had given birth to a baby out of wedlock "and in some manner caused its death, after it was born, to conceal her same," reported a front-page story in the Reading Daily Eagle. On May 28, 1881, Detective Denhard went to the Meinder house in Hamburg to arrest Alice. Said the Eagle: "He found her at home and when he made known the object of his visit she was overcome with grief. She admitted the birth of the child, but stoutly declared that she in no way was responsible for its death."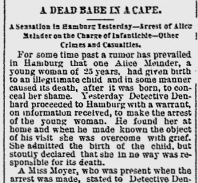 Reading Daily Eagle,
1881
According to testimony from a friend, the baby was born at the home of the mother of Alice's friend Miss Moyer. Said the Eagle, "it was wrapped up in an old cape and deposited in a trunk, where it was kept from Tuesday until the following Saturday morning, when it was taken out of the trunk by Miss Meinder and conveyed to her own home, where it was further kept for about a week, when Undertaker Burkey was notified to call and bury it, which he did." Somehow Alice raised the necessary bail of $500 but faced a court hearing in August 1881.
Nothing more of the outcome of the legal proceeding is known. She may have died unmarried but this needs to be confirmed. An "Alice Meinder" is buried in her parents' cemetery plot at St. Johns, and a badly faded stone marks her final resting place, but no dates of birth or death are inscribed thereon. (link)
~ Son Franklin H. Meinder ~
Son Franklin Meinder (1859- ? ) was born in 1859 in or near Hamburg. At the age of 16, on March 27, 1875, he was baptized and confirmed in the Lutheran Church by Rev. Thomas T. Iaeger.
He was a cigar maker as of 1880, when at age 24 he resided under his mother's roof with a few of his adult siblings.
He migrated to the Southwestern United States. Circa 1911, at the time of death of his mother, he lived in Goldfield, Esmeralda County, NV. By 1916, he had relocated again, to Los Angeles, CA.
He has not yet been located on the censuses of 1900 and 1910, and nothing more about him is known.
~ Daughter Sarah Ellen "Sallie" (Meinder) Lesher ~
Daughter Sarah Ellen "Sallie" Meinder (1862- ? ) was born in 1862 in Hamburg, Windsor Township. At age eight, she resided in her parents' home in Hamburg, and at age 16, on March 13, 1879, she was baptized and confirmed in the Lutheran Church by Rev. Thomas T. Iaeger.
On Jan. 29, 1880, at age 28, she wed Peter Lesher (1859- ? ), a resident of Frackville, Schuylkill County, PA. Rev. M. Peters, of the St. John's Lutheran Church of Hamburg, officiated.
They are believed to have moved to West Mahanoy, Schuylkill County, where they established a home. The federal census of 1880 shows the newlyweds there, with Peter working as a laborer and John McAndrew boarding in their home.
Their fates are lost to history.
Copyright © 2011, 2013-2014 Mark A. Miner
Christiana Meinder obituary and Alice Meinder news article courtesy of Google Books. Grave marker images courtesy of Eugene F. Podraza.