Caroline Meinder
(1836-1886)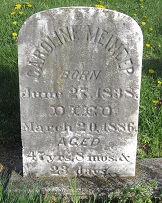 Caroline's grave, Friedens Church
Caroline Meinder was born on June 2, 1836 (or 1838) in Berks County, PA, the daughter of Daniel and Sarah (Breidegam) Meinder.
She apparently never married. In 1871, when she would have been 35 years of age, she bore a son, whom she named Daniel Oxenford. Later, the boy took his mother's surname, "Meinder."
When the federal census was taken in 1880, of Exeter Township, Berks County, she and nine-year-old Daniel were together in the household. She earned a living that year by doing "domestic work."
Her home in 1886 was Friedensburg, today known as "Oley," Berks County.
Caroline died of dropsy (a buildup of fluids) on March 20 or 25 or 31, 1886, at the age of 50. She is buried at the Friedens Church Cemetery in Oley, and her grave marker is seen here. At the funeral, the text of Psalm 17:18 was preached -- "If I should count them, they are more in number than the sand: when I awake, I am still with thee."
She was laid to rest in the Meinder family plot of graves in Friedens Cemetery in Oley. While the records of the church's pastor give her death date as March 31, the date inscribed on her grave marker is March 20 -- a difference of 11 days.
John E. Bauder served as administrator of her estate. A record of her death is preserved today in the archives of the Historical Society of Pennsylvania in Philadelphia.
~ Son Daniel Oxenford (Meinder) ~
Son Daniel Oxenford (1871-1939), also known as Daniel Meinder, was born on July 21, 1871 to Caroline Meinder and (?) Oxenford, who were not married.
He was raised in his mother's home, and carried the "Oxenford" name as a child, though later took the surname "Meinder" for good. As a young adult, he was employed as a coal dealer in Birdsboro, Berks County.

Birdsboro Steel Foundry and Machine Company, where Daniel Oxenford Meinder was employed for more than 40 years as a machinist
On May 16, 1898, in Birdsboro, when he would have been 26 years of age, he married 23-year-old Harriet "Hallie" Arters (1875-1950) daughter of George and Ellen (Jones) Arters. Daniel was age 26, and Hallie 23, at the time of marriage.
The couple did not reproduce.
Daniel was employed for more than four decades as a machinist at the Birdsboro Steel Foundry and Machine Company. The company was founded in 1867 by Edward and George Brooke on what is now North Furance Street in Hamburg. It was comprised of iron manufacturing and fabricating and remained in operation for more than a century, until its closing in 1987.
The Meinders lived on Mill Street in Birdsboro and later at 559 High Street. Circa 1909, Daniel was president of the Birdsboro chapter of the Patriotic Order of the Sons of America (POSA). He was a "prominent member of Alice Focht Memorial Methodist church" in Birdsboro, said the Reading Eagle, and "was a member of this official board of the church and served as secretary of the Sunday school for 25 years." He also was a leader of the Odd Fellows, Sons of America and Knights of Malta lodges in Birdsboro.
Daniel is known to have invested in stock of Superior Oil Corporation, the Pennsylvania Railroad Company, Goodyear Tire & Rubber and Pennroad Corporation.
In December 1913, the Eagle reported that the local camp of the POSA "sees the creation of a first-class initiatory staff in the reorganized degree team. Equipment has been purchased for 30 members and the first rehearsal evidences that the body will soon be a very proficient one. Daniel L. Meinder is the conductor and has a splendid knowledge of the manual of drill and as a commanding officer is a marked success."
Suffering from chronic myocarditis and endocarditis, he last worked at the mill in March 1939. He died the following month at the age of 67 on April 29, 1939. He was buried at St. Michaels Cemetery in Birdsboro, following a funeral at the home led by Rev. W.H. MacLachlan. An obituary in the Reading Times said that his wife "is the only survivor."
Hallie survived her husband by 11 years and spent her final time in the Spanier Convalescent Home in Birdsboro. She endured hardening of the arteries and, at the age of 75 on June 4, 1950, was felled by a cerebral hemorrhage. Interment was with her husband.
Copyright © 2000-2001, 2011-2013 Eugene F. Podraza and Mark A. Miner