Daniel Meinder
(1796-1864)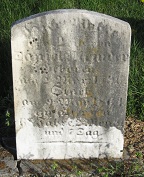 Daniel's German
grave marker, 1864
Daniel Meinder was born on March 2, 1796 in Berks County, PA, the son of Burkhard and Elizabeth (Konrath) Meinder. His and his wife's dark-stained, badly fading grave markers, still standing today in Oley, Berks County, are among the few found inscribed in the family's native German language.
Daniel is believed to have been married twice.
Records of the Berks County Genealogical Society reveal that his first bride's name was Matline (Madeleine) Ruppert ( ? - ? ), reputedly the daughter of John Ruppert. They were wed in 1827, when Daniel was age 31.
The couple bore one son, William Meinder. In infancy, the son was baptized, with Matline's brother Tobin Ruppert and his wife Magdalena serving as sponsors.
How the first marriage ended is a mystery, but at least one researcher has alluded to a belief that death occurred shortly after childbirth.
Sometime by 1834, Daniel wedded his second wife, Sarah Breitigam (or "Breidegam") (Feb. 7, 1809-1877), who was a dozen years younger.
The Meinders produced a family of four known children -- Catharine "Kitty" Moyer, Caroline Meinder, Sarah Prutzman and Melinda Bauder. They also raised a grandson, Daniel Oxenford (a.k.a. Meinder).
Under the name "Meinter," Daniel was named in the last will and testament of his grandfather William Kronrath/Cronrad of Ruscombmanor Township. As such, in January 1842, he received payment of the inheritance in $332.42 cash. He signed a receipt which was filed in April 1842 in the Berks County Courthouse.
Daniel was a coach maker of Shanesville, Oley Township, Berks County, as shown in the federal census of 1850. German was spoken and written in their household, as evidenced by the family Bible kept by their son William, with German family notes.
By 1860, when the census again was enumerated, his occupation was listed as "wheelright." His married daughter Catherine Moyer and her family lived next door.
Their farm tracts consisted of about five acres, bounded by properties of Daniel Kauffman, Amos Melot, Daniel DeTurck, Abraham DeTurck, Daniel Bertolet, Jacob Scherer and Jonathan Cleaver, along the public road leading from Friedensburg to Reading.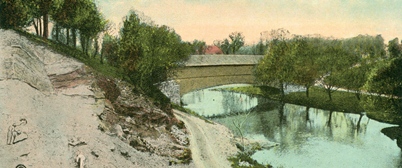 Manatawny Creek, near Earlville, about 7 miles from Oley
Sarah's German-text
grave marker, 1877
Daniel passed away on May 9, 1864, at the age of 68 years, two months and seven days. Details of his passing are not known, and no newspaper obituary was published in the local German language weekly, the Reading Adler. He was laid to rest in the Friedens Cemetery, Section VII, Row 25, next to the family of Simon and Mary Ann Link. A stone was erected at the grave, and it was written in German text.
Because Daniel had died without leaving a last will and testatment, he was considered "intestate." His debts at his demise were greater than the abililty to pay. His son William, one of the administrators of the estate, petitioned the Berks County Court to order that an inventory be taken of assets and allow debts to be paid once the farm was sold. The farm's two tracts, comprised of four acres and one acre, subsequently were sold in 1866 to Josiah Manwiller.
When the 1870 census was taken, widow Sarah and 31-year-old unmarried daughter Caroline lived together in the village of Earlville in Oley Township. The census-taker noted that neither woman could write.
Sarah outlived her husband by 13 years. She died 15 days after her 68th birthday on Feb. 22, 1877. A short obituary in the Reading Times noted that she was "an aged lady of Friedensburg [who] died suddenly of apoplexy and was buried at the Oley churches."
She was interred beside her husband in Friedens Cemetery. As with her husband, a gravestone was placed bearing her name and details in German. Both of their markers were photographed by the founder of this website in April 2013.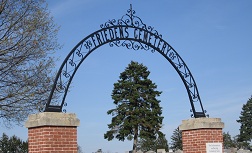 Archway entrance to the Friedens Cemetery
Also buried in Friedens Cemetery are a host of Daniel's relatives, including his son William Meinder, his sister Mary Magdalena "Lena" (Meinder) Reider and her family of offspring bearing the names of Reider, Weiser, Endy, Scheidt and Stuber. Several of these grave markers also are in the German language.
Records of the Friedens burials, in English, were compiled in the summer of 1983 by local researchers Mary Jane Anderson, Fay L. Cox, Anna Schroeder and Elaine D. Schwar. They were published in a manuscript booklet, Tombstone Inscriptions of the Friedens Church, on file today at the Berks County Genealogical Society.
Circa 1913, the Meinder's former hometown of Shanesville was considered a "village of about twenty houses," said the book, The Story of Berks County, authored by A.E. Wagner, Francis Wilhauer Balthaser and D.K. Hoch. Earlville was a similar hamlet along the Manatawny Creek in western Oley Township.
The Oley valley area was a center of practical furniture building and artistic craft-making during the 19th century -- today considered Pennsylvania German folk art and decorative arts highly prized by collectors. Among the samples that survived into the late 20th century, and were auctioned by Christie's in the mid-1990s, included glazed reward flowerpots and saucers, joined chestnut butter box, bed frames, colorful bed linens and slip decorated redware dishes.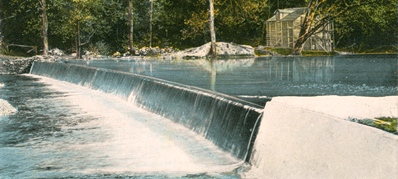 Weidner Dam, a local landmark on Manatawny Creek, near Earlville, Berks County, and a popular spot for fishermen
~ Daughter Catherine "Kitty" (Meinder) Moyer ~
Daughter Catherine "Kitty" Meinder (1834-1906) was born on March 10, 1834 (or 1836).
She married Abraham Moyer (1825-1894).
Their known children were Daniel Moyer, Mary Moyer, Addison Moyer, Sarah "Sallie" Delp, Calvin Moyer and Cedella ("Sedellie") Heistand, and two who are unknown.
After they were first married, the Moyers resided in Oley Township next door to Catherine's parents. Abraham earned a living as a day laborer. In 1860, when the federal census was taken, 75-year-old cabinet maker John Geiseler, a native of France, lived under their roof.
By 1870, the family had migrated to Rockland Township, Berks County, with Abraham continuing to work as a laborer. The Moyers relocated back to Oley Township during the decade of the 1870s and were enumerated there when the federal census was taken in 1880.
Abraham died on Dec. 11, 1894, just 14 days after his 69th birthday. Burial was in the Bally Mennonite Cemetery, formerly known as the Old Hereford Mennonite Church. The cemetery is located at 1481 New Route 100, Bally, PA. [Find-a-Grave]
Catherine outlived her husband by 11 years. She moved into the dwelling of her married daughter Cedella Hustand in Lower Milford Township, Lehigh County, PA.
In mid January 1906, she suffered a stroke and lingered for almost a month. She died on Feb. 9, 1906, at the age of 69. Burial was in the Bally Mennonite Cemetery. Henry Hustand of Corning, PA was the informant on her death certificate. [Find-a-Grave]
Son Daniel M. Moyer (1856- ? ) was born in April 1856 in Berks County. At the age of 44, in 1900, he was unmarried and lived with his widowed mother in Lower Milford Township, Lehigh County. His occupation was day laborer, and he only worked six months out of the year, apparently when weather permitted.
Daughter Mary Moyer (1858- ? ) was born in 1858 in Berks County.
Son Addison M. Moyer (1860-1912) was born on Sept. 22, 1860 in Berks County. He was a carpenter by trade. Addison was twice married. His first bride died June 28, 2898. On July 8, 1899, at Pottstown, Montgomery County, PA, he wed tailoress Lottie Koons (1866- ? ), daughter of Samuel and Mary Koons. He was age 39 at the time, and she 45. Their nuptials were led by Rev. James L. Davis. In his 50s, he dwelled in Pottstown with 119 North Franklin Street as his address. Afflicted with tuberculosis for several years, he died at the age of 51 on April 9, 1912. Burial was in Pottstown Cemetery. On his death certificate, his mother's maiden name was spelled "Binder."
Daughter Sarah "Sallie" Moyer (1868-1947) was born on Jan. 22, 1868 in Berks County in Berks County. She wed James M. Delp ( ? -1928). They moved to Reading in about 1897 and circa 1917 lived at 1128 Marion Street. They were the parents of Clara E. Schappell and Charles H. Delp. The couple made a home in 1928 at 1640 Mineral Spring Road. James earned a living operating a meat business at 1118 Marion Street in Reading. They were members of St. Mark's Lutheran Church, where he held a seat as a vestryman. James also belonged to the Modern Woodmen of America, the Knights of Pythias the the Knights of Golden Eagle of Friedensburg. He became seriously ill in mid-April 1928 and was taken to St. Joseph's Hospital. Sadly, he died there at age 68 on April 16, 1928. In July 1947, widowed at the age of 79, Sallie fell and suffered internal bleeding. She was admitted to Reading Hospital but did not recover. Death occurred on July 20, 1947. Burial was in Charles Evans Cemetery. Daughter Clara, of the same address, was the informant for her Pennsylvania death certificate.
Granddaughter Clara E. Delp ( ? - ? ) was born in (?). In March 1917, she was joined in holy matrimony with Wilford M. Schappell ( ? - ? ), son of Benjamin Schappell of 941 Elm Street. The nuptials were performed by Rev. A.W. Cooper in the church parsonage. News of the wedding was printed in the

Reading Times

. The couple bore one known daughter, Mary Louise Schappell.
Grandson Charles H. Delp ( ? - ? ) was born in (?). In Aug. 1919, in a ceremony held in Sunbury, PA, he was united in matrimony with Mabel R. Butterwick ( ? - ? ), daughter of Harvey E. Butterwick. Rev. A.W. Brownmiller, of the United Evangelical Church of Sunbury, officiated. "There were no attendants," reported the Reading Times. "The bride wore a traveling suit with hat to match."
Son Calvin Moyer (1872- ? ) was born in 1872 in Berks County.
Daughter Cedella ("Sedellie") Moyer (1875- ? ) was born in February 1875 in Berks County. At the age of 22, in 1897, she married Henry Heistand (Nov. 1871- ? ). They had two children, one of whom died in infancy. The surviving child was Jacob L. Heistand. The Heistands lived on a farm in Lower Milford Township, Lehigh County in 1900.
Copyright © 2000-2001, 2011-2014, 2020 Eugene F. Podraza and Mark A. Miner
Research by the late Annabelle Alfred Moyer of Reading has been used as reference for this biography.