Salome (Meinder) Lies
(1809-1841)
Salome (Meinder) Lies was born on April 19, 1809, presumably in Berks County, PA, the daughter of Burkhard and Elizabeth (Konrath) Meinder.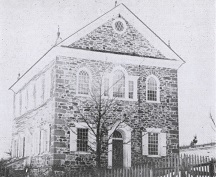 Spies Church, built of stone, 1810, to replace a log building from 1774
When Salome was four months of age, on Aug. 15, 1809, her parents had her baptized in Rockland Township. A birth and baptismal certificate -- known in German as a taufschein -- was prepared and decorated to celebrate the occasion. The original taufschein today is believed to be in the collection of the Berks County Historical Society in Reading and is cited in the 1998 book by Klaus Stopp, Printed Birth and Baptismal Certificates of the German Americans.
Salome married Johann M. "John" Lies (Aug. 20, 1807-1895), a native of Friedensburg, Berks County and the son of John and Maria (Milot) Lies, also spelled "Lease" and "Liess."
The couple is believed to have produced two daughters, Elizabeth Lies and Sarah Lease. Baby Elizabeth was christened in February 1835 by the pastor of the Trinity Lutheran Church of Reading.
Nothing more is known about Salome's life, only about her death.
At the age of 32, either two days or 10 days after her birthday, Salome died. (Her grave marker, now gone, gave the date of April 29, 1841, while Trinity Lutheran Church burial records in Reading give her name as "Elisabeth" and her death date as April 21, 1841.)
She was laid to rest in the Zion (Spies) Church Cemetery in Alsace Township near Reading, Berks County. The graveyard was located across the road from where the church stands today. A marker was erected at her grave, in Row O. It read:
SALOME LIES
Wife of Johann M. Lies
Daughter of Burkhart Meinder
Born April 19, 1809
Died April 29, 1841
Age 32 years, 0 months, 10 days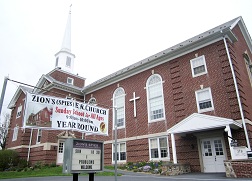 Zion's (Spies) E.R. Church today
A local resident named Samuel Leinbach kept records of burials in his diaries, with the first made in 1833. As well, a typewritten history prepared in 1934 by Jacob H. Rohrbach included lists of baptisms from 1774 to 1933. The church's original record book covering the 1774 to 1880 timeframe is said to be preserved in th Philadelphia Historical Library. These documents need to be consulted for more information about our Salome. Any other records of the congregation no longer exist, as two of its church buildings burned to the ground by 1937, incinerating any papers which had been kept therein.
The widowed Johann married again, to Catharina "Kate" Hartman (May 15, 1812-1888), a native of Friedensburg.
They bore at least six children of their own, the first in 1844 -- Gideon Lies, Lovina Lease, James Lies, Levi Lies, Hermina Lies, Emma Wiest and Amanda Heckman.
When the federal census was taken in 1850, the family lived in Alsace Township, with Johann earning a living as a laborer. The census taker spelled Johann's name as "John Lies."
Sadly, daughter Hermina died at the age of four, on Jan. 22, 1854. The child was laid to rest beside our Salome in the Zion/Spies Cemetery.
By 1860, the Lieses had moved to Oley Township, with Johann now employed as a carpenter. Also living under their roof were William Fisher (age 17), Mary Fisher (29) and Elizibeth Lies (24).
He, Kate and daughter Amanda are shown together in the 1870 census of Oley, with six-year-old grandson Marks DeTurck living under their roof.
John continued his carpentry work through the decades. In March 1876, the Reading Times said that at age 68, he was "engaged in doing the carpenter work in the rebuilding of the barn of Jacob Hoch, sr., near Friedensburg, recently destroyed by fire. He employs eight hands ... and has worked at his trade over fifty years. he put up about one-half of the Swiss barns in Oley, Maidencreek and adjoining townships erected within the last forty years."
John made news again a week before Christmas 1886 when he drove his wagon to Reading, arriving at the Union House hotel. He "was scarcely able to alight, and in entering the door he staggered and fell," reported the Reading Times. "The proprietor, Jacob Goodman, came to his assistance, and he was given a seat near the stove, where he shortly revived. Liess is in his 80th year, and the father-in-law of William A. Heckman, plumber, No. 16 North Eighth street. He complained all day of the effects of his exposure to the cold, the thermometer having been 4° above zereo when he started from home. It is believed that if he had been half an hour longer on the wagon he would have expired."
Catherine passed into eternity at the age of 76 on Dec. 4, 1888.
John died at the age of 88 on Sept. 18, 1895. Burial was in Friedens Church Cemetery in Oley. Inscribed on his grave marker was a reference to the Bible passage Deuteronomy 31: 8-14. [Find-a-Grave] The scripture reads: "And the Lord, He is the One who goes before you. He will be with you, He will not leave you nor forsake you; do not fear nor be dismayed."

Zion's (Spies) Evangelical Reformed Church Cemetery in Berks County, PA
By the 1900s, with the old Lease grave markers disintegrating, efforts were made to record their data for posterity. Louis Richards made notes of these sometime before 1909.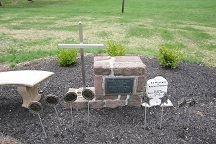 Plaque in the old cemetery at Zion's
In the mid 20th century, the cemetery had become "quite extensive," according to an observer, but the red sandstones were virtually illegible and many others were crumbling or broken. Church officials made the decision to remove the stones, making sure to note the inscriptions and produce a map of the locations. Many of the markers were discarded, and some of the written records were inaccurate.
The now-unmarked graves of these early Berks County pioneers were not entirely forgotten. During the United States Bicentennial in 1976, the Vacation Bible School class of the church dedicated a stone monument in the center of the grass. A plaque was mounted to the structure, reading: "Dedicated to those who served in the Revolutionary War. Presented by the V.B.S. of Zion's Spies U.C.C. 1776-1976."
More than 150 years after Salome's death, in 1994, researcher Elaine D. Schwar attempted to re-create the layout of the old cemetery, using all of the materials at her disposal. Her report, entitled Tombstone Inscriptions of Berks County, Pennsylvania, Volume 6-A, provides details of the text of Salome's marker and generally provides much of what we know today. A copy is on file at the Historical Society of Berks County in Reading.
~ Daughter Elizabeth Lies ~
Daughter Elizabeth Lies (1834- ? ) was born on Sept. 26, 1834. At the age of about four months, the newborn was christened on Feb. 1, 1835 in the Trinity Lutheran Church of Reading.
When she was age 25, in 1860, she made a home with her father, step-mother, sister and half-siblings in Shanesville, Oley Township.
~ Daughter Sarah Lies ~
Daughter Sarah Lies (1838- ? ) was born in about 1838. At the age of 22, she lived with her father and stepmother in Shanesville, Oley Township.
~ John's Son Gideon Lease (2nd Marriage) ~
Son Gideon Lies (1844- ? ) -- later spelled "Lease" -- was born in about 1844.
~ John's Daughter Lovina Lease (2nd Marriage) ~
Daughter Lovina Lease (1845-1909) was born on April 13, 1845.
She may never have married.
In October 1863, when she was age 18, she is known to have given birth to a son, Marks L. DeTurk, fathered by Marks DeTurk (1839- ? ), son of local farmers Philip and Mary DeTurck.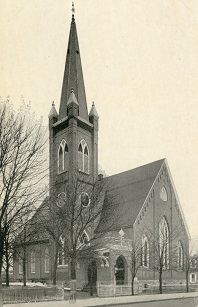 Friedens Church, Oley
Lovina made her home for years in Oley Township. At the age of 27, in 1870, she worked as a domestic servant in the farm household of John and Sarah Griesemer in Oley.
In May 1903, she is known to have traveled to attend the funeral of Charles A. Heckman in Reading.
At the age of 64, she suffered a cerebral apoplexy and lingered for 13 days until death relieved her of suffering on Dec. 22, 1909. Burial was in Friedens Cemetery, with her son signing the death certificate. A brief obituary was published in the Reading Times.
Son Marks DeTurk (1862-1935) was born on Oct. 12, 1863, to parents who may not have been married. He too never married. He learned carpentry and in May 1892 relocated into Reading to ply his trade. Circa June 1913, the Reading Times reported that he was "building a summer house on the Moravian Church property, tenanted by Joseph Correll." Marks was profiled in a January 1926 Times story:
Outside the cold wind complained at having to bend itself around the corners of the roof, and even within the room the air was chill enough to turn the breathe into wisps of fog. Marks DeTurk, the old craftsman, seemed to mind it very little, and declared that it was only on cold days that he found his shop a shade uncomfortable. Mr. DeTurk is a master at making inlay. He likes best to work with red cedar, and all but a few of his finest pieces are the dark heartwood of that tree inland with its white sapwood. For the most part he builds chests, and decorates these, bt now and then he turns his hand to little stools, and like pieces. Until a few years ago, Mr. DeTurk spent all his time constructing barns, and the other rude and sturdy structures of the country. Then he turned to houses, and latterly, because of his heart, he has even given that up. Since April he has made twenty-five chests by keeping at it more steadily than he really ought to. Quaintly enough, Mr. DeTurk says that any carpenter could do the inlay which he is producing with such exquisite perfection. True enough, any carpenter could -- IF he had the patience to take sufficient care. The hours that go into the making of an inland chest are many, and even if the artisan asks only one-third the wage that young gents with hatchets get for throwing up concrete forms, people think the process costly. Mr. DeTurk draws all his own designs, and brought forth out of a box the cardboard patterns he had made for all kind of animals, birds, and plants. In another box were the figures already cut out of white wood: a trotting horse, a sitting dog and a running dog, a maple leaf, a mink with an arched back, a quail and several young ones, swallows and pigeons, little five pointed stars and tulips. all these and many more he uses, cutting a flat niche ito the red wood to receive them, and doing it so nicely that th einlay seems by some magic to have grown there. Last fall, Mr. DeTurk made an especially fine chest for Harvey Youe, who lives in the lower end of town. It has ninety-some pieces of inlay, and the read wood itself is strikingly handsome, being full of whorls, and dark colored knots. After thta, the carpenter made one for himself, which is probably his masterpiece, containing 127 pieces of inlay, and featuring the outlines of a wild dove, a snipoe and a wild turkey, seen during his boyhood. There is also a deer, the most difficult of all the shapes, with its interlaced horns. though it is awfully hard to believe after viewing these works. Mr. DeTurk asserts that he is getting too old, that his eye and hand are failing. "If I were younger," says he with a smile, "I would show them inlay." He dreams of whole white scenes, set in red.
At the age of 71, he contracted senile gangrene and, added to hardening of the arteries he had borne for several years, died on June 17, 1935. Mrs. Henry Sassaman of Oley was the informant for the death certificate. Interment was beside his mother in Friedens Cemetery in Oley.
~ John's Son James Lease (2nd Marriage) ~
Son James Lease (1847- ? ) was born in about 1847 in or near Alsace Township, Berks County.
At the age of 13, in 1860, he dwelled with his parents in Shanesville, Oley Township.
~ John's Son Levi Lease (2nd Marriage) ~
Son Levi Lease (1848- ? ) was born in about 1848 in or near Alsace Township, Berks County.
His name does not appear with the family in the 1860 federal census, when he would have been 12 years of age. Is he the same "Levi Lies" buried at Spies Zion who died at the age of about two in 1851? [Find-a-Grave]
~ John's Daughter Emma (Lease) Wiest (2nd Marriage) ~
Daughter Emma (Lease) Wiest (1853-1935) was born on Oct. 31, 1853.
She married James W. Wiest ( ? - ? ).
They resided for years in Oley Township and were the parents of Jennie Albright, Josephine Angstadt, Samuel Wiest, Luther Wiest, Alton Wiest, James Wiest, Harvey Wiest and Pierce Wiest.
The Wiests were members of the Lutheran denomination. Emma was named in the Reading Times obituary of her sister Amanda Heckman in 1923.
Widowed at the age of 79, she contracted cerebral sclerosis and suffered for two years. Then in August 1935, she lapsed into a uremic coma and succumbed at the age of 81 on Aug. 19, 1935. Interment was in Friedens Cemetery. Son Alton Wiest of Reading was the informant for the Pennsylvania death certificate. An obituary in the Reading Times reported that she was the last living member of her family and was survived by 18 grandchildren and one great-grandchild.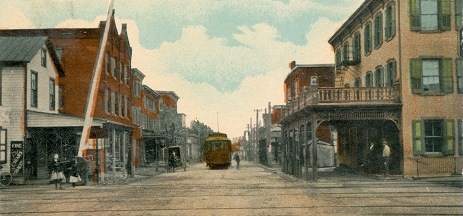 Boyertown, PA, home of Anthony and Jennie Albright in 1935
Daughter Jennie Wiest wedded Anthony Albright. They lived in Boyertown in 1935.
Daughter Josephine Wiest ( ? - ? ) married George F. Angstadt. Their home in 1935 was in Oley Township.
Son Samuel Wiest resided in Gilbertsville, PA.
Son Luther Wiest ( ? - ? ) dwelled in Reading.
Son Alton Wiest ( ? - ? ) lived in Reading.
Son James Wiest ( ? - ? ) made a home in Oley in 1935.
Son Harvey Wiest ( ? - ? ) was in Blandon, PA.
Son Pierce Wiest ( ? - ? ) made a residence in Reading.
~ John's Daughter Amanda (Lease) Heckman (2nd Marriage) ~
Daughter Amanda (Lease) Heckman (1856-1923) was born on Sept. 25, 1856 in Friedensburg, Berks County.
She was joined in wedlock with William A. Heckman ( ? -1911).
He brought four children to the marriage -- George Heckman, Clarence Heckman, Anna Muelhof and Minerva Miller.
The couple went on to produce three children of their own -- Mrs. William Phillippi, Howard Heckman and Raymond Heckman.
Circa 1899, after the death of Amanda's mother, William and his sister in law Emma Wiest became executors of the estate and disposed of a town lot in Friedensburg. In later years, she lived with P.R. Heckman at 835 Washington Street in Reading.
Burdened with congestive heart failure, she died at the age of 66 on Jan. 22, 1923. "Death was attributed to heart trouble," said the Reading Times, "with which she had been suffering for the past six years." Burial was in Charles Evans Cemetery. She was survived by 19 grandchildren and one great-grandchild.
Daughter (?) Heckman married William Phillippi and dwelled in Buffalo, NY in 1923.
Son Howard Heckman lived in Reading.
Son Raymond Heckman relocated to Detroit and was there in 1923.
Stepson George Heckman resided in Pottsville, PA.
Stepson Clarence Heckman dwelled in Pottsville, PA.
Stepdaughter Anna Heckman wedded (?) Muelhof. She was in Pottsville circa 1923.
Stepdaughter Minerva Heckman was united in marriage with (?) Miller. She made a home in Reading.
Copyright © 2011, 2013, 2019, 2021 Mark A. Miner