Sarah (Meinder) Prutzman
(1839-1879)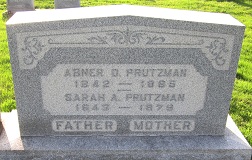 Oley Cemetery, Spangsville, PA
Sarah Ann (Meinder) Prutzman was born on July 10, 1843 , the daughter of Daniel and Sarah (Breidegam) Meinder. (Sources for her birth year differ, and the year has been shown as in either 1839 or 1842 in other records. The date used here is from records of the family's church.)
Her husband took part in two major conflicts in American history -- the Civil War and the Great Railroad Strike of 1877.
Sarah married Abner D. Prutzman (or "Brutzman" as originally spelled) (1842-1885), son of Jacob G. and Julia Ann (or "Lucy") Prutzman of Earl Township, Berks County. Church records show her maiden name also was spelled "Meinter."
At Abner's baptism on May 28, 1842, in the Oley (Salem) Reformed Church, Daniel and Sarah Prutzman were witnesses.
Then as an adult, Abner was a farmer and stood 5 feet, 11 inches tall, with a florid complexion, brown eyes and dark hair.
Of the Meinder and Prutzman families, said the 1899 book Biographical and Genealogical History of the State of Delaware, they "came to this country from Germany and helped make up that sturdy population which has pushed Berks county to the front among the rich and substantial communities of Pennsylvania."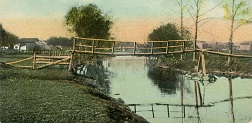 Footbridge near Spangsville, Berks County

The Prutzmans resided in Maxatawny Township, Berks County, where Abner worked as a teamster.

They bore one son, Wilson M. Prutzman, born in 1864.

During the Civil War, Abner went to Reading and enlisted in the Army on Jan. 6, 1862, for a term of three years. He was assigned to the 5th United States Artillery, Battery M, commanded by Captain James McKnight, and held the rank of corporal. He was stationed for training at Camp Greble located east of Harrisburg, Dauphin County, in the Paxton Creek Valley.

In mid-March or early April 1862, Abner was instructed to help carry a 12-pound field cannon out of the barracks and into the parade ground. Richard H. Fisher and William Lessig assisted. Fate intervened when Abner "slipped and sprung a rupture which immediately disabled him," reported Frederick W. Folkmann, a fellow soldier in the company. The hernia was located on the right near the groin, and extended into his scrotum. He reported his injury to the regimental surgeon. He remained in the 5th Artillery for 10 more months, and was discharged on Jan. 13, 1863.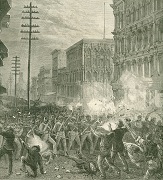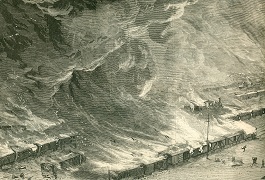 Railroad strikers under gunfire in Baltimore (left) and burning millions of dollars in rail stock in Pittsburgh. Harper's Weekly, Aug. 11, 1877.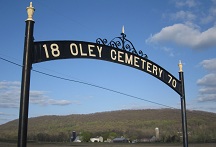 Oley Cemetery, Spangsville, PA
Over time, due to the ongoing disability from his hernia, Abner applied for a military pension. He was treated by Dr. E.E. Griesemer. In his application, he said that the "rupture has been growing worse with increasing years and is attended with much pain, and he cannot very frequently work at his occupation (being a tanner) for several days at a time ... as his trade compels him to be more or less in water or on damp & wet ground which causes his hurt to become more severe and painful." His former mates in the 5th Artillery -- Frederick W. Folkmann, Jacob S. Flicker and Henry L. Reiter -- provided support for the claim. Abner finally was awarded a pension which entitled him to receive $4 per month in payments. [Application #133060, Certificate #108060]
Abner returned to Oley after the war and continued his longtime occupation as a teamster as recorded in 1870, when the federal census was enumerated. His post office was Manatawney, Berks County. Circa 1873, his address was Lyons, Berks County.
Later, he worked as a locomotive engineer with the Wilmington and Northern Railroad. His employment came to an end in the smoking ruins of the great railroad strike of the summer of 1877. That year, the Baltimore & Ohio Railroad twice trimmed wages for its laborers. In protest, the workers went on strike throughout West Virginia, Maryland and Pennsylvania, and began to riot. Federal, state and local military troops were brought in to quell the violence. Pittsburgh experienced the worst, with fires, destruction of railroad property and killings. In Scranton, martial law was put into place, and several striking coal miners were killed. The activity later spread to Illinois and Missouri. While the strikers did not win their battle, the result was that labor unions became stronger and a more popular way to exercise influence in collective bargaining. But the downside was the Abner and many others were put out of work for good.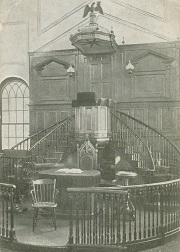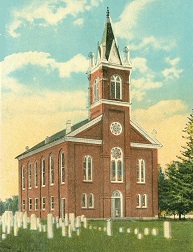 Pulpit and structure of the Oley (Salem) Reformed Church, Spangsville, PA, founded 1736 by Rev. John Philip Boehm on land donated by pioneer iron master John Lesher, erected 1822.
The Prutzmans later made their home in Reading, Berks County, at 910 North Eighth Street.
Sarah passed away on Jan. 13, 1879, just two years after the railroad strike but the cause is not known. She was laid to rest in the Oley Cemetery near Spangsville, Berks County, with Rev. F.K. Huntzinger of the Lutheran church officiating. The cemetery, created in 1870, is located between the Salem Reformed Church and the Christ Lutheran Church, along Covered Bridge Road.
Abner outlived his wife by six years. The 1880 census shows Abner and son Wilson boarding in the household of Franklin and Sarah Reitenour on North Ninth Street in Reading, Berks County.
He married again, to widow Elizabeth "Lizzie" Moyer ( ? - ? ), on Jan. 18, 1881, by the hand of Rev. F.R. Huntzinger of Reading's St. Luke's Lutheran Church. Among the witnesses was Emma R. Ohnmacht. Her first husband Daniel Moyer (son of Michael and Angeline Moyer) had died on April 21, 1879.
Their home was at 127 Penn Street in Reading.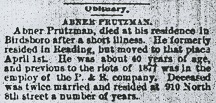 Reading Eagle, May 29, 1885
On April 1, 1885, Abner relocated to Birdsboro, Berks County. At that time, he was suffering from strangulation of his "inguinal hernia," where part of the small bowel bulged through the ruptured muscle. He was treated by Dr. H.B. Brusstar and underwent surgery performed by Dr. B.F. Bunn. But just 30 hours following the operation, he died, on May 28, 1885. In an obituary, the Reading Eagle said that he had suffered a "short illness" and that he was "about 40 years of age, and previous to the riots of 1877 was in the employ of the P. & R. company."
He was placed into eternal rest beside his first wife for eternity in Oley Cemetery. Rev. Huntzinger, who had presided over Abner's wedding four years earlier, now oversaw the funeral and burial.
Now widowed, Elizabeth applied for and began to receive Abner's monthly pension payments. [Application #329775, Certificate #218748]
Her final fate is unknown. It's assumed that she was buried with her first husband at Robeson Lutheran Church Cemetery.

Bird's-eye view of Birdsboro, Berks County, 1890. Courtesy Library of Congress
~ Son Wilson M. Prutzman ~
Son Wilson M. Prutzman (1864-1931) was born on May 31, 1864 in Berks County.
After receiving early education in Reading and at the Normal School in Kutztown, he went on to a successful career as a railroader, settling in a "handsome home" on Third Street in Wilmington, DE.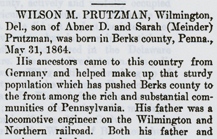 Biographical and Genealogical
History of the State of Delaware
He was profiled in the 1899 book Biographical and Genealogical History of the State of Delaware, which had this to say about his early years:
He inherited from his father a love of mechanics and machinery, and when he was fifteen years of age was apprenticed at steam boiler making. Three and one-half years later he entered the wheel and machine shop of the Philadelphia and Reading R.R., and was employed there eighteen months. Then he secured a position on the P. & R.R.R. and eighteen months later went to the Wilmington & Northern Railroad as fireman. A year afterwards, in 1886, he was promoted to the position of engineer, and has been continuously engaged in that capacity ever since. He is a member of the Brotherhood of Locomotive Engineers, the Sons of America, and Knights of St. John and the Knights of Malta.
At the age of 22, on Aug. 10, 1886, Wilson married 19-year-old Emma L. Greenawald (1867-1927), daughter of David and Elmina (Best) Greenawald of Berks County.
There is no evidence to suggest that the couple reproduced.
Wilson continued to be a locomotive engineer in Wilmington as evidenced by the census of 1920.
Emma passed away in 1927 at the age of 50.
Wilson outlived her by four years. He died in 1931. They rest for eternity together at Oley Cemetery in Spangsville.
Copyright © 2000-2001, 2011-2013, 2020 Eugene F. Podraza and Mark A. Miner
Wilson Prutzman chapter image in Biographical and Genealogical History of the State of Delaware courtesy of Google Books. All other images from the Minerd.com Archives.