Home

Henry 'Franklin' Minard
(1854-1908)
Henry "Franklin" Minard was born in 1854 in New Rumley, Harrison County, OH, the son of Jacob and Mary Ann (Kimmel) Minerd. He was a farmer, and a newspaper once said that he "was a companionable man, with a droll line of speech that made him popular with everyone with whom he came in contact."
During his lifetime, Frank spelled the family name "Minard" and "Miner."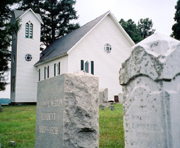 Calantha Minard's grave, right
On Jan. 14, 1886, when he was age 31, Frank was united in matrimony with 22-year-old Calantha Odessa Cinderella Burdette (1863-1887), the daughter of James Dunlap and Sarah (Porter) Burdette.
The couple together produced one daughter, Florence Culbertson.
Tragically, the marriage only lasted 19 months. In August 1887, at just age 24, Calantha died of an enlarged spleen. She was buried at the Dickerson Church near New Athens, beside her parents.
Calantha's grave marker, which is still legible, is seen here with the quaint one-room church in the background.
The church building itself is said to be the "oldest church in the state."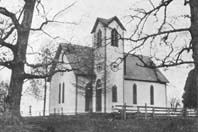 Dickerson Church Cemetery
Frank spent 15 years as a widower. His daughter was raised by relatives.
In May 1902, he married Elizabeth "Lizzie" McBride (1860-1934), the daughter of John and Henrietta (Gordon) McBride. They did not reproduce.
They lived "on the Porter farm, a few miles south of Cadiz" in New Athens, Harrison County.
A 1903 newspaper article reported that Frank, a farm laborer, had "recently thrashed the wheat on Mr. D.D. Porterís farm near Porterís grove, Cadiz township. He had 240 bushels from 7 acres, or a little over 34 bushels to the acre."
At age 53, Frank died of "brain trouble" on April 30, 1908. He was buried at Cadiz Cemetery.
Elizabeth outlived her husband. A newspaper once said that she "had the respect of many friends…" She was a member of the Cadiz United Presbyterian Church.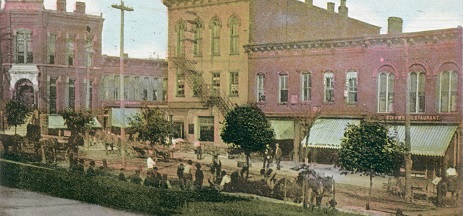 Downtown street in Cadiz, circa 1911.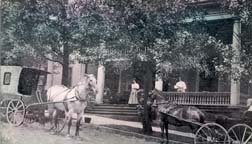 Ehrhart Hotel in Cadiz
As a widow, Elizabeth moved to Cadiz and was a housekeeper for many years at the Ehrhart Hotel in Cadiz. A rare old postcard of the hotel is seen here. Note the horses and buggies in the street, in front of the hotel's main entrance.
After more than a quarter-century as a widow, Elizabeth had surgery for an undisclosed illness in May 1933. Early the next year, on Jan. 26, 1934, she passed away.
In her will, Elizabeth provided funds to erect grave markers for her husband as well as her mother and her sister Susannah McBride. She also willed a number of household furniture to a McBride nephew, including a rocking chair, five straight chairs, library table, kitchen table, kitchen cupboard, lawn mower, farm implements, an ironing board, a coal bucket, two round braided rugs and a Brussels covered couch, among others.
Florence and Frank Culbertson
~ Daughter Florence B. (Minard) Culbertson ~
Daughter Florence (Minard) Culbertson (1886-1972) was born on Oct. 21, 1886 in Cadiz, Harrison County. She was but 10 months of age when her mother died.
On June 7, 1905, at the age of about 19, Florence married 27-year-old farmer Frank Clinton Culbertson (June 8, 1878-1948), the son of John and Sarah Jane (McDowell) Culbertson of Harrison County. Rev. J.S. Eaton officiated at the wedding ceremony.
The Culbertsons lived in New Athens, Harrison County, and had five children -- Celesta Mary Carson, Frank Oakley Culbertson, Samuel Albert Culbertson, Howard Culbertson and Roy Minard Culbertson.
Frank suffered from anemia and died at the age of 69 on May 11, 1948. He was buried at New Athens.
Florence outlived her spouse by nearly a quarter of a century. The Grim Reaper swept her away on April 13, 1972. They rest together in Longview Cemetery in New Athens. [Find-a-Grave]
Daughter Celesta Mary Culbertson (1906-1984) was born in 1906 in New Athens. In 1930, at the age of about 24, she married 25-year-old Denzil Eugene Carson (Oct. 13, 1905-1976), son of James Franklin and Nannie Adeline (Milliken) Carson and stepson of Frank Bernn Barrett, also of Harrison County. Their marriage endured for 46 years until the separation of death. The Carsons bore three children -- Donald Eugene Carson, Louanna Louise Richards and a baby who died in infancy in 1931. Denzil earned a living as a coal miner. Sadly, Denzil died in Dover, Tuscarawas County, OH on Aug. 31, 1976 at the age of 70. Celesta lived as a widow for another eight years. She passed into eternity at the age of 78 in 1984. They are at rest in Longview Cemetery in New Athens.
Grandson

Donald Eugene Carson

(1933-2022) was born on March 27, 1933 in or near New Athens, Harrison County, OH. When he was 24 years of age, on July 14, 1957, he entered into the bonds of matrimony with Martha "Marty" Strawder (July 2, 1936-1987). Their marriage survived the ups and downs of three decades until cleaved apart by death. The pair together bore a family of seven -- Terre Carson-Jones, Dawn Carson, Kip Carson, Chris Carson, Bonnie Carson, Diana Carson and Randy Carson. Donald was employed for many years by Consolidation Coal Company as a head driller for surface mining operations. Sadly, Martha passed away in July 1987. Donald outlived his wife by more than 34 years. He retired in 1994. He liked to bowl, hunt, ride his motorcycle and play jokes. They held a membership in the House of the Shepherd in New Athens. As his health failed, Donald was admitted to Harrison Community Hospital. There, he succumbed to the spirit of death at the age of 88 on Jan. 2, 2022.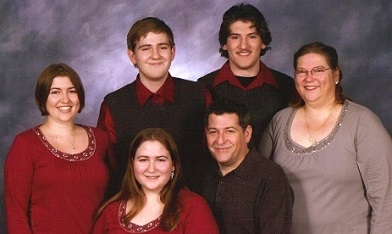 Above: family of Russ and Terre Carson-Jones. Below: Terre's photographs of temporary memorials to slain students at Virginia Tech in the spring of 2007.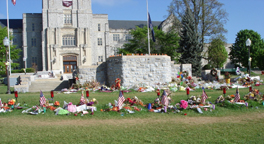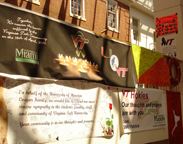 Great-granddaughter Terre Carson-Jones is married to Russell Jones and has a family of four children. They have dwelled in Front Royal, VA. Terre has spent her career a seventh grade teacher in Manssas, VA, attended our national reunion in 2013 and generously has provided content for this biography. In 2007, with her daughter as a student at Virginia Tech, she photographed a number of makeshift memorials on the campus in memory of the 32 students senselessly massacred in the tragedy of April 16, 2007. Writes Terre:
As my daughter is an engineering major, our hearts certainly went out to the families who lost children April 16th. My husband's co-worker lost her daughter, who was only a freshman, in the shooting. We went down in May and I put together a memorial collage for my daughter and her boyfriend who also an engineering major at Virginia Tech. I took the photos because we knew that it would be temporary, and I wanted to catch it the way it was during the spring, before the students all left for home. When we went back June 30, it was all taken down and put away.

Great-grandson Dawn Carson resided in 2022 in New Athens, OH.
Great-grandson Kip Carson wed Heiddi. The couple put down roots in New Athens.
Great-grandson Chris Carson was joined in marriage with Darla. They have lived in Springfield, MO.
Granddaughter Louanna Louise Carson

( ? - ? ) wed (?) Richards. She was deceased by 2022.
Son Frank Oakley Culbertson (1908- ? ) was born in 1908. He married Mabel Murphy ( ? - ? ). They had one son, Phillip Culbertson.
Son Samuel Albert Culbertson (1910-1990) was born on Aug. 18, 1910 in New Athens. In about 1940, he married Virginia Strahl (Aug. 2, 1912-2005), a native of Warnock, Belmont County, OH and the daughter of Alvery C. and Bertha L. (Baumberger) Strahl. They had two daughters, Linda Culbertson and Sandra Culbertson. Virginia was employed as a secretary by Imperial Glass Company. She went on to a 27-year working career as a postal clerk in New Athens, retiring in 1976. She was active with the New Athens Presbyterian Church and its Missionary Society, the Band Mothers, the local Community Club and as a Girl Scout leader. In about 1990, the couple celebrated their golden wedding anniversary. At the age of 79, Samuel died on April 17, 1990. His remains were lowered into repose in Belmont County Memorial Park in St. Clairsville. Virginia endured for another 15 years. As her health failed, believed to have included Alzheimer's, she became a resident of Bell Nursing Home in Morristown, Belmont County. She was taken away by the Angel of Death at the age of 93 on Nov. 12, 2005. Rev. Jack Visser preached her funeral sermon, with interment following in Belmont County Memorial Park Cemetery. An obituary was published in the Wheeling News.
Granddaughter

Linda

Culbertson

married (?) Murphy. Their home in 2005 was in Flushing, OH.
Granddaughter Sandra

Culbertson

wedded (?) Tom. In 2005, they dwelled in Cadiz.
Son Roy Minard Culbertson (1915-1997) was born on Oct. 29, 1915. He married Pearl K. Glover (April 19, 1920-2004), daughter of Harry and Mabel (Hawthorne) Glover. They resided for many years in New Athens and produced three children -- Minard Glover Culbertson, Mary Kethleen Culbertson and Burde Ma Culbertson. Pearl grew up in St. Clairsville, OH and as a young woman attended Elliott Business College across the Ohio River in Wheeling, WV. She belonged to the New Athens Presbyterian Church and was active as treasurer of the congregation, a vocalist and organist with its choir and as a member of the Mary Williams Missionary Society. Roy passed away on Jan. 15, 1997 at the age of about 82. Pearl lived for another seven years and was admitted to Harrison Community Hospital in Cadiz. She succumbed there at the age of 84 on Oct. 23, 2004. Rev. Jack Visser officiated at her funeral service. Their remains are in eternal repose in Longview Cemetery in New Athens. An obituary noted that she was survived by five grandchildren, five great-grandchildren, three step-grandchildren and four step great-grandchildren.
Granddaughter Burde Ma Culbertson (1953-2009) was born on Nov. 7, 1953 in Wheeling, Ohio County, WV. She never married and lived with her parents for decades. She passed away at the age of 56, as a patient in East Ohio Regional Hospital in Martins Ferry, Belmont County, OH on Nov. 11, 2009. Burial was with her parents in Longview Cemetery in New Athens, and an obituary appeared in the Martins Ferry Times Leader.
Copyright © 2002, 2004-2005, 2007, 2019, 2021 Mark A. Miner
Virginia Tech photos copyright © 2007 Terre Carson-Jones