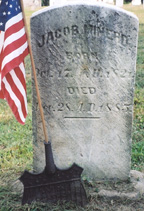 Lutheran Cemetery,
New Rumley
Jacob Minerd was born in on Oct. 17, 1821 near New Rumley, Harrison County, OH, the son of George and Susannah (Smith) Minard. He and his family had tragic and, ultimately, self-destructive lives.
On Dec. 9, 1847, at the age of 26, Jacob was united in matrimony with 19-year-old Mary Ann Kimmel (1828-1881), by the hand of Rev. A. Bartholomew, pastor of the Evangelical Lutheran Church of New Rumley. Mary Ann was the daughter of justice of the peace Frederick Kimmel.
The Minerd and Kimmel families were close. Jacob's widowed sister-in-law Catherine (Gillespie) Minard would wed Mary Ann's brother Joseph. Click for more on the Kimmels.
The Miners together bore a brood of at least six children – Elizabeth A. Minerd, Martha "Jane" Manbeck, Henry "Franklin" Minard, Barbara "Ellen" Minerd, John W. Minard and Sarah Margaret Kyle.
Sadly, daughter Elizabeth died at age four in October 1853. She is buried near her parents at the Lutheran Church Cemetery near New Rumley.
When the federal census was taken in August 1850, the Miners lived next door to Jacob's brother John W. Minard/Miner. Both families were listed as farmers.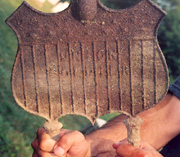 "Union Soldier" plaque found
at Jacob's grave, 2001
The census of 1860 shows the family residing near New Rumley, with Jacob working as a laborer, and Mary Ann as a house keeper.
By July 1870, when the census again was enumerated, the Miners lived near New Rumley, with the 48-year-old Jacob employed as a carpenter.
It's possible that Jacob served during the Civil War. In 2001, a visit to his grave revealed that a metallic marker, inscribed "Union Soldier," and a flag are mounted beside his marker, seen here. If he indeed served, his regiment is unknown, but will be researched. Interestingly, Jacob's grave at the Lutheran Church cemetery in New Rumley spells the family name "MINERD."
A series of tragedies began to run in this family in 1881. That year, on April 12, wife Mary Ann passed away, at age 53, of causes unknown. She was lowered into eternal sleep in the sacred soil of the Lutheran Cemetery near New Rumley. The spelling on the family name on her marker was "MINER."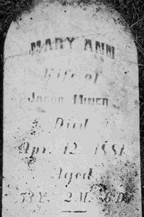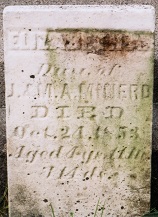 Graves of Mary Ann (1881), daughter Elizabeth (1853)
The following year, on Nov. 25, 1882, Jacob wed Susan Trushel ( ? - ? ), the daughter of Peter and Fannie (Little) Trushel. He was age 61 at the time.
It was a troubled union. And at some point, in the mid-1880s, daughter Ellen was institutionalized in Harrison County for symptoms of mental illness.
After just three years of marriage, on the day after Christmas 1885, Jacob took his own life by "cutting his throat with a razor." He was just 55 years of age. His tired remains were laid to rest beside his first wife.
Said the Cadiz Republican, Susan then "attempted to kill herself by hanging, but did not succeed. Her friends discovered that her mind was deranged, and she was brought to Cadiz and placed in jail for safe keeping." She was declared "an insane person" by the county probate court, and was taken to an asylum in the state capitol of Columbus.
Sadly, reported the Republican, she "died at that institution within a few days after her arrival."
Daughter Barbara was not told when her father took his own life in December 1885. In December 1887, still not knowing of his death, she was transferred to the Central Insane Asylum in Columbus, OH. There, she was kept under close watch for possible suicide.
In early May 1888, she finally learned of her father's death, "which seemed to weigh heavily on her mind," said the Cadiz Republican. On May 12, 1888, she slipped past her attendants at the asylum, and jumped to her death from the roof of the building.
Susan is mentioned in Beers' 1891 book, Commemorative Biographical Record, Harrison, Ohio.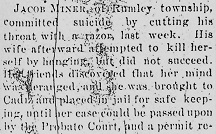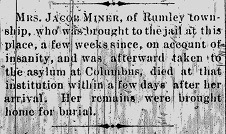 Obituaries for Jacob and Susan, Cadiz Republican
Copyright © 2002, 2007-2008, 2019, 2021 Mark A. Miner