John W. Minard
(1855-1904)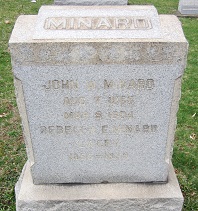 Lutheran Cemetery, New Rumley
John W. Minard was born on Aug. 7, 1855 near New Rumley, Harrison County, OH, believed to have been the son of Jacob and Mary Ann (Kimmel) Minerd.
Circa 1875, when he would have been about 20 years of age, John was joined in the bonds of holy wedlock with 20-year-old Rebecca E. Galbaugh (Aug. 1855-1935), the daughter of John and Susanna (Knouff) Gelbaugh and a native of Wisconsin. Thus Rebecca would have been a cousin to John's great-aunt, Rebecca (Knouff) Minard.
The Minards produced at least three children -- Cora Alice Cowen, Laura L. Jamison and Charles Milton Minard.
When the federal census enumeration was made in 1880, the Minards dwelled on a farm in Allen Township, Darke County, OH.
But by 1900, the family had moved back to New Rumley. The 1900 United States Census shows John earning a living as a farmer, and his 16-year-old nephew Emmet Manbeck -- son of his sister Martha Jane (Minard) Manbeck -- in the household.
In 1902, a Cadiz Republican article reported that they entertained their son in law "Mr. George Jamison of Dennison [who] was in Cadiz last Friday on business. He and Mrs. Jamison have been visiting her parents Mr. and Mrs. J.W. Minard, near Jewett."
John passed away on March 6, 1904, at the age of 59. He is buried in the Brethren Church in New Rumley, and has a prominent, large headstone.
Rebecca married again, to Scott Lacey ( ? - ? ). Nothing more is known about Scott, and his fate is lost to history.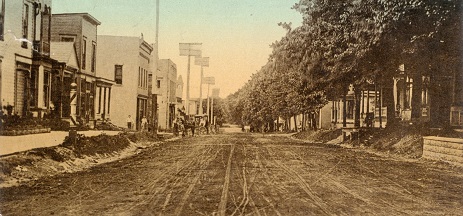 Jewett's unpaved Main Street, looking west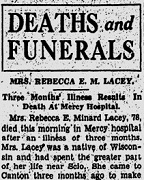 Canton Repository
In later years, after being widowed a second time, Rebecca made her home with her children in Scio. She relocated to Canton, Stark County, OH (at 625 Exeter Avenue Southwest) in October 1934 to reside with her son Charles.
At the age of 78, Rebecca slipped and fell in the bathroom of Charles' home in Canton, fracturing her neck. As she convalesced, pneumonia set in, and she failed quickly.
She died on Jan. 11, 1935, at Mercy Hospital in Canton. Her remains were returned to New Rumley for burial beside her first husband. An obituary was published in the Canton Repository. Her hometown newspaper, the Cadiz Republican, stated in a brief news item that her remains had been "brought here Sunday afternoon from Canton for interment, the funeral services being conducted in the United Brethren Church by Rev. J.J. Wagner." The same column in the Republican also reported that John's cousin John W. Miner of Canton visited in town on the day of the funeral, spending time with the family of M.O. Manbeck, and possibly attended the funeral.
In 1921, when the History of Carroll and Harrison Counties, Ohio was published, John and Rebecca were mentioned by name in a chapter about their son in law George Jamison.
~ Daughter Laura L. (Minard) Jamison ~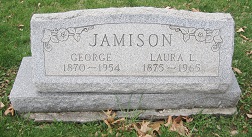 Lutheran Cemetery, New Rumley
Daughter Laura L. Minard (1875-1965) was born in September 1875.
She spent part of her growing-up years on a farm in Allen Township, Darke County, OH.
At the age of 19, Laura married 24-year-old married George Jamison (1870-1954), the son of William Jamison. The wedding took place in Harrison County on Feb. 18, 1895, by the hand of justice of the peace David Lucas. Because Laura was legally underage, her father signed his name to the marriage license. Her surname of "Miner" and the father's of "Minard" appear on the same marriage document.
They had at least one son, Gernard Graham Jamison.
In 1900, the Jamisons lived in Dennison, Tuscarawas County, OH when the federal census was taken. George worked that year as a railroad brakeman.
When the federal census was taken in 1910, they resided on a farm near Scio. By that time, George had left the employ of the railroad, and labored as a farmer.
Their nest now empty, Laura and George were in the Scio area in 1920, in a home along the Scio and Hanover County Road. George's occupation remained as a farmer.

Chapter about George and Laura in the
1921 History of Carroll and Harrison Counties
George and Laura were featured in a chapter of the book History of Carroll and Harrison Counties, Ohio, published in 1921. Of George, the entry said that he:
...now numbered among the substantial representatives of farm industry in North Township.... When about twenty years of age he began working by the month as a farm employe, and after his marriage, in 1895, he was for four and one-half years employed as a workman on the line of the Panhandle Railroad. Since that time he has marked his course by progressive independent enterprise as an agriculturalist and stock-grower in his native county, his operations having continued on rented land until March, 1910, when he purchased a farm of 125 acres in North Township, to which he has since added until now has a valuable farm property of 153 acres. This homestead is the stage of his vigorous activities as an agriculturalist and stock grower, and as a loyal citizen he takes lively interest in all things touching the communal welfare and the advancement of the civic and material prosperity of his native county. His political allegiance is given to the republican party, and his wife holds membership in the Presbyterian Church at Scio.
In 1930, Laura's widowed mother, age 72, lived under their roof near Scio.
George passed away in 1954, at the age of 84. He was laid to rest next to Laura's parents in the United Brethren Church Cemetery.
Laura survived her husband by 11 years. At the age of 90, she died in 1965, and rests for eternity beside her husband.
Son Gernard Graham Jamison (1895-1965) was born on April 18, 1895 in Scio. As a young man, he worked in agriculture as did his father. Bernard married local teacher Margaret W. Grissinger (1895-1977) on May 17, 1918, by the hand of Rev. A.R. Elliott of the local Methodist Episcopal Church. She was a native of Scio, and the daughter of John and Cora (Herron) Grissinger. Three children born to this union were George E. Jamison, Ruth E. Gustafson and Robert O. Jamison. George served in the U.S. Army during World War I, training at Camp Sherman in Ohio and Camp Taylor in Kentucky, but remained stateside and was discharged when the war ended. Circa 1921, when mentioned in his father's chapter in the History of Carroll and Harrison Counties, they lived at Steubenville, Jefferson County, OH. By the early 1930s, they had migrated to Cleveland, where he found work with the Tapco Company. The Jamisons moved again to Streetsboro, OH, and their address in 1965 was 1076 Gaynelle Avenue. He passed away in the Cleveland Clinic at the age of 69 on March 28, 1965. The remains were shipped to New Rumley for burial. His obituary appeared in the Akron Beacon Journal. Margaret survived her husband by a dozen years. Her final residence was in the Sunnyslopes Nursing Home in Bowerston, OH. She passed away on April 3, 1977, with an obituary published in the Dover Daily Reporter. Interment was in the United Brethren Cemetery, and Rev. Glenn Brunstetter conducted the funeral in the United Methodist Cemetery.
Grandson George E. Jamison (1922-2006) was born on Oct. 27, 1922 in Scio. After completing high school, he joined the U.S. Air Force during World War II and spent four years overseas as a U.S. Marine Corps pilot. On Feb. 11, 1949, when he was 26 years of age, he was united in matrimony with 21-year-old Mary Jean Ice (Oct. 30, 1927- ? ), daughter of Parker C. and Verna (Kreager) Ice of Glenford, Perry County, OH. The nuptials took place in or around Brownsville, OH, by the hand of Rev. L.C. Wells. In announcing the marriage, the Newark (OH) Advocate pictured the couple and said that Mary Jean "had chosen a two-piece brown striped tafetz suit with which she wore a hat of pink, blue and brown veiling. Replacing the traditional bouquet she carried a white Bible belonging to her mother which was decorated with a white orchid from which fell a shower of ribbon." Mary Jean was an alumna of Glenford High School and attended Muskingum College. She graduated from the Barbizon School of Fashion Modeling in New York City and in her early career worked for Swansdown Suits and Coats. At the time of marriage, she was employed in Columbus with the University Shop at The Union. Together, the pair bore four offspring -- Leslie Gill, Stacy Lodico, Julie Jamison and Robert Jamison. George studied architectural engineering at Ohio State University and received his bachelor of science in 1952. The couple moved to Indianapolis and were there in 1965. By 1977, they moved again to Worthington, OH. He was a longtime member of the American Institute of Architects, and retired from the practice of architecture in 1987. When they were named in the 1999 obituary of Mary Jean's father, the pair were cited as living in Columbus. George was active in the Linworth United Methodist Church and the Linworth Lions Club. In about 2004, they moved from Columbus to Bedford, TX. George surrendered to the spirit of death at age 83 on March 10, 2006. The Columbus Dispatch published an obituary.
Granddaughter Ruth E. Jamison (1929- ? ) was born in about 1929. She wed (?) Gustafson. Circa 1965, she lived in Chardon, OH. At some point she moved and in 1977 made her home in Atlanta. She was deceased by 2006.
Grandson Robert O. Jamison (1921- ? ) was born in about 1921 in Ohio. He was deceased by 1965.
~ Son Charles Milton Minard ~
Son Charles Milton Minard (1877- ? ) was born on Aug. 9, 1877 near New Rumley.
Some of his childhood years were spent on a farm in Allen Township, Darke County, OH.
Charles was a longtime farmer and as a young man lived in Jewett, Harrison County. He was of medium build and height, with auburn hair and blue eyes.
At the age of 22, he married 19-year-old Myrtle Vernie Markley (1880- ? ) on Aug. 13, 1899. Rev. W.B. Leggett performed the ceremony. Myrtle was the daughter of Rice (?) and Sarah (Shambaugh) Markley.
They did not reproduce.
The Minards first made their home in New Rumley, Harrison County, where Charles was a farmer.
Sometime in the early 1900s, they relocated to Canton, Stark County, where Charles found work as a post office foreman and letter carrier, employed by the United States government circa 1910-1930. During World War I, in September 1918, Charles registered for the military draft. He disclosed his occupation as mail carrier for the post office located in the Federal Building in Canton, and that Myrtle was his next of kin.
Circa 1935, his address was 625 Exeter Avenue SW.
In February and March 1939, Charles and Myrtle spent six weeks on vacation in the southern United States. One of their stops was Alexandria, LA, where they visited with Myrtle's uncle Andrew Shambaugh. Upon their return, they spent a weekend with C.W. Markley and Martha Markley, debriefing them on their travels. The news was duly noted in the Bowerston column of the Cadiz Republican.
~ Daughter Cora Alice ( Minard) Cowen ~
Daughter Cora Alice Minard (1882- ? ) was born in 1882 near New Rumley. Her birth year also has been stated in government records as 1886.
At the age of 18, she married farmer Edson Garfield Cowen (1882- ? ), son of William D. and Sarah E. (Markley) Cowen. Edson was born in Darke County but at the time of marriage lived near New Rumley. While the couple anticipated that Rev. Lilly would conduct the nuptials, Rev. Joshua H. Conkle actually oversaw the ceremony, held on New Year's Day 1901.
Edson was of medium height and build, with grey eyes and brown hair.
The couple did not reproduce, but helped raise a foster daughter, Ruby M. Jones.
In 1910, Cora and Edson resided in Springfield township, Jefferson County, OH, where he labored as a coal miner. Boarding under their roof in 1910 were John Nenban (age 28) and Homer Nenban (17), both of whom also worked in local coal mines.
By 1918, when Edson registered for the military draft during World War I, he and Cora had moved to Michigan, settling in as farmers in Brethren, Manistee County.
The federal censuses of 1920 and 1930 show the childless couple making their home on a farm near Dickson, Manistee County. The 1910 and 1920 census records list a live-in servant or "companion" for Cora, Ruby M. Jones of Ohio, who also has been known as their foster daughter.
Circa 1935, the Cowens lived in Brethren.
By 1940, the federal census enumeration lists the Cowens in Dickson. Edson earned a living as a maintenance supervisor for a county road. At that time, 47-year-old foster daughter Ruby was living under their roof.
Sadly, Cora died in 1966.
Edson survived her by five years. He passed away in 1971. Burial was in the Brethren Cemetery in Brethren.
Foster daughter Ruby M. Jones (1893- ? ) was born in about 1893 in Ohio. At what point in time she was taken in by the Cowens is not known, but it was sometime before 1910. In 1940, at the age of 47, she was a resident in their household in Dickson, Manistee County, MI.
Copyright © 2002, 2007-2008, 2012-2013, 2019, 2021 Mark A. Miner