Home

Elizabeth (Miner) Davis
(1852-1928)
Elizabeth (Miner) Davis was born on Dec. 30, 1852 in Lee or Des Moines County, IA, the daughter of Nathaniel and Susan (Abbott) Miner.
On Nov. 8, 1871, at the age of 18, she was joined in the bonds of wedlock with 21-year-old John Columbus Davis (Jan. 15, 1850-1930), son of George and Barbara (Craiglow) Davis of Des Moines County.
The couple produced two daughters -- Nettie Stoner and Susannah Siebert.
When the federal census enumeration was made in 1880, the Davises dwelled on a farm in Round Prairie, Jefferson County, IA. At some point they moved to Elizabeth's home region of Leee County and put down roots in Fort Madison.
In 1900-1908, the Davises lived in Fort Madison, and the 1900 U.S. census shows John's occupation as a farmer.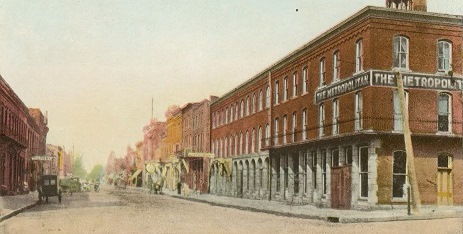 Second Street, looking west, in Fort Madison
John obtained employment during the 1900s as a section man with a local railroad and is shown in this work in the 1910 census.
The 1920 census lists John now earning a living as a scrapman for the Perfection Tire Company. The couple's address in Fort Madison in 1928 was 2521 Avenue J.
For the last two years of her life, Elizabeth was burdened with gallbladder issues. Then in mid-December 1928 she was stricken by a cerebral hemorrhage. After lingering for 10 days, she surrendered to death at age 76 on Dec. 29, 1928. Her remains were placed into rest in Oakland Cemetery in Fort Madison
John only outlived his wife by two years and appears to have earned a living as a bank janitor at that time. The 1930 census lists him in the household of his grandson Clarence W. Stoner and family in Fort Madison.
He developed cancer of the sigmoid colon which led to obstructions of the intestinal tract. He underwent resection surgery in Sacred Heart Hospital on July 7, 1930 and died six days later on July 13, 1930. Grandson C.W. Stoner of Fort Madison signed the official Iowa death certificate.
~ Daughter Nettie (Davis) Stoner ~
Daughter Nettie Davis (1872-1962) was born in 1872 in Iowa.
When she was 19 years of age, on April 22, 1891, she entered into marrige with 22-year-old Reuben Clarence Stoner (1870-1945), son of John and M. (Lyle) Stoner of Fort Madison. Methodist Episcopal pastor Rev. A.V. Kendrick performed the nuptials.
At the time of marriage, Reuben was employed as a caller with the Santa Fe Railroad.
The couple's only son was Clarence William Stoner.
Reuben moved up the ranks within the railroad and by 1910 was a locomotive engineer with the company. He remained in this position through the 1910s and 1920s and into 1930.
Nettie passed away in 1962. Burial was in Fort Madison's Oakland Cemetery.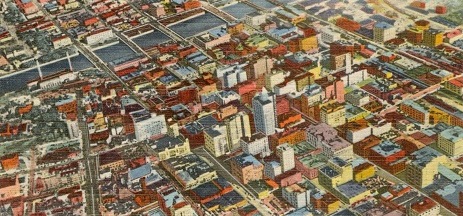 Des Moines, Iowa, where the Stoners moved in 1938
Son Clarence William Stoner (1900-1957) was born on Dec. 1, 1900 in Fort Madison. He stood 5 feet, 5 inches tall, with blue eyes and brown hair and a scar in the corner of his right eye. Clarence wed Laura Dunivan (1901-1988). Two children born to this union were Jack Eugene Stoner and Audrey M. MacRae. They were in Gary, IN in 1927 at the birth of their daughter. The pair then resided in Fort Madison, where in 1930 Clarence was employed as a salesman for an electric refrigerator company. They also provided a home for Clarence's aged grandfather Davis that year. Then in 1938, the Stoners relocated to Des Moines where he opened his own business, a tinning shop. Clarence was required to register for the military draft in 1941, at which time he was unemployed and the family dwelled at 1330 West Fourth Street in Des Moines. He eventually found a job as a laborer with Groves Sheet Metal Company and in October 1957 retired from the position. He held memberships in the local lodge of the Masons and the Moose. Their final residence was at 1212 40th Street in Des Moines. Clarence contracted cancer and four months after the diagnosis, he died at the age of 56 in May 1957. He was pictured in his obituary in the Des Moines Tribune, which said that burial would be in Oakland Cemetery, Fort Madison, and that he was survived by five grandchildren. Laura outlived her husband by more than three decades and remained in their city. The angel of death swept her away on Dec. 20, 1988.
Grandson Jack Eugene Stoner (1923-2014) was born on April 23, 1923 in Fort Madison. He was an alumnus of North High School and Drake University, where he played the clarinet in the orchestra and band. He joined the U.S. Army Air Corps and in 1943 was stationed in East Lansing, MI and Fort Myers before a transfer to the Pacific Theatre and a posting in Okinawa. On June 19, 1943, he was joined in wedlock with Marian Lois Davis (Dec. 12, 1923-2018), daughter of Harry and Esther Davis and a native of Grand Junction, IA. Their nuptials were held in Lansing, where he was stationed at the time. The marriage endured the ups and downs of an extraordinary 71 years. The pair became the parents of three -- Dennis Stoner, Susan Huff and John Stoner. Marian was a graduate of the American Institute of Business in Des Moines. They made a home for many years in Des Moines and belonged to the First Christian Church. Jack was a longtime mail carrier for the U.S. Post Office. Marian earned a living as a secretary for American Republic Insurance, the Army Corps of Engineers and finally the Internal Revenue Service, from which she retired in 1979. With both Jack and Marian retired, they relocated to Missouri and resided along Table Rock Lake at Shell Knob, MO. In 1993, they returned to Des Moines. Jack was a board member of the Postl Credit Union. Reported the Des Moines Register, "Marian enjoyed crafting, bridge and made many beautiful quilts that the family will enjoy for generations. She was also an avid golfer taking it up in retirement and even had 3 holes in one!" They both liked to root for the Cyclones, Bulldogs and Hawkeyes as well as the Chicago Cubs. Jack received the honor of being part of a 2011 Honor Flight with other veterans to Washington, DC so that they could visit their war memorial. Sadly, Jack died on Oct. 5, 2014 as a patient in Des Moines' Mercy Medical Center. His photograph appeared in his obituary in the Register. Marian survived for another four years and passed into the arms of the angels at the age of 94 on Sept. 10, 2018. She too was pictured in her Register obituary. She was survived by three grandchidren and four great-grandchildren.

Great-grandson Dennis Stoner wed Pamela and in 2018 they lived in Phoenix.

Great-granddaughter Susan Stoner married Jack Huff. The couple resided in Naples, FL in 2018.

Great-grandson John Stoner was joined in wedlock with Carla. Their home has been in West Des Moines.

Granddaughter Audrey M. Stoner (1927-2021) was born on May 27, 1927 in Gary, IN. At the age of 11, she moved with her family to Des Moines. Audrey was a graduate of North High School and went on in 1948 to graduate from Iowa Methodist Nursing School. In 1948, she was united in matrimony with Angus "Scotty" MacRae ( ? - ? ). Two sons born to the couple were Ric MacRae and Al MacRae. For decades, the couple lived in the Des Moines suburb of Urbandale, IA. Audrey eventually earned her bachelor's degree in nursing. Said the Des Moines Register, "Audrey worked in public health and then as a nurse for the Urbandale School District for over 30 years, where she developed the school's first nurse program. She retired in 1989 and is fondly remembered by many former students and staff... She enjoyed sewing and generously donated children's clothing and blankets to Blank Children's Hospital and various Mission organizations." She held memberships in the First Christian Church and Urbandale Lioness Club and also attended Waukee Christian Church. As her health declined in old age, Audrey became a resident of Independence Village in Waukee, IA. She remained there for three years until her passing at the age of 94 on Oct. 12, 2021. She was pictured in her obituary in the Des Moines Register.

Great-grandson Ric MacRae married Sue.

Great-grandson Al MacRae wed Gina.
~ Daughter Susannah Barbara "Susie" (Davis) Seibert ~
Daughter Susannah Barbara "Susie" Davis (1874-1959) was born on Jan. 25, 1874 in Green Bay, IA.
On May 3, 1893, when she was 19 years of age, she was united in matrimony with 33-year-old John B. Seibert//Sibert (May 1857- ? ), a barber and son of German immigrants Noah and Eliza (Willens) Siebert. Officiating their wedding was Rev. J.N. Dewell, pastor of the Santa Fe Avenue Methodist Episcopal Church.
Together the couple produced a daughter, Pearl "Grace" Conover Pierce.
Census records for the year 1900 show the couple living on Webster Street in Fort Madison, with John working as a day laborer.
At some point by 1910, the family migrated to Southern California and first planted stakes in San Bernardino, with John employed as a barber in 1910. Later they relocated to Los Angeles.
Susan passed away on March 3, 1959.
Daughter Pearl Grace "Gracie" Seibert/Sibert (1894-1959) was born on March 26, 1894 in Iowa. As a teen, she accompanied her parents on their move to Southern California. They first resided in San Bernardino and later in Los Angeles. When she was 19 years of age, on June 28, 1913, in Los Angeles, Grace entered into marriage with Illinois native Harry Earl Conover (1891-1971). Their two known sons were Donald H. Conover and Hilbert E. Conover. The federal census enumeration of 1920 lists the pair in Los Angeles, with Harry employed as a deliveryman for a delivery and messenger company. The marriage dissolved, and by 1929 Grace had married again to (?) Pierce ( ? - ? ), also misspelled as "Price." They all were plunged into grief at the death of their teenage son Donald in the summer of 1929. The Pierce marriage ended by 1930, at which time Grace at age 36 shared a home with\son Hilbert on Marsh Street in Los Angeles. She evidently took back her first married name, but this needs to be confirmed. Mother and son continued to live under the same roof in 1940, this time at 2340¼ Johnston Street. Evidence suggests that Grace may have wed a third time to (?) Michener ( ? - ? ). She is reputed to have died on March 3, 1959.
Grandson Donald Harry Conover (1914-1929) was born on Jan. 2, 1914 in Los Angeles. Sadly, at the age of about 15, he died on July 1, 1929. Interment of his remains was in Forest Lawn Cemetery, with the words "Thoughtful, loving, kind" inscrobed on his grave marker. A death notice appeared in the Los Angeles Times.
Grandson Hilbert Earl Conover (1915-1983) was born on Dec. 6, 1915 in San Bernardino, CA. A bachelor at the age of 24, in 1940, he resided with his mother in Los Angeles and earned income as a dishwasher in a restaurant. He registered for the military draft in 1940 and disclosed that his employer was Long Beach Vocational High School in Long Beach, CA. On April 27, 1944, he wed Norma Lenia "Normie" Swanson (May 23, 1914-2007), a native of Platte, NE and the daughter of John Edwick "Ed" and Beda M. (Nardgren) Swanson. She brought a stepdaughter into the union, Lorreen F. Swanson/Conover. The United States Census of 1950 shows the Conovers in Los Angeles, with Hilbert working in a printing shop as a stock cutter. Sadly, Hilbert passed away in Los Angeles on Jan. 4, 1983. Norman outlived her spouse by 24 years. She succumbed to the spectre of death in Los Angeles on May 31, 2007.

Step-great-granddaughter Lorreen F. Swanson (1941- ?) was born in about 1941 in Nebraska. She grew up in Los Angeles.
Copyright © 2000, 2005, 2020, 2022 Mark A. Miner