Elizabeth (Miner) Davis
(1852-1929)
Elizabeth (Miner) Davis was born on Dec. 30, 1852 in Lee County, IA, the daughter of Nathaniel and Susan (Abbott) Miner.
Circa 1871, at age of about 18, she was joined in the bonds of wedlock with 21-year-old John C. Davis (Jan. 1850- ? ), a native of West Virginia.
The couple produced two children.
In 1900-1908, the Davises lived in Fort Madison, Lee County, IA. The federal census enumeration of 1900 shows John's occupation as a farmer.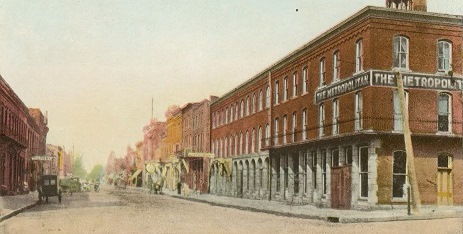 Second Street, looking west, in Fort Madison
John obtained employment during the 1900s as a section man with a local railroad and is shown in this work in the 1910 census.
The 1920 census lists John now earning a living as a scrapman for the Perfection Tire Company.
Elizabeth died in late 1928 or in January 1929. Her remains were placed into rest in Oakland Cemetery in Fort Madison
John only outlived his wife by two years. He passed into eternity in 1930.
Copyright © 2000, 2005, 2020 Mark A. Miner