Eliza 'Ella' (Miner) Guessman
(1857-1934)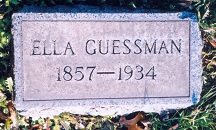 German & Reformed Lutheran Cemetery
Eliza "Ella" (Miner) Guessman (also spelled Gessaman) was born in 1857 near Champion, Trumbull County, OH, one of 13 children of Joseph and Elizabeth (Forney) Miner.
A newspaper once remarked that she was "a lifelong resident of Champion township."
On Oct. 7, 1897, at the age of 41, Ella married 42-year-old Henry B. Guessman (1857-1931), a resident of nearby Warren, Trumbull County. He was the son of Jonathan and Katherine (Brant) Guessman and a native of Lebanon County, PA. The ceremony was performed by Henry A. Hensel, a minister of the gospel.
The couple did not have any known children.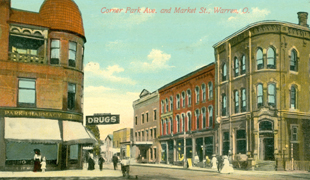 Warren's Park Avenue and Market Street, early 1900s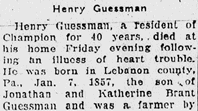 Warren Tribune Chronicle
The Guessmans were farmers, and resided near Champion. Henry was a member of the English Lutheran Church in Youngstown, OH, and Ella belonged to the Delightful Evangelical Church for a half-century, according to the Warren (OH) Tribune Chronicle.
When the federal census was taken in 1900, Ella's 46-year-old bachelor brother Cornelius was residing in their home, and helped provide labor on their farm.
Henry passed away on March 13, 1931, at the age of 74. His pallbearers, said the Tribune Chronicle, were "Grant Ohl, Ralph Ohl, Henry Guessman, Evan Edwards, Grant Guessman and Meade Porter."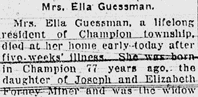 Obituary, 1934
Ella outlived him by just three years.
She became ill just after the New Year's holiday of 1933-1934. Five weeks later, at the age of 77, she passed away, on Feb. 7, 1934.
Ella and Henry are buried near her parents in the German & Reformed Lutheran Cemetery near Southington, Trumbull County.
Copyright © 2003-2004, 2009, 2020 Mark A. Miner