Cornelius Miner
(1853-1918)
Cornelius Miner was born on Oct. 2, 1853 near Champion, Trumbull County, OH, one of 13 children of Joseph and Elizabeth (Forney) Miner.

When the federal census was taken in 1900, 46-year-old Cornelius was single. That year, he resided in the Champion home of his married sister, Ella Guessman, and helped on the farm.
Apparently later in life, Cornelius married Mary Elizabeth Ward (1859-1924). She was a native of Chambersburg, PA, and the daughter of John Ward. They had no known children.
The Miners resided at Hardscrabble near Champion, Trumbull County, a suburb of Warren. By occupation, he was a farmer, and she was a housewife.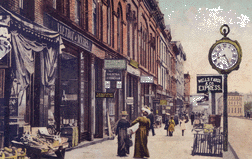 Much later in life, they lived at 619 Taylor Avenue in Warren. Seen here is a rare old photographic postcard showing a street in downtown Warren.
Cornelius suffered from carcinoma of the tongue. He passed away from its effects, at age 64, on March 21, 1918. He was laid to rest in Oakwood Cemetery in Warren. Said the Warren (OH) Daily Tribune, "The pallbearers were Henry Rowe, Jonathan Wilcox, Lee Snyder, Sherman Hardman, Nathan Moyer and Thomas Mathany."
Mary Elizabeth suffered from hardening of the arteries. She died from the disease at age 64 on June 22, 1924. The funeral was held at the home of Fred Fox at 619 Taylor Avenue in Warren. Her pallbearers were Harry Sample, T.W. Quackenbush, L. Snyder, cousin James Mathany, A.C. Barton and Mr. Wilson. Said the Warren Tribune and Chronicle, "Lovely floral offerings were on the casket, an expression of the many friends of the deceased."
She was buried with her husband.
Copyright © 2003-2004, 2009 Mark A. Miner