Emily (Miner) Holmes
(1844-1928)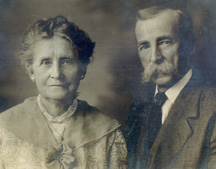 Emily and Lemuel Holmes
Emily (Miner) Holmes was born in 1844 in Brownsville, Licking County, OH, the daughter of Jacob and Mary (Ferguson) Miner.
Emily married Lemuel Walsingham Holmes (1847-1922), a native of Muskingum County, OH and the son of William Thomas and Sarah Elizabeth (Shuey) Holmes.
According to the 1894 book, Memorial Record of Licking County, Ohio, Lemuel's father was said to be an "active, energetic man, doing all he could to educate his children and train them for honorable positions in life. This he did willingly, nothing being required of the children except application to their studies. He was a kind, indulgent father, whose memory will never be severed from this goodness of heart."
Emily and Lemuel together bore two children -- Bessie Elnora Iden and Lemuel "Park" Holmes.
The Holmses lived in Brownsville, where Lemuel was "engaged in the mercantile business," said the Memorial Record.
In 1881, Lemuel purchased Lot 32 in Brownsville. Two years later, in 1883, he purchased the west half of Lot 34, but just four years after that they sold away the lot.
Emily is said to have created and maintained a home so comfortable and filled with love that everyone remarked about it, in a day and age when housework was little but drudgery. She always offered good fellowship, warm charm and tasty food for guests. It is probable that she was musical, had learned to play the organ and enjoyed singing, and no doubt was responsible for the love of music imparted to her grandsons during their annual summer visits.
As an adult, one grandson, Lloyd Iden, would sing this song, while working, at the top of his voice:
Will there be any stars, any stars in my crown
When at evening the sun goeth down?
When I wake with the blest
In those mansions of rest
Will there be any stars in my crown?
Another old family favorite was an Irish ballad: "I wandered today to the hills, Maggie, and watched the scenes below..."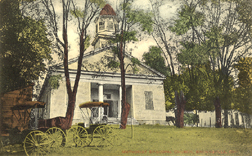 Brownsville Methodist Church
Emily was "a lifelong member of the Brownsville Methodist church," said the Newark Advocate, and "lived all of her life in Brownsville." A rare old color postcard photograph of the church is seen here. Note the horse-drawn buggies parked outside the sanctuary, at bottom left.
Lemuel owned a general store in Brownsville, selling groceries, tools, yard goods, and whatever else his neighbors needed. He was said to have been "a friendly, warm man." He suffered occasionally from migraine headaches, and on such days would lie on his counter and ignore his customers. They would say, "Oh Lem has a headache today, so just take what you want and mark it up on his list."
From letters a young grandson wrote home during summer vacations, we know that Lemuel also worked with wood, fixing doors and building needed household objects:
July 28, 1913. Dear Mama and Papa. I am getting along fine over her we made a cellardoor last weak we are going to put som bords on the back portch today we are having lots of fun. In the old house. I don't want to come home. We picked a chicken for diner Sunday and It was fine. good by dear papa and mama. Oh when are you coming over? LLOYD IDEN
On June 26, 1922, Lemuel died at home from hardening of the liver. The Advocate said he "had lived in the vicinity in which he died for over 30 years."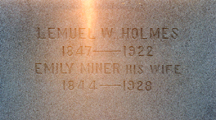 Cedar Hill Cemetery
After Lemuel's death in 1922, Emily moved to Chillicothe, Ross County, OH to reside with daughter and son in law, Bessie and Dr. Oliver L. Iden.
Sadly, said the Newark American Tribune, while "visiting her old home in Brownsville" in August 1928, Emily died after being stricken from the effects of a heart condition and hardening of the arteries.
She and Lemuel are buried together at the Cedar Hill Cemetery in Brownsville. Their son Park and his wife Willa rest directly next to them.
Lemuel's brother, Brownsville physician William E. Holmes, M.D., was profiled with a biography in the Memorial Record of Licking County.
Copyright © 2000, 2002, 2004-2005, 2007 Mark A. Miner