Jacob Miner was born on Feb. 11, 1801, probably near the mountainous border of Fayette/ Somerset County, PA, the son of Daniel and Mary Minor Sr. As a boy, he relocated with his parents to Sego, Perry County, OH, where they were pioneer settlers.
With his parents, Jacob was a member of the Hopewell Church Sunday School class circa 1812-1813.
On Dec. 22, 1824, at the age of 23, Jacob was united in holy matrimony with 20-year-old Mary Ferguson (1804-1881) in Perry County. The ceremony was performed by the hand of Rev. Jacob Meyers, a minister of the Gospel.
Jacob and Mary went on to produce a brood of at least eight children -- Joel Miner, Isabel Johnston, Rebecca Miner, James S. Minor, Daniel L. Minor, Nancy Miner, Elizabeth Johnston, and Emily Holmes. They also raised a presumed daughter Sarah A. Miner (born 1842) and presumed granddaughter, Mary Emery. The fates of Joel, Rebecca, Nancy and Sarah are unknown.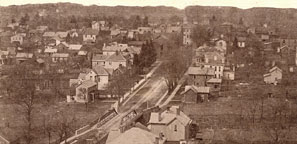 A bird's-eye view of Somerset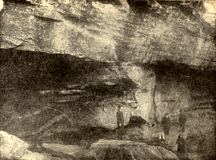 Lidey's Rocks near Somerset, Ohio
In the 1830s, Jacob acquired a family Bible, in which he handwrote the birth dates of his eldest six children. On another page of the Bible were written the births of the youngest children, but by 1907 the latter page was lost. As an old man, son Daniel used the old Bible records to prove his age when applying for a Civil War veteran's pension from the federal government. The information is now in file in the National Archives in Washington, DC, with a copy in the Minerd.com Archives.
The Miners first lived at Somerset, Perry County. During their years in Somerset, the Miners no doubt took opportunities to enjoy the natural beauty in the surrounding countryside.
Seen here is a rare photograph of Lidey's Rocks, a massive outcropping and overhang of rocks near Somerset, a popular destination for tourists. Note the people perched on the rocks at the lower right hand corner of the image.
Later, they relocated 12 miles north to Brownsville, Bowling Green Township, Licking County, OH.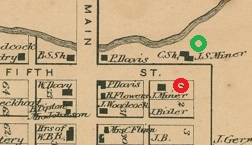 1866 atlas of Brownsville showing Jacob's
home (red dot) and son James' (green).
When his father died in 1854, Jacob inherited a full share of the estate, and signed papers which today are on file at the courthouse of Morrow County in Mt. Gilead, OH.
Their home circa 1866 was on Fifth Street at the northwest corner of the town's boundary, one block from Main Street, otherwise known as the National Road, U.S. Route 40 and the National Turnpike. Their son James dwelled across the street, and he kept a shop of some sort attached to his house. (The map maker mysteriously labeled it "C. Sh.") Behind James' house flowed Valley Run stream.
The federal censuses of 1860 and 1870 show the Miners residing in Bowling Green Township, Licking County. Jacob's occupation in 1860 was listed as "shop keeper" and Mary's as "house keeper." In their household that year were daughters Elizabeth (age 20), Sarah (19) and Emily (17) plus seven-year-old Mary Emery (relationship unknown, but presumed to be a granddaughter).
In 1870, Jacob's was recorded by the census-taker as a "shingle maker," and their married son Daniel lived just two doors away.
At the age of 77, Mary died on April 6, 1881. The cause of her passing is not known, but will be reported here when learned. She was laid to rest in Brownsville.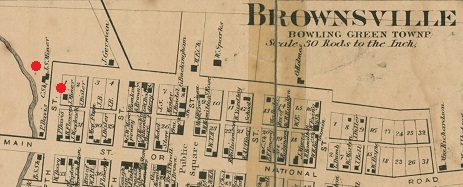 Atlas map of Brownsville, 1866, right after the close of the Civil War. The residences of Jacob and son James are marked with red dots, along Fifth Street at the northwest corner of the town's boundary.
Some four years later, Jacob died on Dec. 4, 1885 at the home of married daughter Emily Holmes in Brownsville. He was age 84. The Newark Weekly American noted that "He was born in Pennsylvania in the year 1801. He was a quiet, inoffensive, honest, christian man, universally respected."
Jacob and Mary are buried together at the Cedar Hill Cemetery in Brownsville. The arched sign at the cemetery entrance is seen here, circa 1995. They rest along the front entrance to the cemetery, in the old section.
In a biography of their son Daniel, the Miners both are mentioned in the 1883 book, History of Fairfield and Perry Counties, Ohio, compiled by A.A. Graham.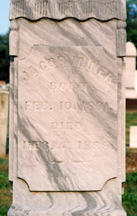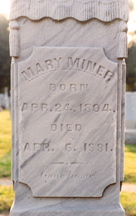 The Miners' graves at Cedar Hill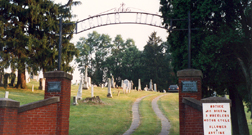 Cedar Hill Cemetery, Brownsville, Ohio
One of their daughters, either Rebecca or Nancy, however, married John Bell, and was living in Nebraska in 1909. Nothing more about them is known. This is being researched in detail, and will be reported here when more precise specifics are uncovered.
In 1976, Jacob's elderly grand-niece, Jeanette "Blanche" (Clark) Tarter of Raytown, MO began to research the Miners of Brownsville. At Blanche's request, Lucile Hupp of the Brownsville Cemetery Association found the graves of Jacob, Mary and Herbert, and wrote their inscriptions in a letter to Blanche dated June 15, 1976.
Copyright © 2000, 2002, 2005, 2007, 2009, 2011, 2013 Mark A. Miner