Home

Western Pioneers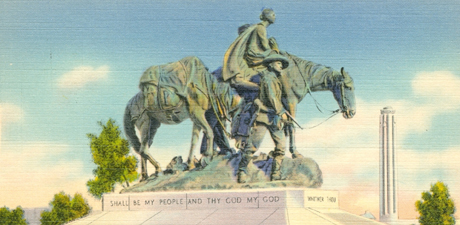 "Pioneer Mother" statue in Kansas City, a moving symbol of our cousin-pioneers and all American families who left their homes and forged into the unknown west, facing hardships, hopelessness, sickness and even death.
While all of our ancient Minerd-Minard-Miner-Minor roots are in Pennsylvania, many of our early cousins of the 1800s had the "wanderlust." Not content to "stay on the farm," so to speak, they ventured westward, often with their spouses and children. In the process, they became settlers of the vast empty spaces which, with their help, later blossomed into villages, towns and communities over the decades.
This page seeks to honor our many "cousin-pioneers" by identifying their names and telling their stories, some triumphant, some tragic, all worth our dignity and respect.
Among thousands of other families, our cousins helped forge what we know today as the states of Ohio, Indiana, Illinois, Iowa, Kansas, Nebraska, Michigan, Minnesota, Missouri, Oklahoma, Colorado, California, Wyoming and Washington, among others.
One of our ongoing goals for Minerd.com is to use the power of the web to reach out to the thousands of living day cousins who descend from these brave, hardy pioneers.